Native Venetian Sara Scarpa and her photographer boyfriend Iain Reid share their recommendations for the best places to eat out in Venice…
The beautiful country, or bel paese, as it is referred to in Italian, is famous around the world for its art, culture and traditions. But it also has a reputation for its outstanding food and wine. The success of the food comes from one simple fact – the mild climate enhances the flavours of the produce to create easy and tasty recipes.
After our trip during the Carnevale, we are heading back to my hometown, Venice, to enjoy the city in a different season and to reveal to you some of our favourite places to eat and drink. The Venetian approach to food is similar to that of Spanish tapas – when we go out we tend to have some drinks and eat many cicchetti (finger food, tapas style). Venetians, from students to older generations, will usually opt for a bacaro tour (a sort of pub crawl) stopping with friends at many different bacari, osterie and trattorie in the same evening. The choice is vast – from cicchetti and tramezzini for less than a pound each, to a refined full dinner.
Ristorante Gran Viale
This restaurant is situated a few metres from the Lido pontoon (a 15-minute boat trip from St Mark's Square) and only five minutes from the pretty beach the celebrities visit every September during the Venice International Film Festival. Run by the two friendly Venetians, Claudio and Luciano, this restaurant is popular with locals for its excellent seafood and meat dishes. Their signature dish is the Gran Tecia, a big pot filled with lobster, spider crab, scampi, mussels and linguini. Things can get a little messy – but don't fret, as you will be presented with a bib and decorative bow tie to protect your clothes!
➤ Granviale S. Maria Elisabetta 10, Lido di Venezia
+39 041 526 0322
www.ristorantegranviale.it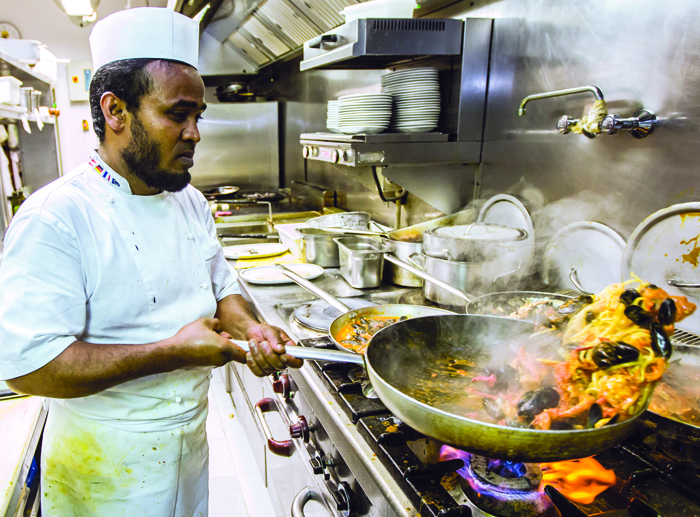 Ristorante Giorgione
This restaurant is located in Via Garibaldi, in the district of Castello. It's an area that still has an authentic Venetian way of life about it, with its lively locals and its regular displays of clothes on lines, drying between the buildings. Dining at this restaurant will be a positively unforgettable experience. The restaurant fits in with its neighbourhood as it offers authentic local dishes in a familiar and vibrant environment. It has been run by the same family for over 20 years. The owner's wife is the head chef, and the owner himself, Lucio Bisutto, entertains his guests every night by playing his guitar and singing old Venetian songs, some of which are incredibly funny if you understand the Venetian dialect! Lucio has recorded several CDs and albums so you can listen to him back home and be instantly transported to Venice!
➤ Via Giuseppe Garibaldi 1533
+39 041 522 8727
www.ristorantegiorgione.it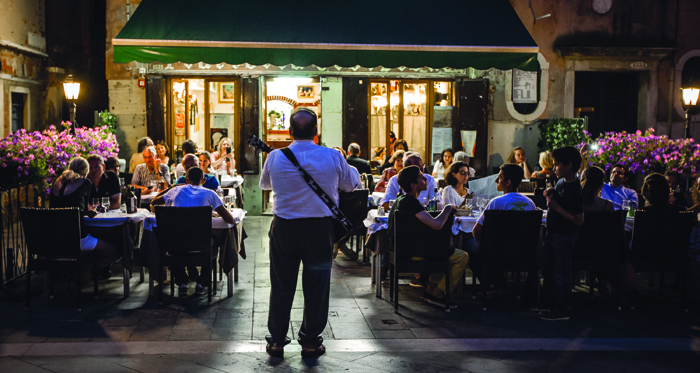 Florian
Situated right in the heart of Venice in the Procuratie Nuove in St Mark's Square, this coffee house is the oldest in Italy, established in 1720. You can sit in a gilded romantic environment with stunning rooms decorated with great frescoes with your favourite drink and delicious pastries. In the same spot frequented by the playwrite Carlo Goldoni, Goethe, Lord Byron, Marcel Proust, Charkes Dickens and Casanova, you can enjoy a heavenly 'Casanova' hot chocolate topped with minty whipped cream, while listening to the music and admiring what Napoleon called 'the most beautiful drawing room in the world'.
➤ Piazza San Marco, San Marco 56
+39 041 520 5641
www.caffeflorian.com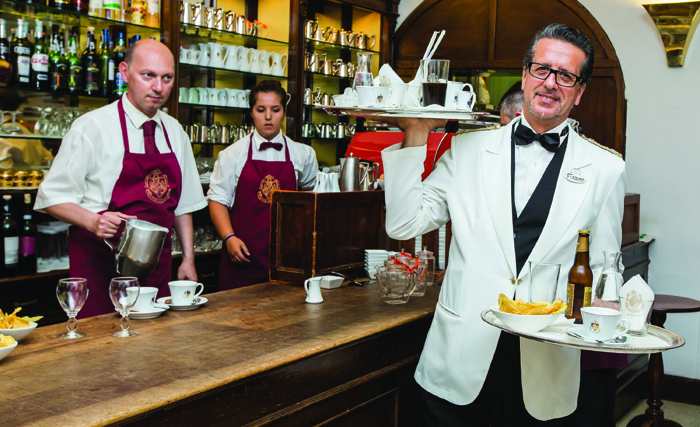 Bancogiro
Located in the oldest area in Venice, Rialto, this eatery is housed in the warehouse of the old fruit market. The name of the porch under which it is situated, Bancogiro, derives from the name of the first public bank in Europe, established here by the Republic of Venice in 1524.
It is only a few steps away from the Church of San Giacometto, which is believed to be the oldest in Venice. Once here, I'd recommend a walk across the bar to the other entrance to choose a table outside, as you'll get to gaze at the Canal Grande, where you can enjoy your drink while admiring the amazing palaces and the gondolas passing by. If you decide to stay for dinner you won't regret it: the menu is very creative and the dishes are outstanding.
➤ Campo San Giacometto, San Polo 122,
+39 041 523 2061
www.osteriabancogiro.it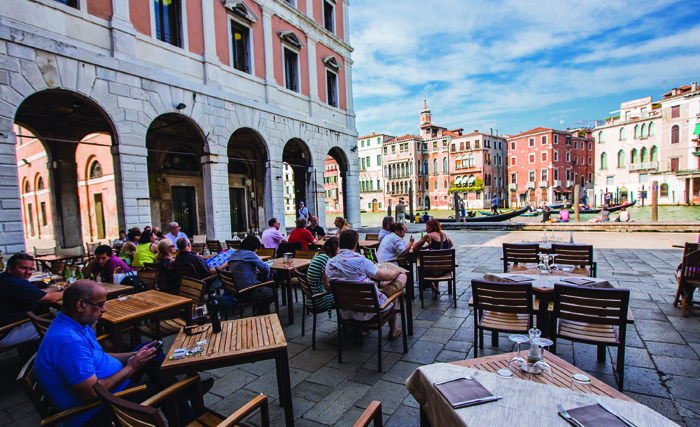 Tags:
Eat Like a Local
,
food
,
Restaurants
,
Venice
,
Venician Food