This far northeastern region of Italy produces white wines of such diversity and finesse that its present-day reputation is beyond compare. Our experts have found six fine examples
Home to some of Italy's most accomplished and adventurous white wines, Friuli-Venezia Giulia has embraced many cultural influences through the centuries, including periods as a major trading stop for the Byzantine Empire and Venice. With Austria to its north, Venice to its south and Slovenia to the east, it has an extraordinary diversity of grape varieties, from the native Friulano, Verduzzo and Ribolla Gialla (among others) to incomers like Sauvignon Blanc, Chardonnay, Riesling and Traminer to name but a few. As with all good wine production, the recipe for success is climate, soil and terrain, and a controlled rate of production.
Friuli-Venezia Giulia benefits from a long, slow growing season with warm days and cool nights. Its rich soils vary from clay, sand, gravel and alluvial deposits in the valleys to marl and sandstone in the terraced hillsides, especially in the Colli Orientali, where you'll find complex, more experimental white wines. Look out for Josko Gravner's 'Anfora' natural wines, macerated on their skins in amphoras and aged in casks for several years. These are exceptional wines with a price tag to match – for high days and holidays – but we know you'll enjoy our wallet-friendly winners too.


Discovery of the month
Jermann, Vinnae Ribolla Gialla IGT
Silvio Jermann is one of Friuli's top winemakers and this elegantly accomplished example is 90 per cent native Ribolla, with equal amounts of Friulano and Riesling in the blend. Unoaked, it is bold and fragrantly floral, fruity yet quite dry on the palate with mango and tangerine, and a flinty note to add freshness and balance.
Pair with: Seafood antipasti or fish-based pasta or risotto, or as the perfect aperitivo, chilled on a warm evening
From: Great Western Wine, £25
The best of the rest…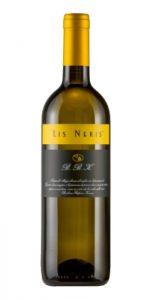 BBK Ribolla Gialla, Lis Neris 2016 
The Lis Neris vineyards just outside the village of San Lorenzo in Friuli have been in the hands of the Pecorari family since 1879. Medium-bodied, this 100 per cent Ribolla Gialla wine certainly packs a punch in a velvet glove with its 14 per cent ABV. It's soft and smooth, with enough acidity to keep it crisp and fresh in the mouth with peaches, honeysuckle blossom and lemon peel. Finely balanced, it has a satisfying length and plenty of character in every drop.
Pair with: Grilled fish in a lemon cream sauce, or on its own with a spritz of lemon
From: Berry Bros & Rudd, £18.20

Rjgialla, La Tunella, 2016
Located in the Colli Orientali del Friuli, the Zorzettig family of La Tunella has been producing their top-quality wines for more than 50 years. This 100 per cent Ribolla Gialla wine is quite unlike those that incorporate this local grape into a blend. The bouquet is intense with fruit and flowers, which unfolds on the palate to more of the same: a fresh mouthful of yellow plum, peach and apple. Well-balanced and dry, with deliciously savoury herbal notes to round it off.
Pair with: Seafood linguine, a simple vegetable risotto, or some fresh soft cheeses
From: Corney & Barrow, around £11.50

'Sharis' Ribolla Gialla and Chardonnay 2016, Livio Felluga
Livio Felluga's vineyards are located across the coveted Collio and Colli Orientali sub-zones within Friuli, which produce low-yield, top-quality wines. A blend of Chardonnay and native Ribolla Gialla, this full-bodied wine is floral and fruity with a symphony of aromas and flavours. It's lively and refreshing with plenty of tropical fruit, apricots, a hint of vanilla and rose, but so well-balanced with snappy citrus notes in the finish.
Pair with: Grilled chicken, prawns and sea bass served with a squeeze of lime

Specogna Pinot Grigio Ramato 2016
Specogna is one of the last original producers of this ancient style of Pinot Grigio grown on vineyards in the heart of the Colli Orientali DOC zone. You'll be struck right away by its amazing coppery-pink ramato hue. Fresh and floral on the nose, with aromas of apples, pears and elderflower, there's more crisp apple as well as pineapple on the palate with a pleasing savoury minerality in the bright finish. Absolutely one to savour this summer.
Pair with: Seafood, of course, like crab or prawns, or how about a plate of oysters?
From:Liberty Wine, £17.99
Traminer Aromatico, DOC Friuli, 2016 Brandolini
Count Brandino Brandolini d'Adda owns Vistorta, a 200-hectare estate in the western Friuli Grave zone. It certainly lives up to its aromatic credentials with a fruit salad of perfumes in the glass with lychee, peach and pineapple. Crisp and clean with a smooth texture and citrus herby notes on the palate, it's well-structured enough to drink now, or keep for two to three years if you can resist the temptation!
Pair with: The perfect match to any type of fish, this wine will also pair with cheeses
From: Great Western Wine, £12.95
For more great Italian wines to try, you'll find plenty of reviews here.