Torta salata con funghi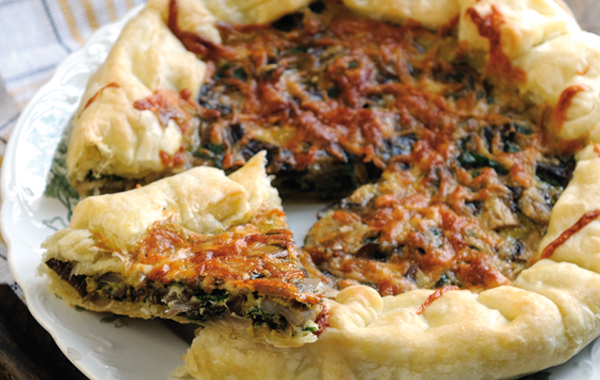 MAKES: One 24cm tart
PREPARATION: 10 minutes
COOKING: 1 hour
Ingredients:
• 300g chestnut or button mushrooms
• 30g dried porcini mushrooms
• a few tbsp of olive oil
• knob of unsalted butter
• 1 garlic clove, peeled and crushed
• 2 free-range eggs
• small bunch of fresh parsley, finely chopped
• salt and pepper
• 500g shortcrust pastry
• 30g Asiago cheese, grated
Recipe:
1 Preheat the oven to 180ºC/Gas Mark 4. Clean and slice the fresh mushrooms. Put the porcini mushrooms in a bowl, cover with boiling water and leave for 5 minutes.
2 Add a few tablespoons of olive oil to a frying pan together with a knob of butter and a crushed garlic clove. Add the sliced mushrooms and sauté.
3 Drain the porcini mushrooms and finely chop. Add these to the frying pan and continue to cook for 5-6 minutes. Remove the mushrooms from the heat and cool for a few minutes.
4 Crack the two eggs into a large bowl and whisk. Then add the mushrooms and finely chopped parsley. Season with salt and plenty of freshly ground black pepper.
5 Unroll the pastry and line a round 24cm baking tin. Add the mushroom filling and top with grated Asiago cheese. Bake in the preheated oven for 30 minutes. The pie can be served hot or at room temperature.
TIP Asiago has quite a strong flavour, so taste it before you add it to the dish – and don't overdo it.