Julie Friend attends a special food festival in the province of Viterbo, and discovers that here the chestnut is not just for Christmas
Photos by Getty unless otherwise stated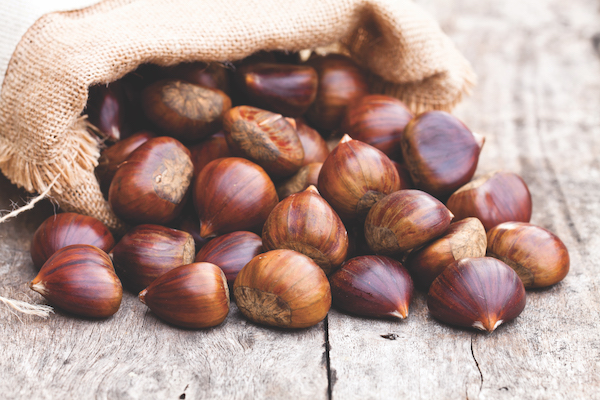 Clinging to the side of Mount Cimino, in the province of Viterbo, is the hilltop town of Vallerano. Perched 400 metres above sea level, the air up here has that seductive draw which immediately uplifts the soul and clears life's cobwebs.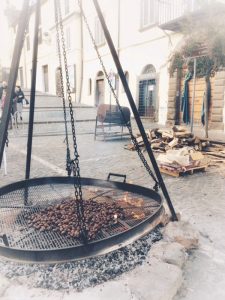 Thick medieval walls, narrow alleys, pretty squares and cafés make Vallerano the perfect pitstop whilst exploring this magical region. The town is just 70 kilometres from Rome but a world away from the hustle and bustle of a big city. You feel you should be wearing a sweeping velvet gown and wimple as you pace the cobbled streets.
But we are not just here to absorb its beauty, for Vallerano is known for something else. And, as it is October, the clues are both hanging above our heads and crunching beneath our boots. We are, in fact, here to celebrate the humble chestnut, the castagna.
Since way back in the 1500s chestnuts have been cultivated here – the soil of the entire area is perfectly suited to their cultivation, with the strata of volcanic 'tufa' making the land highly fertile. Tufa is a particularly porous variety of limestone formed from calcium carbonate often deposited by hot springs. The area up nearer Viterbo itself still has several thermal baths open to the public, which after a few hours of walking are highly recommended. Once your nasal passages get used to the eggy whiff of sulphur you can spend a good couple of hours bathing in the naturally hot, almost fizzy water, which revitalises the achiest body.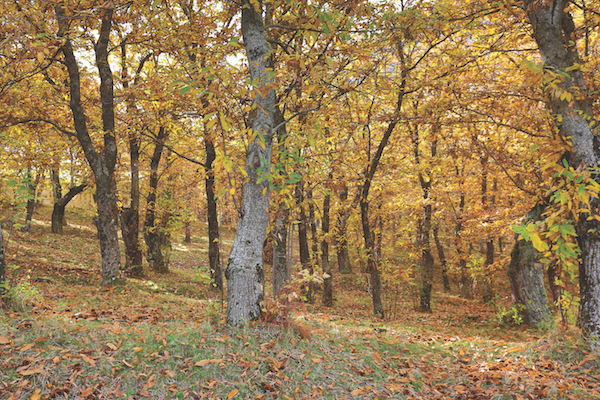 Chestnut forest
The town of Vallerano is nestled amid 650 hectares of chestnut forest, and the land has been used to grow little else for the past five centuries. This bounty was once used as currency and was the main source of income for the people who lived here. The history books state that back in 1584 the prince decided to authorise the export of the nuts, but only as far as those neighbouring states who could offer crops such as cereals in return.
Once harvested, the chestnuts were stored in underground caves dug into the tufa and dried out in radicci, small wooden huts constructed amongst the trees – a few of these still remain and are probably used by locals for a quick lunch break.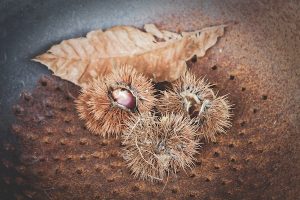 The hunt
As you weave your way up the roads leading to the town of Vallerano, you are led beneath the huge leafy canopies of the chestnut trees. Colours are changing; reds, ochres and vivid yellows let us know that autumn is here. The occasional car has managed to find a safe stopping spot (or often not that safe!) and the passengers are seen scrabbling amongst the crackly leaves hoping that they might spot a few of the spiny husks that still have their treasured contents intact post-harvest. Everybody loves a freebie, don't they? And what better freebie than one of these mahogany beauties tucked inside its suede-lined prickled jacket. Like verdant snow drifts, piles of the discarded outers frame the route and lead the way to our destination better than any paper trail.
The good people of Vallerano are understandably completely nuts about this nut, and take the whole thing very seriously – and quite rightly so. In April 2009 the European Union deemed these castagne worthy of protection and they were added to the register of products of Protected Designation of Origination. The DOP labelling means this brunette bombshell (of the Castanea sativa Miller variety) can hang confidently with the big guns like Parmigiano Reggiano cheese, the balsamic vinegars of Modena and Reggio Emilia, and the divine San Marzano tomatoes from Campania. The local chestnut even has its very own organisation, "The Friends of the Vallerano chestnut", who plan the harvest and its festival, which has now been running for the past 16 years.
The party
Each weekend throughout October the town holds a series of events, usually building to a climax on All Saints' Day, November the 1st. Flag-waving parades of people in traditional dress, with drummers and dancers, modern bands and children's choirs, all take to the streets during this month of celebration. Talk about 'from tiny acorns giant oaks will grow' – how wonderful that mother nature can produce something so simple that becomes the hero for days.
Stalls are set up selling an array of chestnut goodies, including cakes, jams, biscuits, and a simple cone, with the nut split open before roasting to make sure the smokiness gets inside and the contents take on all the flavour of the fire. You can also purchase chopping boards and trinkets fashioned from the richly coloured wood.
The restaurants throughout Vallerano, many of which are housed underground in the mysterious, cool tufa caves, offer a set menu based on chestnuts. Long tables are set up with checked tablecloths, retro oil and vinegar sets, and plastic cups. This is no-frills conviviality – a celebration to be shared between locals and tourists, friends and strangers. A mere €20 will get you three courses, which might include lamb cooked on the grill over burning chestnut shells, a chickpea and chestnut soup, pasta with ragù, and a rich cake called castagnaccio, which is made with chestnut flour, dessert wine and raisins, topped with candied orange or pine nuts – and all served with homemade wine.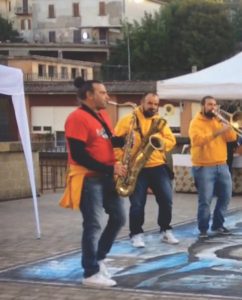 Pizza fritta
If you don't want to dine inside then you can enjoy the many offerings from the street food stalls. Vino caldo, a version of mulled wine, is served, as are roast chestnuts taken straight from huge hanging braziers. You will also see a number of vendors selling pizza fritta. This is as it sounds: a pizza dough that has been deep-fried and is offered salata, with a shake of salt, or dolce, with a veil of icing sugar. The first couple of bites are a delicious novelty, then, as it hits the pit of your stomach, you can feel your arteries tighten a little. It's stern stuff, but nothing another cup of the local brew won't wash down.
As the sun goes down and the street lights begin to flicker, a party atmosphere ensues. The restaurants start organising the outside seating, and all of them make sure their menus are displayed well. A local jazz band, on this occasion Lesto Funky, pick up their instruments and start to blast out familiar hits on sax and trombone and various other brass instruments. By now the wine has eradicated all your inhibitions and before you know it you'll be sharing your best moves with a beaming local as if you've been friends for life. It's incredible to think that a humble tree fruit can cause this much celebration and get you dancing like nobody is watching. But that is the power of the Vallerano chestnut.
You can find a delicious recipe for chestnut and chocolate cake here
Find out more about chestnuts and chestnut festivals in Italy here
Getting there
By plane
Fly to Rome, Fiumicino or Ciampino, then take the train into Roma-Termini.
By train
To get to Vallerano, from Roma-Termini take the Rome-Civitacastellana-Viterbo railway as far as Orte, then get a bus. Alternatively, go all the way to Viterbo, see the city, and get a bus from there. (Be aware that there is another Vallerano south of Rome, in Lazio.)
By car
You will need a car to explore the area around Vallerano. The drive is around one and a half hours from Rome, depending on which way you go. The E45 is the fast route, but the SR2 would take you past Lake Bracciano, which I found to be a great base for seeing the region.