Milan has something to offer the visitor at all times of the year, but Rachael Martin finds its café culture particularly appealing in the lead-up to Christmas…
Photos by Rachael Martin unless otherwise stated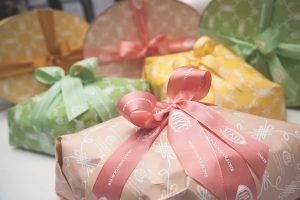 It's late afternoon along Corso Magenta. The streetlights have come on, and the orange Carrelli trams wind their way through the dusk hour as they have since 1927, past villas built by 19th-century industrialists in the midst of Roman ruins, past the Basilica di Sant'Ambrogio and the Chiesa di Santa Maria delle Grazie, the home of Leonardo da Vinci's Last Supper.
There's the Pasticceria Marchesi, the one with the distinctive black façade with gold writing and the chocolate-box windows filled with Christmas goods. It's been here since 1824, seen many generations of loyal customers walk through its door, and if you go there, you too will see the old wooden shop fittings with glass cases holding pasticcini, cakes and other sweet delights.
Move towards the back of the shop and people are drinking coffee or hot chocolate in green velvet chairs placed around wooden circular tables. The décor is designed by Prada, yet the atmosphere is still traditional. This is what the Milanese come for, along with the quiet reassurance that everything will be as good as it always has been. And they have been coming here for years.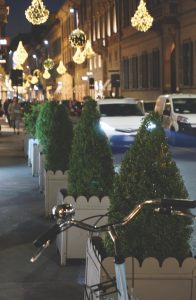 Café culture
Milan knows a lot about café culture. Many of Milan's cafés are also specialised pastry shops, so pack light, as you may want to take things home. Of course, the risk is that you come away feeling like someone who has eaten all the cake. Don't worry. You're in Milan, where café culture and pastry making is an art form, and no one will mind if you've spent the past week eating cake. So sit back and relax and order your cappuccino and brioche. I recommend starting with a brioche alla crema. It's up to you where you go from there…
What follows is a guide to some of the best cafés and pastry shops the city has to offer. Of course it's all personal taste, but these are some of the ones I've tried and loved. I've included a few delicatessens too, in case you want to take something home for Christmas lunch. A traditional Milanese Christmas lunch usually consists of antipasti followed by ravioli in broth, then a main course of capon, or possibly a roast. Follow with panettone, the traditional Milanese Christmas cake, though it's usual to also offer pandoro, the Veronese Christmas cake. Finish with chocolate and nuts and strong black coffee. For New Year, you'll need a veneziana – similar to a panettone but without the candied fruits and topped with a sugar glaze.
Cafés and pastry shops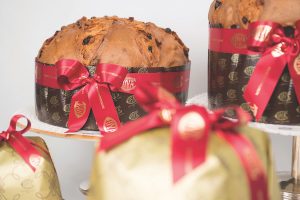 Pasticceria Cova 
Cova originally opened in 1817 next to La Scala opera house. In 1950 it moved to Via Montenapoleone when Milan's exclusive fashion quadrilateral was in its earliest days. The atmosphere is utterly traditional and crowned with chandeliers. Ernest Hemingway wrote about it, Verdi and Puccini were clients, along with the Milanese elite from the worlds of politics, music, fashion and the arts. Panettone variations include one with saffron – a symbol of Milanese cuisine via the risotto alla milanese – and raisins soaked in their own Covino spumante.
Pasticceria Cova, Via Monte Napoleone, 8
Bar Luce
Don't forget Bar Luce down at the Prada Foundation with its tower housing works such as Jeff Koons' Tulips and Carsten Höller's Upside-Down Mushroom Room. Bar Luce, designed by Wes Anderson, is a visual feast of the trademark Prada green that you see in the other cafés, interpreted in a distinctly cool retro key. There are pinball machines, a juke box, formica tables and bar counters, and retro candy-coloured chairs to match the cakes.
Bar Luce, Largo Isarco, 2 (entrance on the street and inside the Prada Foundation) 
Pasticceria Martesana
Exceedingly good pasticcini. Martesana is also famous for its Sachertorte, and owner Vincenzo Santoro brings together panettone and Sachertorte with candied apricot and dark chocolate to create the Panetùn Sacher. (Panetùn is dialect for panettone in Milan.) Also look for panettone with candied mandarin orange and gianduja, and a wholemeal version with bran, raspberry jam and semi-candied forest fruits.
Pasticceria Martesana, Via Cagliero, 14; Via Sarpi, 62; Piazza Sant'Agostino, 7

Pasticceria Ranieri
The panettones here are made to the strictest Milanese artisan traditions. Look out for the ones with semi-candied pineapple, with dark chocolate chips, and with marron-glacés. People also come here for the cannoncini, and my personal favourites are the pasticcini with crema pasticciera and fruit on top. These are the types of pastries you dream about. Pasticceria Ranieri, Via della Moscova, 7 (There are other pastry shops in Milan named Ranieri, but this one is only here)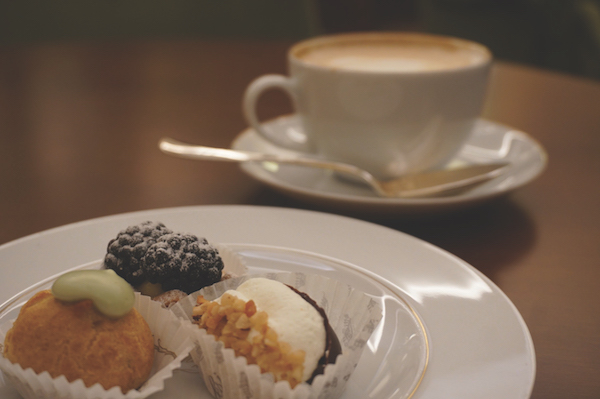 Pasticceria Marchesi
There are three Pasticcerie Marchesi: the original on Via Santa Maria della Porta, and two others that were opened in recent years – one high up in the Galleria and the other in Via Montenapoleone. The panettone and veneziana are both excellent. Come here too for traditional pasticcini and pastel-coloured fondant cakes, and take home chocolates in chic little pale pink boxes with gold writing and equally chic boxes of sugar-coated sweets. Pasticceria Marchesi, Via Santa Maria della Porta, 11/a; Galleria Vittorio Emanuele II; Via Montenapoleone, 2
Pasticceria Iginio Massari
Multiple award-winning Iginio Massari of Pasticceria Veneto in Brescia opened his first Milan café in March this year. It's said that Masari revolutionised the panettone and made it lighter. And it is extremely light, very rich and with plenty of candied fruit. Also try the panettone with dark chocolate, milk chocolate and candied orange. Be tempted by the pasticcini and little individual cake portions, including his famous Sachertorte made with raspberry instead of apricot preserve. You haven't really been here if you haven't tried at least one. The workshop is behind glass so you can watch the pastry chefs at work. Pasticceria Iginio Massari, Via Guglielmo Marconi (on the corner of Piazza Diaz, inside the bank Intesa San Paolo). 
Pavè
You come to Pavè for the pastries. And the bread and the cakes, and the panettone… Forget all you have learned about the traditional Milanese café. The décor here is much more northern European, with armchairs, wooden tables, mismatched chairs and a relaxed atmosphere, right in the heart of the Porta Venezia district. Come here for breakfast (get the metro to Porta Venezia) and have a cappuccino and the heavenliest of buttery brioches. Then take the opportunity to walk along Porta Venezia past beautiful palazzi towards Via Montenapoleone, where you can check out Cova or Marchesi and have un caffé with maybe a biscuit or two.
Pavè, Via Felice Casati, 27

Vergani
Vergani have been making panettone since 1944, and recently opened panettone boutiques for all-year-round panettone and the traditional Milanese barbajada, a decadent chocolate, cream and coffee drink that was very fashionable in the 19th century and through until the 1930s, and which is now firmly back on the scene. But just to show that they are truly modern here, they also make a classic panettone with raisins and candied orange that is certified vegan, low-fat and lactose-free.
Vergani, Corso di Porta Romana, 51 and Via Mercadante, 17
Chocolate
Armani
Chocolate for fashion lovers! Go for the pralines, each with an Armani 'A', or a couple of bars of beautifully wrapped chocolate to put in stockings.
Armani, Via Manzoni, 31
Guido Gobino
Guido Gobino is the famous chocolatier from Turin. Try the giandujotti, made with IGP hazelnuts from the Langhe in Piedmont. They make them using the extrusion method: that is, without any mould, so each chocolate is its own unique masterpiece. They're also famous for the cremino al gianduja that won Best Praline in the World 2008 from the Academy of Chocolate in London. Also try the giandujotto Tourinot, made with dark chocolate instead of milk chocolate.
Guido Gobino, Corso Garibaldi, 39
Delicatessens
Peck
Peck is the prestigious Milanese delicatessen that has been a point of reference for the Milanese (and not only them) since 1883. Go for everything, especially exquisite marron-glacés made with chestnuts from Piedmont, each one finished with a crysalized violet. Also look out for their mostarda, a traditional accompaniment to meat, from Cremona. It's similar to chutney, with fruit, sugar and a kick of mustard. Piccolo Peck, the recently opened café inside, also serves food from the deli. Come here for a cappuccino with a veneziana.
Peck, Via Spadari, 9 
Eataly
Four floors of food, wine, cookery books, kitchen equipment and gadgets… And if that's not enough, there are 19 places to eat, and live concerts too. Eataly specializes in regional small producers. Look out for the various offers.
Eataly, Piazza XXV Aprile, 10
Don't miss… at Christmas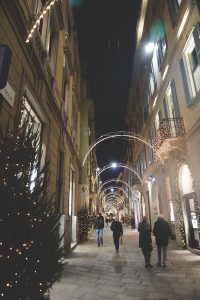 The Novecento museum
The view from the Lucio Fontana room in the Novecento Museum, or rather Lucio Fontana's Neon Structure with a view of Piazza del Duomo, the Duomo and Galleria Vittorio Emanuele II, is one of my favourite views in the whole of Milan. Between 7th December and Epiphany, you get the Christmas tree in the piazza thrown in too. There's another tree in Galleria Vittorio Emanuele II.
The Quadrilatero della Moda
The fashion quadrilateral dressed with its Christmas decorations. This is understated chic, Milanese style.
The Navigli
Always beautiful, but extra so when dressed in Christmas lights. The Christmas Mercatone dell'Antiquariato – the famous antiques and vintage market – is on Sunday 16th December.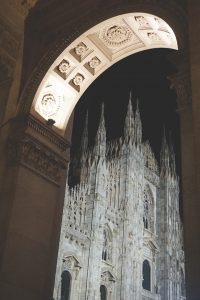 The Duomo
The rooftop view from the Duomo is beautiful. Winter brings clear sunny days. Wrap up warm as it might be windy (and cold!) for views of the city and the Monte Rosa massif in all its snow-covered glory.
Take a look here for more Milan travel inspiration