Bologna's historic porticoes, a pervading symbol of the city's hospitality, have been granted UNESCO World Heritage status. We join novelist and Bologna resident Tom Benjamin for a guided tour of his highlights.
(1) The heart and soul of Bologna is Piazza Maggiore, Bologna's main square, and the porticoes of Renaissance 'PAVAGLIONE' prettify what might otherwise be considered a rather muscular late-medieval piazza dominated by the bulk of San Petronio, the fifth largest church in the world.
Beneath one of its thirty arches, this portico conceals the Archiginnasio, the first custom-built seat of the University of Bologna, constructed in the mid-16th century at the behest of Pope Pius IV.
EAT: Authentic 'salumi misti' at the outside tables in the Quadrilatero, just off Piazza Maggiore.
LOCAL'S TIP: The drinks are half the price in bars like La Linea, facing away from the piazza, and the company is often twice as interesting.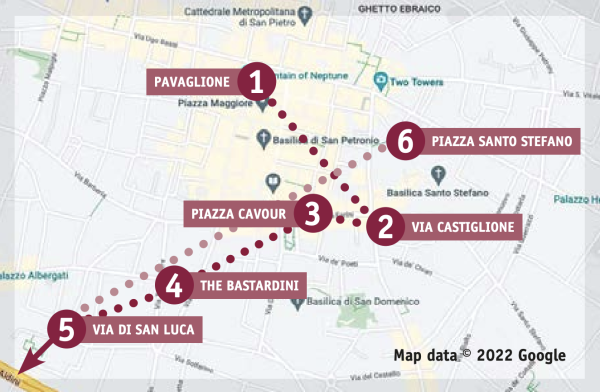 The porticoes may be the first and last part of Bologna you notice. They are so woven into the fabric of the city that they both conceal its treasures – many of the city's historic buildings are hidden in their skirts – and draw you inside.
Beneath the forty kilometres of arcades, there is no opportunity to step back and admire these treasures – you are well and truly under the city's skin; you are becoming a Bolognese.
There is something absurd about the relentlessness of these walkways – be they haughty Renaissance arches or low-slung medieval timber beams – which stretch to five kilometres at their longest unbroken stretch, up to the church of San Luca (a world record as well as World Heritage).
They can be unsettling, too, especially if it is dusk or a somnolent summer afternoon.
You can feel as if you are in a dream, or understand why John Berger wrote: "It's an improbable city, Bologna – like one you might walk through after you have died."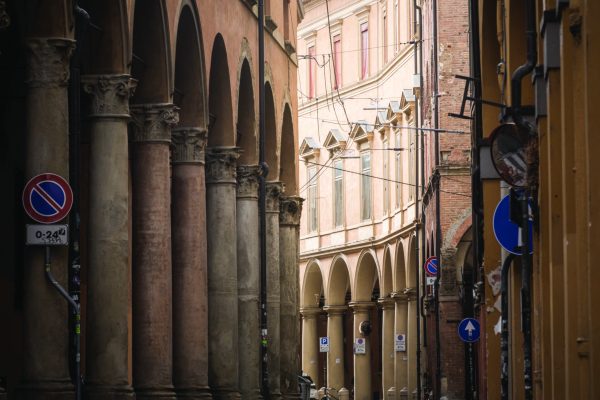 Municipal Bylaw
Other cities have porticoes, but to my knowledge, none made their construction compulsory – in 1288 they were subject to a municipal bylaw which not only ruled that all new buildings had to be built with a portico, but that existing ones had to add them.
Home owners had begun constructing them as far back as 1100, adding rooms above public land to accommodate scholars pouring into Europe's first university (est. 1088); and it's a bylaw that remains in place today, though I doubt the regulation that they should be high enough to accommodate a horse and its mount remains in place. (But you never know.)
One surviving rule is that each property is responsible for its stretch of portico and the pavement outside, which may explain the sometimes higgledypiggledy nature of the ground beneath your feet.
The method behind this madness? In the past, some of these porticoes would have been curtained off at night to provide accommodation for the very poorest students – although had I been one of them, I would have elected to take my classes during the baking Bologna summer rather than its freezing winter!
The porticoes may also explain why Bologna is regarded in Italy as the spiritual home of the giallo, the mystery novel. What more mysterious a city than one where to step outside is to step into the shadows? Certainly Daniel Leicester, my Bologna-based British sleuth, makes liberal use of them to tail suspects, sip a Montenegro, or simply shelter from the weather.
(2) We continue along Paviglione, crossing Via Farini, to head first east to elegant VIA CASTIGLIONE, a personal favourite. A languorously curving road dating back to the 13th century, the palazzi concealed by its elegant portici date from the 16th to the 18th centuries, while the porticoes themselves ooze romance and mystery.
EAT: No nonsense local's food at O Sole Mio, Via Castiglione, 50, or treat yourself to a gelato at La Sorbetteria Castiglione, Via Castiglione, 44, www.lasorbetteria.it
LOCAL'S TIP: Enjoy the Giardini Margherita, the city's smartest park, across Porta Castiglione, www.giardinimargherita.com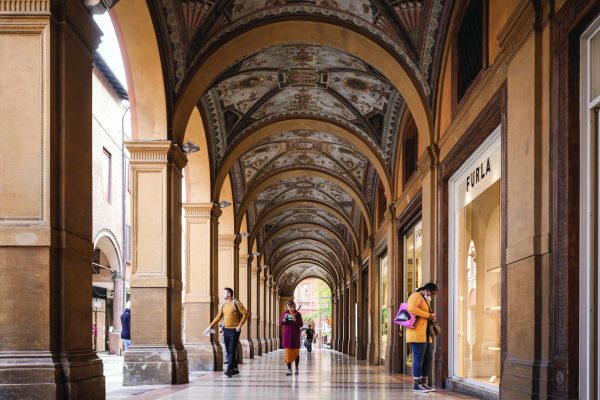 (3) We head west until we arrive at PIAZZA CAVOUR and its relatively modern portico dating back to the 19th century. This embodies the bourgeois values and aspirations of a newly unified Italy during a time when Bologna was seriously being considered as a candidate for the nation's capital city.
EAT: Fancy a change from Italian? Try Japanese-Brazilian fusion at Temakinho, Via Farini 13a, www.temakinho .com
STAY: Hotel Touring Bologna at Via de' Mattuiani, 1, and take in the gorgeous views from its rooftop bar, www.hoteltouring.it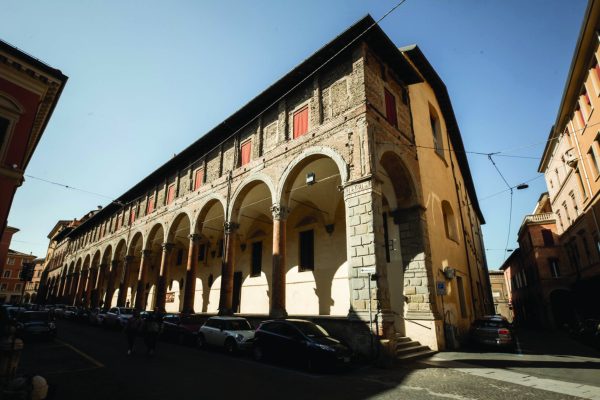 (4) We continue west to THE BASTARDINI in Via D'Azeglio, until 1797 the city orphanage.
In the second book in my series, The Hunting Season, I write: "I walked along our little Via Mirasole then onto D'Azeglio, crossing the cobbled road and stepping up to the old orphanage – the Bastardini – where warm light flooded between the tall, red brick columns.
I slowed along with the other pedestrians to savour every last lick of summer. The church bells, which seemed to keep their own hours, began to peal."
EAT: Top-notch Bolognese dishes at Al Sangiovese, Vicolo del Falcone, 2, www.alsangiovese.com
STAY: Hotel Porta San Mamolo, top-rated, family-run hotel with intimate garden, www.hotel-portasanmamolo.it
(5) Let's say it's a Sunday and we want to join with the locals in that time-honoured Bologna workout – walking the record-breaking portico up to SAN LUCA. While medieval towers Garisenda and Asinelli, the fountain of Neptune in Piazza Maggiore, or the church of San Petronio might symbolise Bologna to tourists, San Luca is the symbol of Bologna to the Bolognese. When you see it in the distance from the autostrada or treno you know you're home.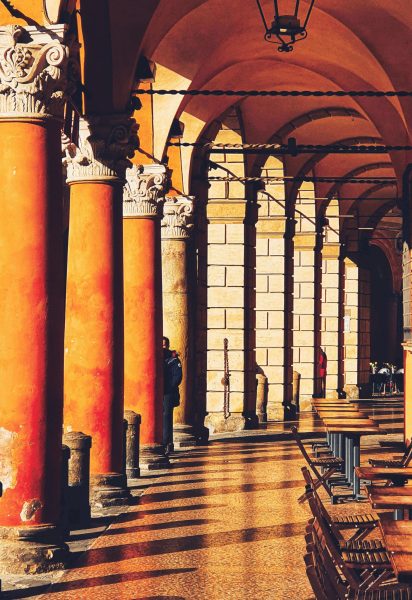 (6) Not all those five kilometres were uphill, but we are still pretty tired as we head back to the centre for dinner. Before we do, we have one more stop.
PIAZZA SANTO STEFANO is home to the Seven Churches, a religious complex set on the site of a former temple of Isis where Petronio, the patron saint of Bologna, founded a basilica which sought to recall the Holy Sepulchre in Jerusalem. Today the piazza is lined with porticoes embodying the beauty and glory of the old city.
EAT: Sample traditional 'polpette' – Bolognese meatballs – at Bolpetta, Via Santo Stefano, 6/A, www.bolpetta.com
LOCAL'S TIP: On the second weekend of every month a charming antiques market fills the square
Find out more: The third novel in Tom's critically acclaimed Bologna-set series, Requiem in La Rossa, is out in the UK in May 2022. Follow Tom on Twitter, Instagram and Facebook @Tombenjaminsays
Images by Lorenzo Burlando unless otherwise stated.
With special thanks to Bologna Welcome