Shropshire-based David and Leila Church bought a two-bedroom apartment on the southern side of Lake Garda twelve years ago. They stay there for a month every summer and make several week-long visits throughout the rest of the year. At other times they offer the apartment for holiday rentals through a local agency. What drew them to Italy, and to Lake Garda in particular?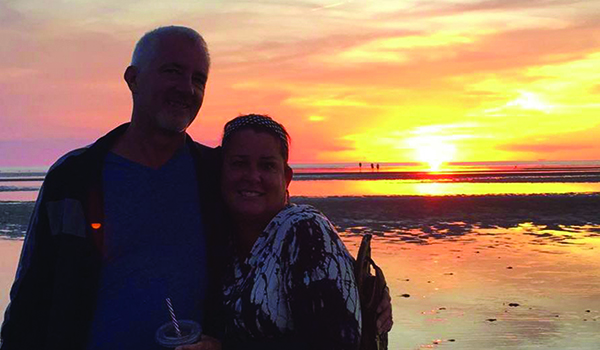 "We're both keen travellers and we've been all over the world," Leila explains, "but as we got older we thought it might be nice to get to know one place really well instead of hundreds of different places only slightly. For all sorts of reasons – it's safe, it's not far away, it's absolutely beautiful – we chose northern Italy as the place we wanted to get to know".
"Lake Garda seemed a great choice because we have all the fun of the lake, but we also get to whiz off to places like Verona and Venice and Parma and Bergamo and the high mountains in the north whenever we feel like it. We've thoroughly explored lots of northern Italy now, but we still feel there's so much more to do and see here. It's a really wonderful part of the world, with a superb culture and lifestyle".
"We chose the southern part of the lake because we felt there were more transport connections available to us down here, but also because we could get a bit more for our money when it came to buying an apartment. The northern parts of the lake are very beautiful, but we feel more in the heart of life down here.
The lake can get very busy in the summer, with sailboats and boat-people and holiday people strolling round everywhere, and we rather like that. It's all cheery and pleasant and everyone's happy. We love how convivial all the restaurants and bars are in the evening, even when crowded in the height of summer. People are having a great time, but no one's drunk or rowdy or causing trouble. It's all so civilised and friendly".
"Our apartment is in a low-rise, modern-built complex in a nice residential area. There is a sort of private park in the middle of the buildings, shared with the other residents, and it's full of flowers and palm trees – very lovely!
We're on the top floor and we can see out across the lake from our balcony. We have a few friends who have homes in Italy and they've all gone for ancient places that they had to restore. But we love the fact that our apartment is modern and everything works perfectly. The property management company takes care of any problems, which means we're left free to have fun in the sun!"