Living in Italy, restoring houses, rescuing horses and selling handbags, Dawn Cavanagh-Hobbs considers herself to be very lucky…
WHERE IN ITALY IS YOUR HOME?
I live in Le Marche with my husband and two of my four children, experiencing things I never thought I would. I have always loved life, adventures, challenge and hard work, so moving to another country to start a new life filled me with great excitement. I look back now over the last few years and realise how lucky I am, it has been an incredible journey. Restoring dilapidated farmhouses that are often no more than a pile of rubble in the middle of a field is enough to put anyone to the test, especially if you don't speak the language and haven't got used to the opening hours of most businesses in Italy. Creating a fractional ownership business, and turning a pile of rubble into two luxury houses, with swimming pools, tennis court, vineyard, olive groves, lavender and truffle plantation in a couple of years was no easy feat.
YOU ALSO WORK IN ANIMAL WELFARE?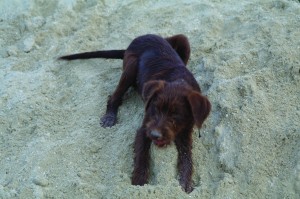 We have rescued five adorable puppies, abandoned at one of the properties we were restoring. We kept one, who we named Tatty, for obvious reasons, and re-homed the remaining four puppies. The following year I came across a young Anglo/Arab chestnut filly. She was living in a large herd of horses near the Sibillini mountains; she was bullied by the other horses and was not getting her fair share of hay when it was distributed each day. She was small and underweight for her age and I was worried about her state of health going into the winter, I adopted her. Her name was Nikita.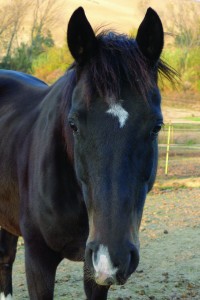 BUT NIKITA WAS NOT YOUR ONLY HORSE…
Tao, an eight-year-old thoroughbred ex-racehorse had been beaten and thrashed around the race track, injured and then left in a stable alone for almost two years. He had no contact with other horses and very little contact with humans. When I first met him he was a quivering wreck, terrified of everyone and everything that came near him. He was due to be slaughtered the next day, nobody could get near him, he was unrideable. I looked into his eyes and saw the utter despair he was feeling. I met the butcher the next day, paid him off and started on the long road of building a trusting relationship with Tao. It took me six months to form a solid partnership with him, I spoke softly, moved quietly and expecting nothing. Now he is a happy, living with the rest of the herd. I ride him regularly in a bitless bridle, schooling him, hacking out or just hanging out together. I have rescued four horses over the last few years, they have taught me so much: patience and understanding, partnership and respect.
AND THE HANDBAG BUSINESS?

A couple of years ago I met a local artisan living in the same town, Andrea. He comes from a long line of Italian leather weavers; he is the fourth generation. Over the years he has designed and made handbags for all the top Italian brands including Gucci, Prada and Bottega Veneta. I was very impressed with the quality of his work, all handmade, and his passion for the business. I had worked in the fashion industry before and loved the idea of working with such a talented artisan in our local town. I worked on some designs and colours for a new range and set up a website. I asked my son Sebastian, who had just finished a photography course in Florence, to help me with the photoshoot and Camilla, my daughter, did some modelling for us, and so Appassionata Boutique was born, a true family affair, very Italian! The handbags are selling really well and over the next few weeks we will introduce belts and wallets. Do I have any regrets about taking the path to Italy, no, my life has never been so exciting!