Matera stands in for the Jerusalem of 2,000 years ago in this graphic depiction of the death of Jesus Christ…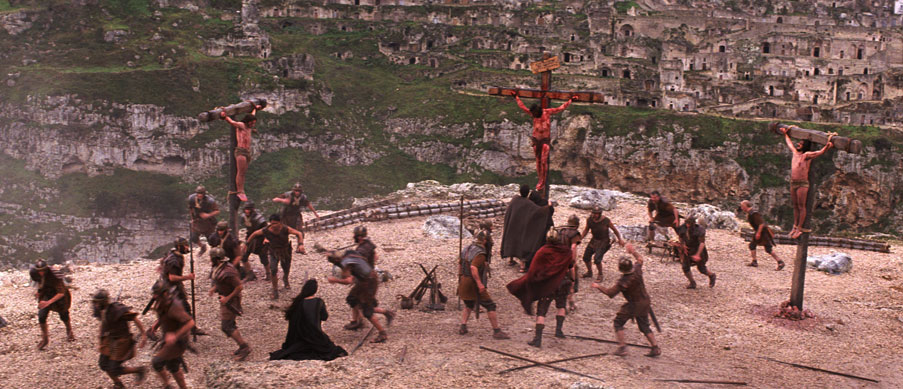 (2004, Matera. Directed by Mel Gibson. Starring Jim Caviezel, Monica Bellucci)
Mel Gibson directed this highly controversial film that graphically traces the last 12 hours of Jesus Christ's life leading up to his Crucifixion. It has been deemed one of the most violent and grotesque films of recent times. This is due to the disturbing sequences depicting Jesus' torture in which Jim Caviezel remains largely silent.
The superb cinematography earned Caleb Deschanel a much deserved Oscar nomination, and it's hard to imagine a more appropriate setting for such a film. Gibson, however, was not the first to recognise Matera's potential as a stand-in for the Jerusalem of 2,000 years ago. Pasolini filmed the biblical classic The Gospel According to St. Matthew 40 years earlier in Matera and the medieval hill town of Craco provided the setting for the suicide of Judas, a further 20 miles to the south.
Matera is a unique ancient town owing to its network of caves, known as sassi – meaning stones – dug into the rock face which, up until the 50s, were still inhabited by people. Since the making of the film, Basilicata's little-known town of Matera has become an increasingly popular tourist destination and local businesses are revelling in the publicity the film has triggered off. The nearest airport is Aeroporto di Puglia, in Bari, around 40 miles to the north.
The Trattoria Lucana (Via Lucana 48, + 39 083 533 6117) now serves up dish loads of the famed fettucine alla Mel, reportedly Gibson's favourite during the two months of filming. If you wish to experience the Hollywood side to Matera, head to the three-star Italia Hotel (Via Ridola Domenico 5,+39 083 533 6917) where Gibson stayed for the duration of filming. Alternatively, for a quirkier experience stay in one of the grottos in the old part of town where a number of hotels have popped up.