With a history steeped deep in the philosophy of La Cucina Povera, the Val d'Orcia offers taste and tradition. Wanda Djebbar guides us on a gastro tour through the past and present…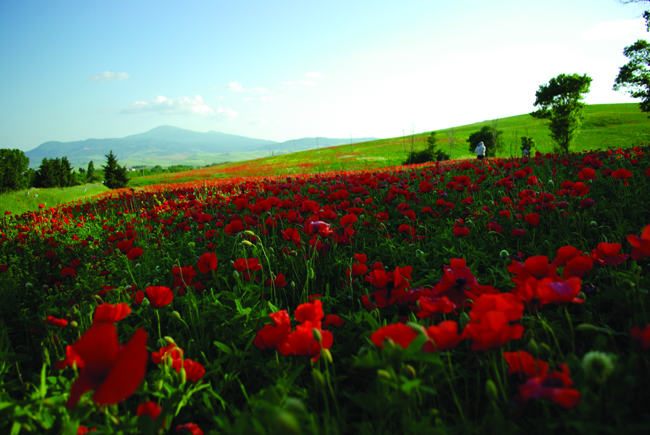 Gourmet Guide to the Val d'Orcia
Those among you who are looking for rich, difficult, complicated food to combine with sublime landscapes, art and architecture will disappointed by the Val d'Orcia. This is an area of Tuscany that combines some of the most beautiful, characteristic landscapes of the region with an ancient, pared-back way of cooking that positively celebrates the necessity that created it.
Let us be clear as to what La Cucina Povera means in the Val d'Orcia. It really does translate as, and mean, 'poor cooking' or 'poor cuisine' – which may not sound very appetising. But stop, taste and then think. What it means is intensely seasonal food; locally, or indeed home-grown food, combined carefully and with skill, and totally in tune with nature. Not so poor-sounding now is it? In fact, it's rather what many of us are actively trying to return to.
This is still a very rural area and many people still feel closely linked to the land. Many, many families maintain an orto, a vegetable plot. The restaurants that you eat in, the markets (yes, use them – you will eat better for it) and even the co-op supermarkets will all aim to supply much of their fresh seasonal produce from a much smaller, more local area than is the case in, for example, the UK.
So how does it work and what should you look out for in this 'not so poor after all' part of the world?
Strips of Wheat
Traditionally, bread was the staple in the diet of the contadini (peasant farmers) and ordinary folk here. Every farm had its strips of wheat, often planted between the vines or olives; then there were – and are – the rolling, open hills where wheat is the principal crop. Bread here is traditionally unsalted and even today provides the backbone of some of the most dearly-loved dishes. Unsalted, it kept better, which was good as it was baked only weekly down on the farm, and anyway, salt was taxed.
Bread, however hard, was never, ever, wasted and that very hardness was a positive benefit in the many soup dishes that you will find; from Pappa al pomodoro with the summer's tomatoes, to the bean rich Ribollita of autumn and winter.
Crostini and Bruschette, both being slices of bread, are the most common form of antipasto at the beginning of a meal in the Val d'Orcia; toasted country bread with tomatoes, oil and a touch of garlic and basil are not a cliché when met with in this part of the world; they are a feast.
While bread is the staple, a few types of pasta do exist, principally Pinci or Pici, a simple flour and water handrolled thick 'spaghetti' that is soul food here. They reach their height of cucina povera when they are served dressed, as they so often were, with breadcrumbs fried in oil, Pici con Briciole. You will also find Pici al aglione (tomato and garlic sauce), with ragu, with wild mushrooms or occasionally with duck or wild boar. Pappardelle pasta ribbons will be found with a sauce of hare, and tagliatelle may be made if there are truffles to be enjoyed!
The staple, bread, the pasta and (almost) every other dish eaten in the Val d'Orcia, invariably contains one vital, unmissable ingredient: oil. Or to be more specific, olive oil. And to be absolutely precise, fresh oil from olives grown in the Val d'Orcia, and cold pressed at a competent frantoio, olive press, resulting in an oil full of life and character. No 'infusing' 'spiking' or any other addition needed. The ceiling of the Sistine chapel really does not require any highlighting with magic marker – it really is rather good as it is. The oil is used from everything from sweating the odori (onions, carrot, celery, maybe parley) at the beginning of making soup, to tossing the vegetables, enriching the bowl of soup, to deep frying the cenci, pastries, and making cakes.
Absolutely essential.
Bread, oil, wine. A triumvirate.
Foraging
Now truffles may seem totally contrary to Cucina Povera but no! They are (the height of) that great Tuscan passion and tradition, foraging. When times were truly hard, as they frequently were, then foraging was, quite simply, the difference between survival and succumbing to hunger. It was often also the difference between a bland, vitamin-light diet and something with some zingy flavour that was packed with nutrients.
You will still find some survivals from this necessity on the menu; when you find verdure on the menu, these may be chard or spinach, but they may well be supplemented by nettles or a variety of other wild greenery. In spring, Tuscan homes will frequently feature an Insalata del Campo, or field salad, on the menu and you need to be up early in the day and have good, tuned-in eyesight to find the delicious wild asparagus stalks lurking in field margins. A frittata con asparagi, the slow-cooked omelette with asparagus, will certainly not make your taste buds feel poverty-stricken and hard done by!
Truffles and their funghi cousins remain the highpoint of the foraging seasons in the Val d'Orcia and contribute finely to food in the area. Truffles are found most prolifically at San Giovanni d'Asso on the border of the Val d'Orcia and the Crete Senesi. The November and March Truffle Fairs there give a perfect taster of what heights food can reach here. There cannot be many places whose museum is devoted to the truffle, but so it is in San Giovanni! Funghi are duely revered here and enrich autumn food; dried, their power lives on in dishes throughout winter and beyond. Fresh, they are served as antipasti raw salads. If they are ovoli, a particular egg-shaped wild mushroom, this can be totally sublime.
Fresh large porcini, (cep), mushroom caps can be combined with the Tuscan love of cooking over the embers of a wood fire to create a dish that vegetarians and everybody else will find intensely flavoursome. Fire embers, Porcini caps (save the stems for another dish) and a little olive oil and salt/pepper roast down to something deeply, wildly, savoury succulent that only needs some good bread to mop up the juices.
Chestnuts
Another foraged food that is eaten both fresh and dried are chestnuts, a food that has played a vital part throughout history in this area. Now, you may enjoy them fresh, dried, or as flour, their sweet, almost smoky flavour roasted, or in pasta, soups, crepes or sweet dishes. Previously it was the reliability as well as the taste of the chestnut that endeared it to people, when the wheat harvest was scarce or was plundered in war. Now, Castagnaccio, the simplest of chestnut flour cakes, is a sweet reminder of harder times, but the source of the best local chestnuts still remains Monte Amiata. A good excuse for a delightful autumn walk through the countryside.
Beans
Which other elements are dear to the stomach of the Val d'Orcia? Beans! Until the easing of hardship in post-war years, beans provided a large part of the protein regularly eaten. But if you are fortunate enough to have access to home-grown olive oil, without which it is most unlikely that most people would have survived, then the beans you eat take on a creamier more satisfying taste and texture. Cooked, once again alongside a wood fire, fagioli al fiasco, beans cooked in a flask, are flavoursome and wholesome dressed with the peppery local oil. Leftover beans go into soups and give Ribollita (reboiled) soup its name! Ceci, chick peas, eaten here can also be a revelation; small and delicately flavoured they do not require two hours boiling to avoid being harmful proto projectiles. Boiled chick peas, Ceci lessate, dressed with oil, a grind of pepper and a sprig of rosemary feature throughout the year and also find their way into Pasta e ceci and various soups. You may even find them ground into flour and appearing as a pancake/cake called cecina, more usual in coastal Tuscany – and even reaching as far Nice as Socca.
Some older elements of Cucina Povera are being consciously revived; rare breeds and forgotten cultivation methods are reinforcing the authenticity of food in the Val d'Orcia. Maremmana cattle, the mighty Chianina beef cattle, and the Cinta Senese pig are all ancient breeds enjoying a renaissance that contributes to culinary quality.
Home-grown spices were few and therefore not widely used in the Val d'Orcia, so black pepper, nutmeg or cinnamon are either later additions or belong to a narrower culinary experience than we are looking at here. But there is now a worthy exception to this: saffron! This is once again thriving in these hills thanks to a few farmers looking back to a local culinary highlight. Look out and you will be rewarded with an aromatic burst of intense gold, well worth taking home for experiments in your own kitchen.
La Cucina Povera was a way of eating that was dictated by necessity and the landscape of the Val d'Orcia; now it is no longer a strict necessity but has become a pleasurable, and sensible, way to nourish body and soul.
Tags:
Culture
,
eat
,
food
,
Tuscany