Chris Allsop last visited Tuscany as a young boy. Thirty years later he decided to go back…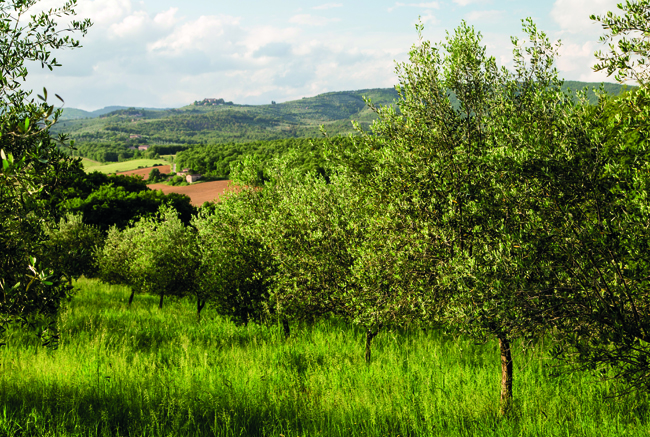 The last time I was in Tuscany, I mostly chased pigeons. I was six, on a family holiday, and the astounding art heritage of Florence was no match for the challenge of putting the wind up every pigeon in the city.
Since then, I'd poked around the edges but hadn't returned. Maybe because of what a name it's become – supreme in the British Italo-consciousness, summarised by that brochure-perfect image of a column of cypresses marching directly to the door of a stone farmhouse. Picturesque, certainly, but also… static? empty?
It was time to return, to discover if Tuscany could match the easy going of Puglia; the cuisine of Piedmont; the rustic charm of neighbouring Le Marche. The only fair way to judge was to let the region put its best foot forward. Come on, Tuscany, show me what you've got!
Viareggio
My trip began on Tuscany's picturesque coast, fleeing the flat heat pressing down upon Pisa's airport. Viareggio, part of a strip of coastline known as Versilia, is reached after a half-hour drive that slants through the verdant foothills of the Apuan Alps. It's popular with Florentines (one hour's drive), and famous for its building of satirical floats for Carnevale.
First impressions of Viareggio, with its striped umbrellas parading along a goodly portion of the resort's 30 kilometres of yellow sand beach, suggest an Italian seaside cliché. However elegant surprises (besides those in Max Mara's windows) are thrown up as I stroll to the southern end of the promenade.
Founded in the 18th century, a number of art-nouveau façades still remain from Viareggio's exalted past. The twin-domed Gran Caffè Margherita is the grandest of these. Still open for business, with an exquisite period interior, the Margherita was famous as an artist's hangout, with the composer Puccini its most famous coffee-sipping customer.
Viareggio has another, more grisly artistic connection: the drowned poet Shelley washed ashore here after his boat was destroyed in a storm. Later on, I notice a Shelley pizza on the menu at a backstreet ristorante. Toppings: tuna and onions.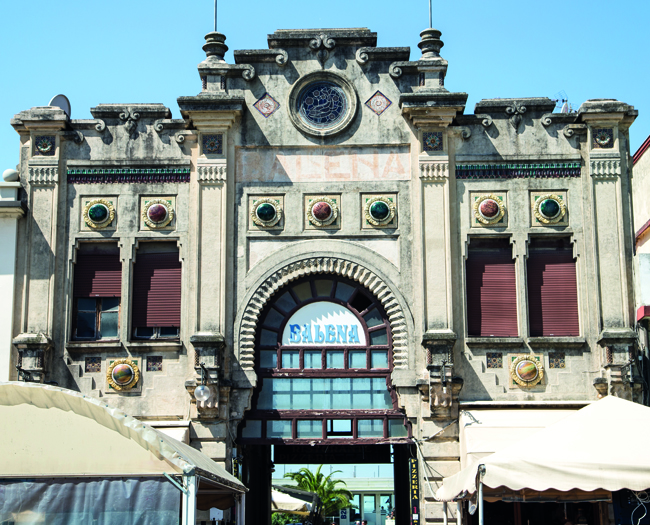 Also at the southern end, you'll find the other engine of Viareggio's economy: a superyacht shipyard. During my stay, several Bond-villain sized cruisers cut a swathe through the calm ocean, perhaps heading for the higher end, Russian-magnet Forte dei Marmi to the north. When I head in that direction, I find Viareggio's boardwalk becoming more modern. There's a southern Californian vibe here, with phalanxes of Italian joggers cruising sweatless at sunset, like off-duty Avengers. In the spaces between the casual yet chic restaurants and cafes spilling across the spacious walkway, I spot fishermen wading hip high in the breakers with their nets, catching fresh seafood for the kitchens. There aren't any period buildings this end, but I don't mind; the warm sea breeze is infused with jasmine and the gorgeous mountain views offer an appealing natural alternative.
Lucca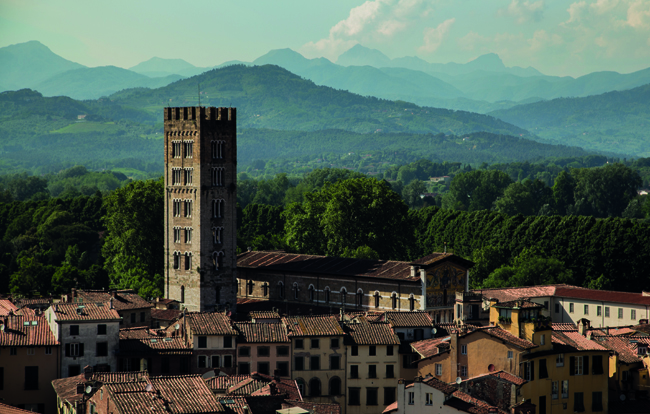 After a twenty-minute drive from Viareggio, past forested hills and small towns, I arrive at the walled city of Lucca. Enclosed within massive and intact medieval walls, Lucca was made into one of the richest cities in Tuscany by its canny merchant class. Apparently, the Lucchesi to this day introduce themselves according to whether they are "Lucchesi dentro le mura" (born inside the walls and therefore of noble lineage) or "Lucchesi fuori le mura" (new money from outside the walls).
While you'll find a maze of unusual churches, high-end boutiques and inviting cafés at ground level, Lucca saves its best for slightly higher up. I hire a bike and cycle along the top of the wide medieval walls. Small, shady parks coalesce in the corners of these graceful fortifications, where locals play chess, work on laptops, or profess passionate declarations of undying amour, no matter how many families are picnicking nearby.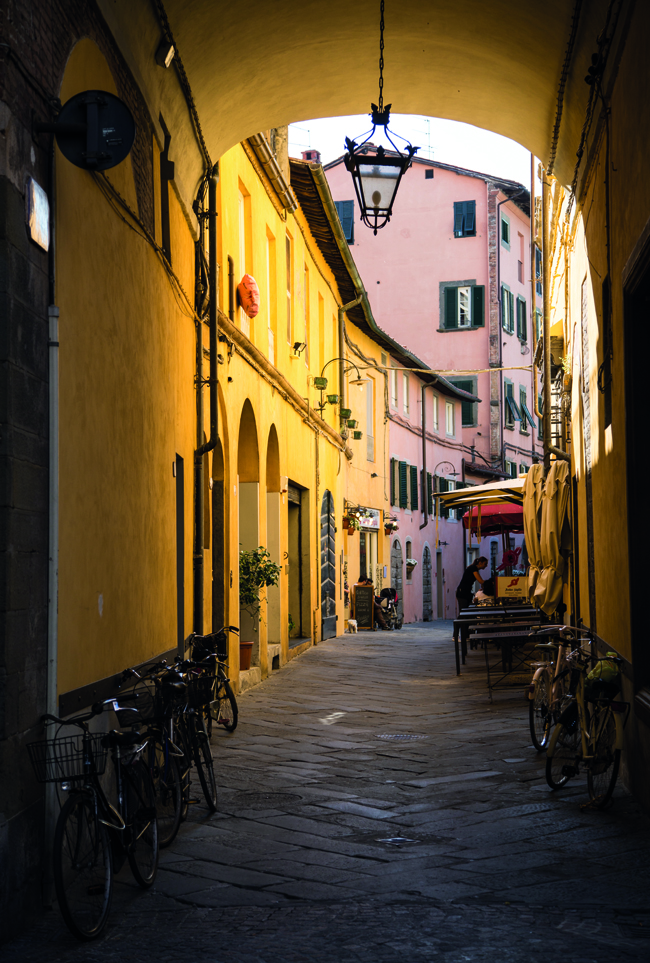 The symbol of Lucca is its fairytale Guinigi Tower, its square red-brick construction capped with a small grove of trees like a thick head of hair. I hike its stairs (entry is only a few euros), and the panoramic views over the city and the surrounding countryside are easily worth it. In a church somewhere beneath, a choir is practising, their powerful choral voices ringing out beneath the blue sky.
I could spend my whole few days here, exploring Lucca's alleys and piazzas, reposing in its parks. But Tuscany doesn't resemble its idealised self yet. Between Lucca and Viareggio, I see hints, but not its fulfilment. Travel south, I am told.
Florence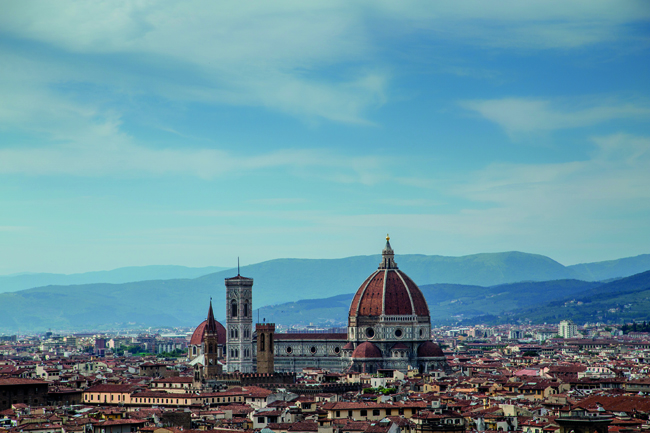 This is a quiet day," said our diminutive guide, Francesca. We pushed through the throng of tourists gathered beside the street market, the smell of leather engulfing us from the ranks of bags and belts strung into a colourful wall. Francesca tells me that Tom Hanks was in the city yesterday filming the latest Dan Brown. Small mercies, I think – if there's one thing Florence doesn't need it's another tourist attraction.
It's reckoned that, on an average day in the Tuscan capital, you have twenty tourists for every citizen. There are certainly moments, such as on the remarkable Ponte Vecchio (the only medieval bridge not destroyed by the Germans in WWII), when I'm yearning to employ the elevated Vasari's Corridor to escape, to just be able to string three footsteps together without obstruction (Francesca recommends October, which has had stunning weather in recent years, for those who don't enjoy crowds).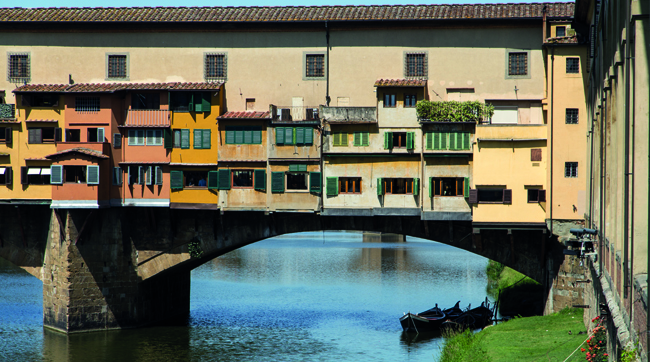 But I adjust, with the aid of the peerless surroundings. Florence is like a cultural Himalayas: there's always another architectural marvel peeping above the last, or the next art treasure waiting around the corner. It's endlessly transfixing. While I'm sure they are still there, I couldn't tell you, hand on heart, if Florence currently has pigeons still to chase.
Our tour ended, as many do, before the immense, graceful Duomo with its white, green and pink marble softening the midday sun. Later we see it from above (from Piazzale Michelangelo), the architect Brunelleschi's innovative self-supporting dome buoyant as a fishing float in a red-tiled sea.
Sienna
We travel south to Florence's historic rival, Siena, passing through a softly contoured agricultural landscape. Soft grasses wave tantalisingly from the roadside, inviting us to pull over and wander barefoot. Tuscany the image is coming into focus.
Siena is smaller, gothic, and beautifully arranged over a hill that was once a lump on an ancient sea floor. I wander into the Basilica of San Domenico and stare at the grisly head of St Catharine on display. I'm told that someone offered €4 million for a local's modestly-sized apartment, with admittedly spectacular views of the old town (they didn't sell). The sense of belonging is strong here, made world famous through the city's fractious palio horse race, where Siena's 17 neighbourhoods (or contrade) vie, twice a year, for supremacy. A Sardinian who grew up here tells me that she, "watched as two girls, best friends from different contrade, did not speak to each other for the entire week leading up to the race". It happens, year in and year out. And through it all St Catharine never sleeps.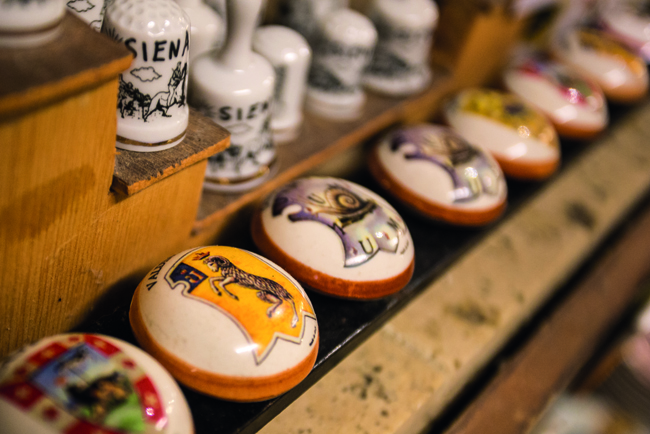 I walk the winding alleyways, past tidy kitchen gardens and restaurant seating scaling the steep streets like tiers in a lecture hall. A five-year-old rips past on an old grey scooter. The smell of freshly baked bread fills the close street.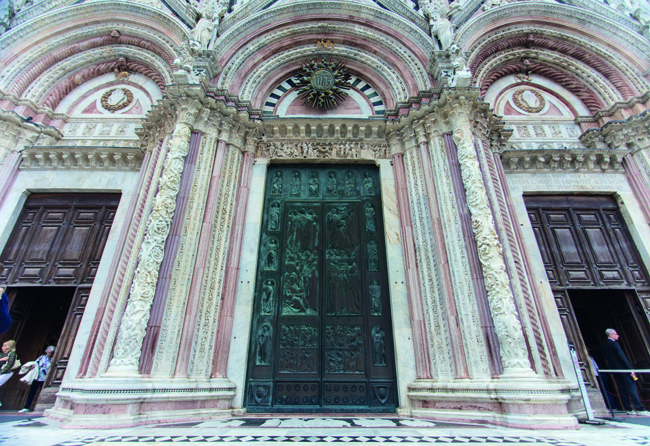 The highlights do not disappoint: the famous Campo where the Palio takes place, its intricate herringbone brick floor covered in soft, sandy soil for the event. And the Cathedral – clearly Tim Burton's inspiration for the aesthetic of Beetlejuice – offers the architectural equivalent of a flash of inspiration as you move from its shrouding interior gloom and into the renaissance supernova of the Piccolomini Library.
Chianti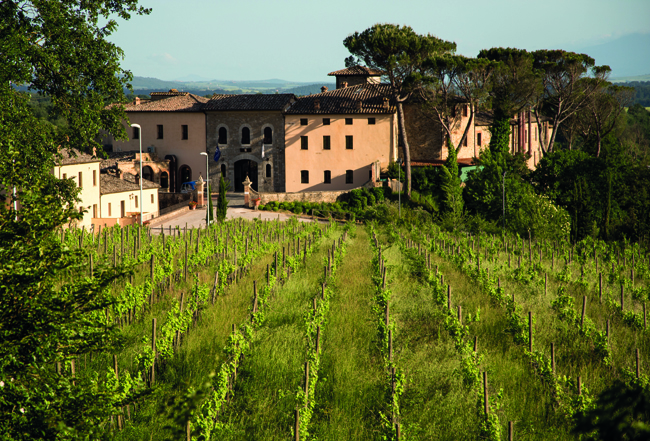 This final day, Tuscany tries to woo me with peril. I am in the rear, red vinyl seat of a 1967 Fiat 500 – essentially a drinks can on wheels. Dario, our red-headed Sienese driver, is showing me his sunburn as we careen around the windy roads.
"From white mozzarella," he says, showing me the pale underside of one forearm. "To," he brought out the other forearm now, holding each side-by-side for effect, "red lobster!"
He looses his machine gun laugh. Surely, that time, there was no way he could have had a hand on the wheel. But it is thrilling fun with Dario and his partner-in-crime, Ciro – a pure expression of over-caffeinated Italian charm – driving the other orange Fiat 500. We harum-scarum around the winding S22 (the Chianti road), gazing out over the densely forested hills, the handsome stitching of the region's 200 vineyards, the cypresses, the farms – the image of Tuscany now within touching distance.
We slow for delicious Chianti Classico tasting at the genial wine shops of Castellina in Chianti, and a spot of meandering around the artisan shops of UNESCO gem Monteriggioni. Later, back at the hotel and restless, I take my camera, hire a bicycle and head out along an empty country road. I pass a tiny vivid vineyard backlit by the sun, and plough through the scent of cypress gathering in the shade. The road ends at a castle, ivy sacking the ramparts, but from a nearby olive grove I see the shot that I've wanted: those rolling hills capped with weathered stone buildings – perfect Tuscany. As I sit down in the long grass, I realise that there are two sides to the valley, that the image is no longer empty.