A taste of an Italian panettone this Christmas to put on your present list…

It must be the end of summer, because the Italia! team have received their very first panettone in the post!
Arden & Amici warmed up our winter by sending a sample of their 750g premium panettone which sadly did not last long in office, it was so delicious. The vine fruit was partnered with some deliciously soft citrus peel that complemented espresso coffee just perfectly – it was soft and buttery without being too sweet.
In our group test of paneytone last year, we gave this five stars. here is what the panel had to say:
"The initial 'wow' factor of this neatly-boxed panettone is more than just visual, as once opened you are met with a delicious Christmas-infused aroma. From there, sticky chunks of orange and plenty of raisins can be found encased in a light, fluffy sponge. Just what we want! Plus, the prevailing hint of vanilla adds to the flavour and the texture is moist enough to suit most palates. "
We're only too happy to get our Italian Christmas going a little early with this great treat. And fortunately, there are still drunken and cranberry version available to keep our palettes busy until December, or 100g mini versions for great little gifts for friends.
The full range is available in store at Waitrose and online from September 2013 with prices ranging from £2.69 for the mini Panettone to £11.99 for the Drunken Panettone. For more details, and to learn about other tasty products, visit www.ardenandamici.com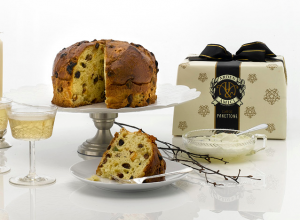 Tags:
blog
,
italian gifts
,
italian panettone