It can be summer all year round when you dine al fresco Italian on Vivo's roof terrace, as Hannah Bellis finds out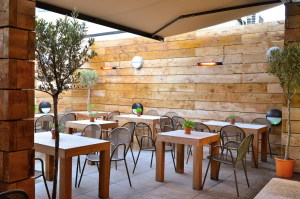 At the table across from me are a group of four girls drinking cocktails and passing poker chips back and forth as they bask in the sunshine on Vivo's roof terrace. It is 2pm on a Monday afternoon. The girls certainly belong in Islington; I'm less sure that the tranquil terrace and incredible creamy buffalo mozzarella do. But even though it is 2pm, I'm sipping one of their signature Spritz cocktails and feeling like it all fits together rather well.
The cocktails are one of my top recommendations to enjoy here actually, though it is all pretty good. But the cocktail menu is put together by Vivo's Venetian barman, and their Vivo Spritz, with Aperol, martini rosso, prosecco, crème de cassis, orange juce, and soda (£6.50) tastes far too good to be drinking on a Monday afternoon in London – I'll have to pretend I am in Italy. Sitting next to an olive tree, with beads of water forming on my glass, and with bit of a squint I almost could be.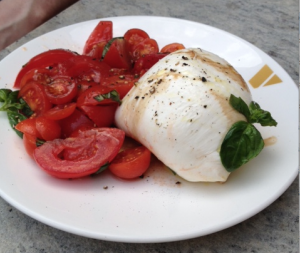 The Thompson brothers who established Vivo last year have certainly done a good job recreating the look of northern Italy here, but I have never seem this kind of gourmet canteen establishment in Italy. This is a place of contradictions. Great food, with so many of the ingredients and the ideas imported directly from Italy, served by predominantly Italian staff – but on trays. I did find the trays and particularly queueing up with a tray very much the opposite of the gourmet scene displayed by the rest of the establishment. But perhaps this is how they manage to serve these great dishes at these prices. The caprise salad (£6.80) came with a whole buffalo mozzarella, stringy, creamy and delicious, just as it should be, with three different kinds of Italian tomato, one grown on Vesuvius that apparently "tastes a bit like a peach if you eat it whole." I found it tomatoey and delicious, and the whole dish was a great sharing starter, accompanied by their meat plate (£9.80) with delicately sliced Italian salumi, cheese and olives. I also sampled a couple of their other salads  – the salad bar is apparently their most popular feature – and they were good, fresh and generous with their salmon and other quality ingredients, but did not have the same Italian impact for me as the caprise, though it is good to know you can enjoy a more healthy and less cheesy offering if you are of a mind to.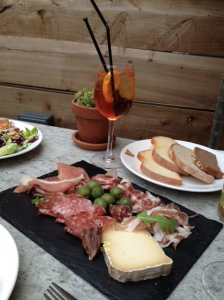 Hot mains are given a lot less prominence at the counter than the salad, but then, it is summer right now. We chose pizza of the day, which was courgettes flower (£4.60) and melanzane alla parmigiana (£7.90). Both were fine, and very well prepared and served, so you didn't see evidence of them being kept warm in the hot cabinet, but after the excellent and authentic starters, they seemed something of an afterthought. Perhaps in the winter months, these really come into their own.
Even saying this, the cocktails and the apertivo so far are more than enough to warrant a visit to Vivo. But if you prefer something a little less alcoholic at 2pm on a Monday, come for a coffee and a cake. The patisserie selection really is out of this world. The cannolo (£4.50) was, dare I say it, even better than any I have had in Sicily. It was the attention to detail that really set it apart. It was lined with chocolate to keep the shell crisp, and the filling was not to sweet or rich, just deliciously creamy and dusted with ground pistachio and candied orange peel. We also tried the pear and ricotta tart (£5.20) as it was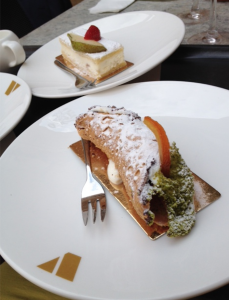 recommended by the server as her favourite, and the baba (£3.80) because this is my favourite, and again, they were exceptionally good and so well balanced to stop them getting too sweet and cloying. It's a good thing I don't live in Islington as I'd find it hard to resist cakes this good every day. And for coffee and cake, the tray grated far less with me.
They do a lot of things very well here at Vivo. And they manage it at very reasonable prices too, and I loved the roof terrace. But next time I visit I'll try eating downstairs where I can perhaps forgo the tray, which is the only thing that really marred the Italian style of my experience. But I would still carry many a tray for cakes like these.
Vivo, 57/58 Upper Street, Islington N1 0NY, www.vivotaste.com
Tags:
blog
,
food