Officially listed in the UNESCO Geopark network, Majella in Abruzzo is a dream for nature lovers, as Val Nicastro discovers.
Images by Val Nicastro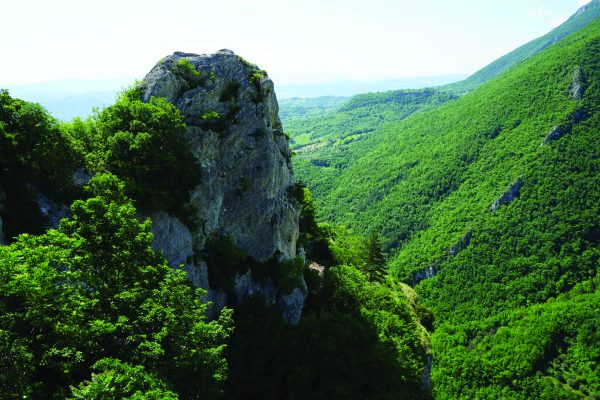 About an hour's drive inland from Pescara and the beaches of the Adriatic coast, the Majella National Park is one of those hidden gems of Italy that impress with their simplicity and authenticity. The area boasts 740 square kilometres of protected wilderness amid the Apennines, with more than 60 peaks, one-third of all Italian flora, and a universe of animals, including rare species like the Marsican bear and the Apennine wolf.
Locals call Majella their 'Mother Mountain' and believe its name derives from the goddess Maia. According to the legend, the mountain is Maia's final resting place, where she collapsed after searching for endemic medicinal herbs in the snow to save her son Mercury, who had been badly injured in a battle. The Majella Park is a land of staggering views, fascinating folk tales, delicacies you'll rarely find elsewhere, and mountain villages where everyone knows everyone. And with a priceless heritage of art and culture, there's a lot to explore in this corner of wild and untouched beauty.
Natural wonders
My visit started in Fara San Martino, a pretty hamlet near the Verde River. Several pasta brands (including De Cecco) chose it as the base for their factories because its excellent mountain waters make it the perfect place for pasta making. The village also houses a few natural wonders, including the Gorges of Fara San Martino, which are considered among the most impressive in the Apennines.
A narrow passage in the rock leads to a gorgeous valley with the ruins of an ancient Benedictine abbey dating to the 9th century, where beautiful basreliefs and decorated columns are still visible. The gorges of Fara San Martino are famous among trekkers, who can find several hiking trails here.
One of these will take you to the top of Mount Amaro, the highest peak of the Majella (2,793 metres), and it's not uncommon here to meet a chamois jumping up and down the mountains. About half an hour drive south of Fara San Martino, Pennapiedimonte sits scenically on a steep ridge overlooking the valley of the Avello river. Once a thriving centre of stonecutters, now it's a peaceful village where time seems to stand still. It consists of a maze of narrow streets and tight steps leading to ancient houses and oil mills carved into the rock, which remind visitors of Matera's atmospheric cave dwellings. The upper part of the village, the Balzolo, offers a fantastic belvedere known as the 'Balcony of Abruzzo'. The views from up there are spectacular, sweeping from the valley to the coast. You can also see the Cimirocco, the curious natural sculpture in the shape of a fin that guards the village.
The next stop for the day was Guardiagrele, the 'stone town' that Gabriele D'Annunzio mentioned in his novel The Triumph of Death. The poet came up with this nickname after admiring the grandiose white stone façade of the Collegiate Church of Santa Maria Maggiore, the town's cathedral. The building is a treasure trove of artistic jewels, including a beautiful portal in Abruzzese Gothic style, the majestic fresco of San Cristoforo covering the side portico, and a civic museum with interesting testimonies of the town's artistic heritage.
There's a strong craft tradition in Guardiagrele and it's definitely worth setting some time aside to browse its many artisan shops, some of which are housed inside the town's old defensive walls. During my tour, I visited the workshop of Filippo Scioli, the local master of wrought iron, and admired the fabulous handmade ceramics of Stefania Santone.
Classic dessert
In need of a refuel after all the sightseeing, I feasted on local specialities at the Santa Chiara Restaurant, followed by a visit to Lullo Emo to try the town's classic dessert: sise delle monache, a sinful sugary pleasure of soft sponge, creamy custard and icing sugar in a shape that calls to mind three mountains (or three breasts, depending on the interpretation). This quaint little shop even has a handy brush on the counter so that customers can easily wipe off the powdered sugar that inevitably spills all over the clothes when they are eating the dessert.
More surprises awaited in Casalincontrada, the place to experience sleeping in a house made of local raw earth. There are about 800 such traditional buildings in Abruzzo, which are precious testimonies of local peasant life in the early 1800s, and Casalincontrada is one of the key centres to admire them. Here, local architect Gianfranco Conti hosts workshops about this natural construction technique, where participants can manipulate samples of local earth. He also turned an old earth house into a unique bed and breakfast, Borgocapo, which made for a relaxing overnight stay.
For dinner, I went to Agriturismo L'Antico Tratturo in Fara Filiorum Petri, an unmissable stop when visiting this part of Abruzzo. I had delicious fire-roasted meat and delicacies from the land, served in a scenic natural setting and accompanied by the fascinating tales of the owner.
Wolves and spirituality
The following day I headed to Pretoro, a fairytale mountain village with a cluster of stone buildings and mysterious covered passages. When the lights are on at night, it looks like a fascinating nativity scene. Surrounded by enchanting forests, Pretoro has been known as the town of fusari (the wood craftsmen who made spindles to spin wool) for a long time. Today, spindles are used to lead visitors through the quaint alleys and steep stairs of the village.
The main landmark here is the Church of San Nicola, which houses the statue of San Domenico Abate, the village's patron saint, who is believed to have saved a child from a wolf. This story has been handed down from generation to generation, and every year, in early May, it is celebrated through an emotional representation called Lu Lope – 'The Wolf' in the local dialect.
There is also a Wolf Museum showcasing elements used during the festival and narrating the strong link between wolves and this territory. To get a closer look at these fascinating animals, you can also visit the sanctuary run by Fabrizio Chiavaroli, and Il Grande Faggio just outside the village, where injured wolves are rescued and live in security and semi-liberty.
This remote mountain landscape made Majella a popular destination for religious isolation and monastic living, as testified by the presence of numerous hermitages and abbeys nestled into the woods. One of these is Santo Spirito a Majella, an ancient hermitage carved into the side of a mountain before the year 1000. It's a place of profound peace and beauty, rich in history and beautiful details to discover (you may recognise it in some scenes of Paolo Sorrentino's The New Pope). There are stunning rocky balconies, ancient frescoes, and a scenic Holy Stair dug into the rock that pilgrims used to climb on their knees in order to receive a plenary indulgence for their sins.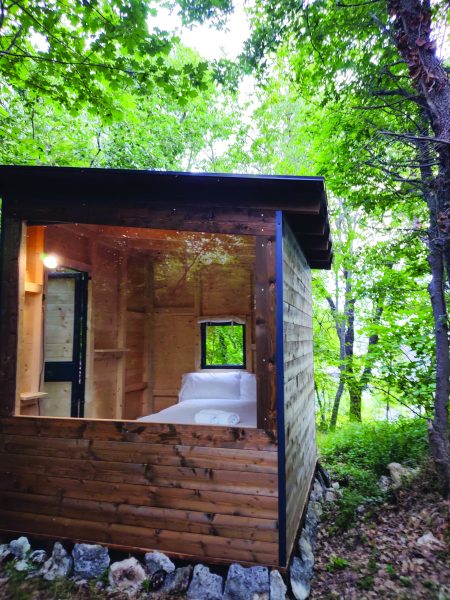 Abruzzese pasta and a night in the woods
The peaceful hamlet of Decontra, on the northwest flank of Majella, was my destination for a late lunch in nature. There, I met Marisa, who runs the charming organic farmhouse Agriturismo Pietrantica and teaches how to make maccheroni alla chitarra, traditional Abruzzese pasta made with a special tool that cuts the dough into square-shaped spaghetti. After a warm welcome with a glass of homemade rose liquor, I enjoyed a delightful al fresco lunch with traditional dishes prepared using ingredients straight from the garden. Marisa and her husband are lovely hosts and create that unique family atmosphere that makes it hard to leave.
My final night in Majella was a traditional local meal in Agriturismo Tholos, followed by an exciting glamping experience at Dimore Montane. This place is the dream of four friends who quit their jobs and joined forces to turn an abandoned structure amid the woods into sustainable lodging. I slept in a cosy tent lulled by the trees rustling quietly outside. There also camping grounds, more traditional rooms, and some adorable wooden cabins available to guests. Undoubtedly the perfect ending to an incredible trip which revealed that little corners of paradise do still exist.