There's a delicious diversity to the wines of Veneto, thanks to the varying types of terrain and soil in this region. Here we explore some of its best reds…
Although not vast in size, Veneto is one of the largest-producing regions of DOC wines in Italy. The variety of wine styles offered by Veneto are a result of the region's topography. It's protected by the Alps to the extreme north; here, cool mountain breezes combine with warm summers, creating perfect growing conditions for grape vines. And, as the mountains give way to hills and eventually plains, there is a large variety of soil types that contribute to the region's vinous diversity. 
Valpolicella is one of the best-known Veneto wines, made from three main grape varieties – Corvina Veronese, Rondinella and Molinara – and it can be either light or more robust, depending on the combination. The best Valpolicella wines come from the hilly area just east of Verona, near the shores of Lake Garda.
Bardolino is also made on the shores of Lake Garda and uses the same grape varieties as Valpolicella, but in a lighter style. Less Corvina and more Rondinella makes for a much softer wine similar to Beaujolais Nouveau. Breganze DOC is produced around the town of Vicenza, in both red and white styles. The rosso is most common, and contains at least 50 per cent Merlot. We also have the little-known indigenous Marzemino and Groppello to try here.
Discovery of the month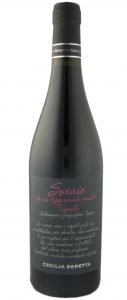 Soraie IGT Veneto Cecilia Beretta 2016
Currently converting production to organic, the Cecilia Beretta estate was founded in the 1980s. This Soraie has undergone a light process of appassimento creating a rich velvety wine, deep red in colour and full of black plum, cherry and warming spice. The balance of flavour, acidity and sleek tannins hint of Amarone. Exceptional value.
Pair with: A rare beef-rib roast with all the trimmings, tagliatelle with a rich meat ragù and cheesy lasagne
From: Corney & Barrow, £11.95
The best of the rest…


Marzemino delle Venezie IGT, Villa Mura, Sartori 2017
Another keenly priced Veneto wine from Sartori, a long-standing wine producer near Verona. The Marzemino grape is perhaps one you haven't encountered before, but this wine is a real find. A rich red in the glass, this wine is bursting with sour red cherries and a hint of violets. Lively and fruity on the palate with more fruit, a pinch of peppery spice and mellow tannins in a well-rounded wine best drunk young.
Pair with: Roast pork and rabbit, meat-based antipasti and semi-aged cheeses
From: Great Western Wine, £7.95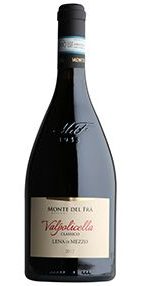 Valpolicella Classico, Lena di Mezzo, Monte del Frà 2017
Run by brothers Eligio and Claudio Bonomo, Monte del Frà, or 'Hill of Monks', is in the heart of the Bianco di Custoza DOC. Their splendid Valpolicella Classico has a lovely depth of colour, perfume and flavour – plenty of tart cherry combined with darker fruits of the forest and even a peppery note or two. It's medium-bodied and easy to drink, with a fine structure and smooth tannins in the long finish.
Pair with: Leg of lamb with rosemary and garlic, or try it with pungent blue cheeses
From: Berry Bros & Rudd, £12.95


Passimento IGT 2016 Famiglia Pasqua
With a label inscribed with messages from Juliet's wall in Verona, this wine takes its name from appassimento and does indeed include some grapes partially dried before fermentation. Deep and rich red in colour, the aroma is concentrated cherry which develops on the palate to include layers of tobacco, a little chocolate and spice. The well-structured tannins hold it all together to the last delicious drop.
Pair with: Roast chicken, beef tagliata or a chunk of aged Parmesan
From: Majestic Wine, £11.99 (single bottle, or £9.99 per bottle for a case of six)


Firmino Miotti, Veneto Groppello, 2016
The Miotti family has made wine for generations in Breganze and the business is now run by Firmino and daughter Franca. Groppello is a local grape also found in across the border in Lombardy. It produces a medium-bodied wine with classic flavours of red cherry, rich dried fruits and spiced notes of cinnamon and clove. The firm tannins make this a wine to savour. Their little-known Breganze red is also available from Mondial.
Pair with: Rich meats like goose, game or even a savoury porcini risotto
From: Mondial Wine, £15.68

Villa Sandi, Corpore Rosso Veneto IGT
A company with an award-winning international reputation for its sparkling wines, Corpore is definitely the ruby-red jewel in Villa Sandi's multi-faceted crown. There's a full-bodied bouquet filled with black cherry, bitter chocolate and spice. Mostly Merlot, it is bold and powerful on the palate with a rich blend of more dark fruit, chocolate, a hint of vanilla and tobacco smoke alongside supple tannins. Very special.
Pair with: Osso buco, venison and other slow-cooked braised meat dishes
From: Bellavita, around £22
For more great Italian wines to try, you'll find plenty of reviews here.
Tags:
Food & Wine
,
Italian wine
,
red wine
,
Veneto
,
Wine