Planning to explore Rimini? Here's all the top tips from where to dine, where to stay and what to see and do!
WHAT TO SEE AND DO
➤ THE BEACH
Rimini's prime attraction is its nine miles of sand. In the summer you'll wander agog past endless rows of colourful sun umbrellas, uninhibited sun-bathers,
and people of all ages gleefully sporting in the waves. Be sure to stroll the whole parallel strip of cafés, bars and restaurants to soak up even more of the carefree, leisure-soaked atmosphere.
➤ THE OLD TOWN
Rimini's remarkably peaceful old centre lies just over a mile inland, and various pleasant paths and cycle routes connect it with the beach. Full of attractive, well-maintained buildings, its pretty clock tower is especially memorable. Wander the handsome piazzas and watch Riminesi at work in the true heart of their community.
➤ THE CATHEDRAL
Via IV Novembre
Referred to as the Tempio Malatestiano or Malatesta Temple, this striking building was originally a 13th-century Gothic church. It was half-heartedly transformed into a Renaissance-style mausoleum for a distinctly dodgy local bigwig in 1450. Inside, there's a fresco by Piero della Francesca. Seek out the Chapel of the Planets which includes a panorama of the city of Rimini in the 15th-century.
rocca di san leo
Piazza Dante Alighieri 14
www.san-leo.it
For all its charms, it might be worth venturing out of Rimini during your stay. San Leo is a stunning town just under an hour away by car which boasts this large ancient fortress and spectacular views.
➤ ROMAN REMAINS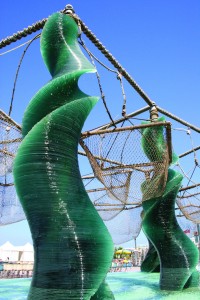 The rather lovely Arch of Augustus, on the southeastern edge of the old town, was built in 27 BC and enhanced with swallowtail crenellations in the Middle Ages. The handsome Tiberius Bridge, wrought in pale Istrian stone between 14 and 21 AD, lies to the old town's northeast. Rimini's 2nd-century Roman amphitheatre is now mostly a ruin, but in its heyday could seat up to 15,000 spectators.
➤ RIMINI DOLPHINARIUM
Lungomare Claudio Tintori 2
+39 054 150 298
www.delfinariorimini.it/eng
Situated at the harbour end of Rimini's long public beach, the Delfinario Rimini offers entertaining dolphin shows – highlighting the agility and playfulness of these highly intelligent creatures. A marine gallery and various aquariums allow you to learn about other interesting sea life too.
DON'T MISS
➤ LA NOTTE ROSA
Riotous and spectacular, this huge annual extravaganza is a must-see. For one mad summer night, absolutely everyone in Rimini stays up partying until dawn. The town is awash with pink. Streetl ights shine pink onto giggly people festooned in pink clothes and wigs. Fireworks explode – crazy, candy-coloured fun to be had.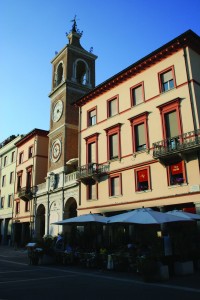 WHERE TO STAY
➤ GRAND HOTEL
Parco Federico Fellini
+39 054 156 000
www.grandhotelrimini.com
A huge white confection of a building set in leafy grounds leading to a private beach, this historic hotel offers every luxury. The décor is the epitome of elegance, and fine antiques pepper the rooms. There are pools, a spa, several restaurants, and everywhere an atmosphere of tranquil refinement. Double room from €155-€400
➤ VILLA LALLA
Viale Vittorio Veneto 22
+39 054 155 155
www.villalalla.com
This welcoming, family-run hotel sits on a quiet, tree-lined street between the beach and the old town. Its 33 good-sized rooms have serene, chic Scandinavian styling. There's a nice restaurant, and a pleasant veranda to relax with drinks.
Double room from €44-€136
➤ HOTEL DUOMO
Via Giordano Bruno 28
+39 054 124 215
www.duomohotel.com
Famed architect-designer Ron Arad created this extraordinary hotel in the heart of the old town in 2006. It's full of arresting, futuristic interiors. The obliquely-angled chrome ring that forms the reception desk is unforgettable. Corridors and the on-site nightclub's washrooms can make you feel like you've stepped into Kubrick's 2001:A Space Odyssey. A genuinely exciting design hotel with friendly, helpful staff.
Double room from €49-€149
➤ HOTEL LA GRADISCA
Viale Fiume 1
+39 054 125 200
www.hotellagradisca.it
Designed to celebrate the spirit of Fellini's films, this comfortable four-star on Rimini's sea-front promenade employs lots of playful, fantasy-style décor in bright colours and bold shapes. Facilities include a pool, Jacuzzi, bar, restaurant, business meeting rooms and guest bicycles.
Double room from €60-€135
➤ HOTEL VERUDELLA
Viale Tripoli 238
+39 0541 391 124
www.hotellaverudella.it
This friendly and modern hotel is a great budget option for travellers. It's well situated near the rail station and the old town, just a few streets from the beach. Rooms are comfortable and all have balconies. There's a bar, restaurant, parking and bicycles for guests.
Double room from €50-€88
DON'T MISS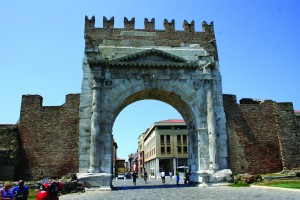 ➤ PONTE D'AUGUSTO
This Roman bridge adds unexpected punctuation to downtown Rimini, with its five arches and impeccably preserved stonework. It is known in English as the Bridge of Tiberius – the difference in emperor coming from the fact that work was divided between the reign of both Augustus and Tiberius.
WHERE TO EAT
➤ NETTUNO
Piazzale J. F. Kennedy
+39 0541 380 800
www.ristorantenettunorimini.it
Superbly located right beside the beach, this striking, vaguely Art Deco building resembles a glossy white ship. It's beautiful inside, too. The food is excellent, plus beautifully presented and reasonably priced. There are two extensive menus, with café-style dishes and sophisticated restaurant fare served. A rooftop cocktail bar completes the perfection. Meal for two about €34 (terrace) or €70 (restaurant).
Price code €€
➤ OSTERIA DE BÖRG
Via Forzieri 12
+39 054 156 074
www.osteriadeborg.it
Just at the end of the Tiberius Bridge in the old town, this charming place offers traditional and tweaked regional dishes. Try the fabulous filled pasta with cheese and carrot sauce. A là carte prices are reasonable and there's a great-value set menu too. Dine in the attractive interior or outdoors on a little piazza. Closed Mondays.
Price code €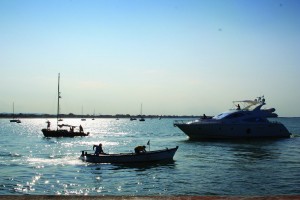 ➤ QUARTOPIANO SUITE
Via Chiabrera 34c
+39 0541 393 238
www.quartopianoristorante.com
A few streets inland from the sea-front, this extremely elegant place enjoys an elevated position with panoramic views across Rimini and the sea – from inside and from its stylish terrace. Contemporary Italian dishes are exquisitely presented with lots
of colour and flourishes.
Price code €€€
➤ LO SQUERO
Lungomare Claudio Tintori 7
+39 054 127 676
www.ristorantelosquero.com
This upmarket, summer-only restaurant on Rimini's bustling harbourside offers great seafood and gives attentive service. Seating is in the elegant wood-lined interior or on a bright terrace outside. Closed Tuesdays.
Price code €€
➤ PIC NIC
Via Tempo Malatestiano 30
+39 054 121 916
www.picnicristorante.it
Extremely popular with locals, this great-value eatery sits right in the heart of the old town. Comfortable and welcoming, its interior is attractively styled and there's a garden patio for outdoor dining, too. Very good for wood-fired pizzas, pasta, game and vegetarian dishes. Closed Mondays.
Price code €€
DON'T MISS
➤ AQUAFAN WATER PARK

This popular water park lies ten miles outside Rimini. It's a teeming, joyous place of waterslides, wave machines, and every kind of water-based hilarity. The myriad events include foam parties, dance classes, and music nights. Tranquil gardens are on hand too when you want to escape the crowds.

GETTING THERE
➤ BY PLANE
There are currently no direct flights from the UK to Rimini. The closest options are Ancona and Bologna, with Ancona roughly an hour's train journey from Rimini and Bologna only slightly further. Ryanair flies to Ancona from Stansted, and to Bologna from Stansted and Edinburgh. BA flies to Bologna from Heathrow, easyJet from Gatwick, and Aer Lingus from Dublin. Overland travellers will find Rimini very well-connected on mainline train routes going through Bologna and along the Adriatic coast.
DONT MISS
ITALIA IN MINIATURA
Seeing all of Italy recreated in miniature is great fun. Nearly 300 famous buildings are meticulously reproduced – on a scale ranging from 1:25 to 1:50 – in this well-maintained outdoor museum. The whole of Venice's Grand Canal is here, one-fifth its real size. You can ride a monorail arcing above the whole expanse.