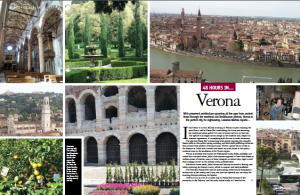 Which is the most most romantic city in the world? Ask the man in the street and they will probably say Paris. But if you ask an Italophile, chances are they will tell you it is Verona – or perhaps Venice. But here at Italia! we believe the music, history and architecture of Verona, as well as the absence of tourists that can overwhelm Venice makes Verona the most romantic city in Italy, and therefore the world.
Italia! 115 is showcasing the best way to spend a long weekend here, so if you have not yet discovered its unique charms, make sure you don't miss this issue – and make 2014 the year you discover this delightful locale.

From the iconic Roman amphitheatre of Verona's  Arena to an equally iconic Italian sight – the Vespa. You'll see this chic scooter all over Italy, and issue 115 of Italia! is taking a closer look at the history of this brand through its vintage advertising posters. From 1970s to present day, see how the brand has changed and evolved in these colourful snapshots which show how it became so integral to the Italian way of life.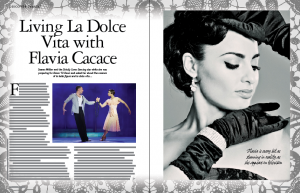 For modern day Italian style, we catch up with Flavia Cacace of Strictly Come Dancing fame. She explains how her Neapolitan roots have influenced and assisted in her dancing career – and explains why there is a Latin dancer in everyone! Bravissima Flavia!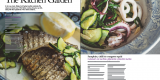 There is plenty in this issue for those who like to show their Italian flair in the kitchen, too. From classic summer pasta dishes from Italia!'s chef Mario Matassa, as well as recipes that combine Italian and Scots flavours from Carina Conti, there are some great new ideas here to inspire the Italian cook.
The issue will be on sale in the UK from 8th May 2014, so look for it in WH Smiths and all good newsagents.
Alternatively, you can buy a copy direct from us by clicking here
Or look out for our digital editions at the Apple Store, Magazine Cloner, Exact Editions and Zinio