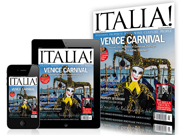 Issue 114 of Italia! shares a few of the best of the many joys of life in Italy, including beautiful reportage from the Venice Carnival, 48 Hours in Bologna and property to buy in beautiful Tuscany.
From an active cycling holiday around Lake Garda to a relaxed an elegant stay at one of Venice's very oldest hotels, right on the edge of the lagoon, be inspired by our in-depth reviews.
In the kitchen we are sharing pasta recipes from Antonio Carluccio, and the perfect menu for an Italian dinner party from Getti restaurants. We're also revealing the best bottle of Greco Bianco wine you can buy in the UK and where to get the very tastiest Italian Easter treats.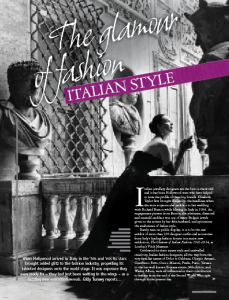 The Italian sense of style is second to none, and we're celebrating the Bella Figura in issue 114, with a look at how Hollywood brought Italian style to the forefront of the fashion world, with stunning images to help add some chic Italian style to your day.
The issue will be on sale in the UK from 10th April, so look for it in WH Smiths and all good newsagents.
Alternatively, you can buy a copy direct from us by clicking here
Or look out for our digital editions at the Apple Store, Magazine Cloner, Exact Editions and Zinio
Tags:
Magazine