Dreamily serene, with breathtaking views across the Amalfi Coast, tiny Ravello has long inspired major artists, writers and musicians. Fleur Kinson heads to this sublime little heaven…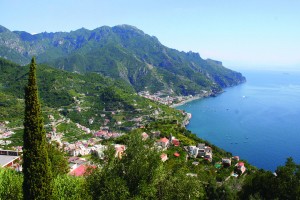 Like most visitors, my 48 hours in Ravello begin in Amalfi. I had been hurtled to this famous coast's eponymous town along the hair-raising Amalfi Drive, gasping each time we broke the laws of physics to squeeze past an oncoming bus on another hairpin bend. Leafy rockfaces had gazed down impassively at our vehicle's peril, tiny tunnels yawned unconcerned as we rattled through, majolica-tiled church domes shrugged and continued staring out to sea. The town of Amalfi itself had proven a big disappointment. Sure enough, its cathedral is a stunner – a haughty delirium of arches, stripes, and winking gold – but beyond that Amalfi is a jam-packed tourist town of tawdry souvenir shops and none-too-clean alleyways leading down to a gritty beach. The bus to Ravello, however, will soon transport me to another world.
Much smaller and significantly less crowded than Amalfi, Ravello lies draped across a green mountaintop a thousand feet above the shoreline. Its views down the tumbling coast and out across the cobalt blue sea are fabulous, I've heard. Myriad arty minds have been inspired by the town's lofty location and magnificent vistas, and by its sense of removal from the rest of the world. Wagner set part of his Parsifal opera in Ravello, and Grieg was influenced by the place as he put together Peer Gynt. While basking in Ravello's sensual delights, DH Lawrence penned the first few chapters of Lady Chatterley's Lover. EM Forster set a short story here, and André Gide set part of a novel. Ruskin, Turner, Virginia Woolf, Graham Greene, Tennessee Williams, MC Escher, Gore Vidal – they all loved the place. So many discerning minds can't be wrong.
ASPIRING UPWARD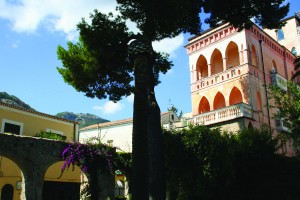 I'm dreaming of Ravello's inspiring space and tranquillity as I stand at the head of a long noisy line of people at the bus-stop in Amalfi. When the bus arrives, all semblance of a queue disappears and there's an ugly free-for-all to leap aboard. Being English, this seems a grave affront to the very foundations of civilisation, but not even my best imperious glare can secure me a seat. I stand in the crowded aisle, balancing heavy suitcases with my knees, frantically apologising each time they tumble over, hanging on for dear life to the overhead handrails and swinging monkey-like as we lurch and gyre up the endless switchback-bends of the mountain roads. Outside, the pinky-blue veils of twilight are settling over land and sea, viewed as jumbled glimpses through the forest of passengers. And then suddenly, one bus-stop before everyone else, I burst with my luggage out into Ravello's evening air. The bus pulls away and silence lands on me like a heavy cloak. A green terraced hillside climbs in front of me, its distant homes aglow.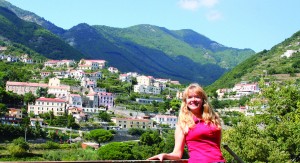 My hotel room overlooks the dainty medieval borgo of Torello just below Ravello, which tonight in honour of a saint's day has been strung with lights that outline its every building, turning the place into a graphic cartoon. It's not long before fireworks begin, raining exquisite apocalypse down over the illuminated borgo. Vast booms echo off the surrounding mountains and resound across the coast. What a welcome!
They know a thing or two about putting on a show in this town. Ravello is home to one of Italy's most famous annual arts bashes – the Ravello Festival, which fills this tiny place with classical music concerts, jazz, pop and dance, as well as film screenings and art exhibitions, for a whopping four months of the year. The organisers have little trouble enticing big names. After the fireworks, as I wander further up through the town I overhear a singer giving it all he's got inside the big white Oscar Niemeyer Auditorium, to the roar of an ecstatic crowd.
MOUNTAIN HIGH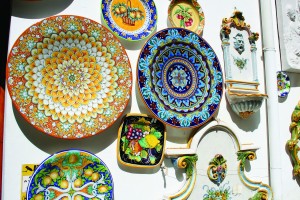 The next day and a half is a happy blur of sun washed wanderings through convivial piazzas, quiet lanes and lavish gardens. Pavement cafés beckon, pretty villas and churches stop me in my tracks, and shops try to seduce me with giant, brightly-coloured majolica wares piled high outside. Ravello is sensationally pretty, its reputation thoroughly deserved. I'm pleased to note, though, that it's not pristine. It's not excessively prinked out for tourists with immaculate streets and manicured flower displays. It has its charming rough edges – a bit of crumbling plaster here, a scruffy alleyway there. They add a touch of reality to this otherwise dreamy place.
The landscape vistas are heart-stopping. Inland, the green terraced slopes of serrated hillsides are dotted with fruit-coloured homes and churches. Seaward, the town plunges in decorative layers towards distant Amalfi and the high, dramatic coastline wriggling into a hazy blue infinity. You feel giddy confronting such views. Or you would if Ravello's overriding atmosphere wasn't so serene. The calm sinks into you and takes you over completely.
There is a particular view I keep seeing on postcards in the stands outside souvenir shops. I've seen it countless times over the years, on book covers and magazine articles and all sorts of tourist bumf – a graceful umbrella pine arching mystically above two pepperpot domes gazing out to sea. I never knew that this classic Italian vista was here in Ravello. I buy a postcard and hurry to my hotel. "Where is this view?" I breathlessly ask the friendly girl on reception. She smiles at my enthusiasm, notes the big camera slung around my neck, and says,
"In the garden of Villa Rufolo."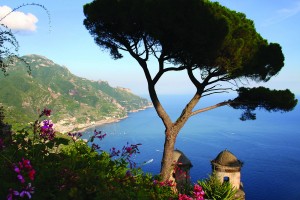 FANTASY GARDENS
Well, the villa is a tranquil wonderland with elegant cloisters and lavish plant life laid out over intimate-feeling terraces. Built way back in the 13th century, the Villa Rufolo is mentioned in Boccaccio's Decameron, no less. And it was here where Richard Wagner stopped and thought "Hang on a minute, wouldn't this garden be just the perfect arrangement for my 'Klingsor' garden in Parsifal?" It takes a lot of traipsing up and down various steps and belvederes until I find it, but then the view is finally mine – the umbrella pine and the bell tower-tips perfectly framing the fantasy seascape beyond. I photograph like a maniac.
My appetite for villa-gardens piqued, I march off to Ravello's other famous gem, Villa Cimbrone. The walk there is wonderful, down quiet domestic lanes, past radiant villas and alongside an organic garden with fat tomatoes. Brits, be proud. The gardens at Villa Rufolo were created by a Victorian-era Scotsman, Francis Neville Reid, while Villa Cimbrone and its gardens were established by an Edwardian-era Englishman – a certain Lord Grimthorpe, who wanted a grand project to help him through depression following the death of his wife.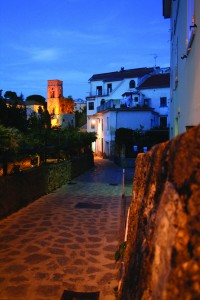 Cimbrone's large park-style garden is achingly romantic, with statues and follies and ample places to soak up the panoramic views. Chief of these is the Terrace of Infinity, an absurdly sublime space which Gore Vidal claimed offered the single best view in the world. It's certainly a vertiginous one. The terrace
seems to float in the sky rather than be connected to the vertically dropping ground below. Standing here in awe, wrapped in silence and sky and space, I can't help thinking that the terrace is rather a microcosm of Ravello itself – dreamily, serenely beautiful, and somehow quite removed from the teeming chaos
of the normal world far below.