Italy's capital is so full of treasures, you could spend years here and not manage to see them all. So what hope is there for the short-term visitor? Don't panic – Fleur Kinson is here to distil the great city into its most unmissable sights…
Photos by iStock
For 500 years, Rome was the mighty centre of the Western world. Now it's merely the capital of Italy, but remains a confident, magnetic city that pulses with irresistible energy. Twelve million visitors are wowed by the place each year, delighting in its peerless art and architecture, its glorious food and shopping, and the inimitable style and verve of its native residents. Few cities offer quite so many riches at once.
Chockfull of relics from nearly 3,000 years of continuous habitation, it's tempting to conclude that there's just too much to see in the Eternal City. Rome wasn't built in a day, and nor can it be seen in one. Or ten. Or twenty. But it helps to have some ideas on where to start, so here's a brimming handful of recommendations. Just be sure to keep your eyes open for all the little things that aren't on any list, and be ready simply to soak up the special atmosphere of the place. Rome might be a city of grand, impressive monuments, but it's also a city of nuances and atmosphere. For all its historical pomp and frenetic busyness, it's surprisingly unpretentious and relaxed. Try to go with the flow. If you can't see everything, so what? In a city such as this, no one ever really can.
1 THE COLOSSEUM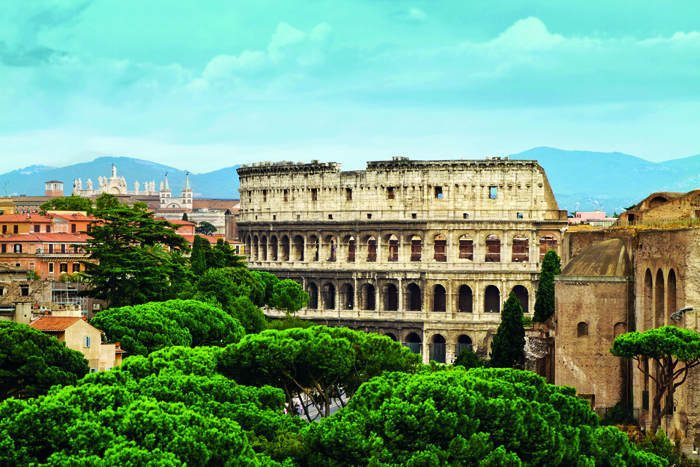 The hulking Colosseum is Rome's undisputed icon, and like the Eiffel Tower in Paris or the Parthenon in Athens, you've simply go to lay your eyes on it while you're here. For 2,000 years the gigantic structure has been plundered for building materials, damaged by fires, shaken by earthquakes and crumbled by the vibrations of modern traffic, but there's still an awful lot left and it remains an awe-inspiring chunk of architecture. Originally able to accommodate a whopping 70,000 spectators, the Colosseum is still the design model for all subsequent stadiums around the world. The ancients gleefully practised a carnival of torture and slaughter here. Gladiators, slaves, Christians, wild animals – all battled to a gory death in this grand arena. If you want to explore inside, you can best avoid the queues and crowds in the evening or early morning.
2 THE TREVI FOUNTAIN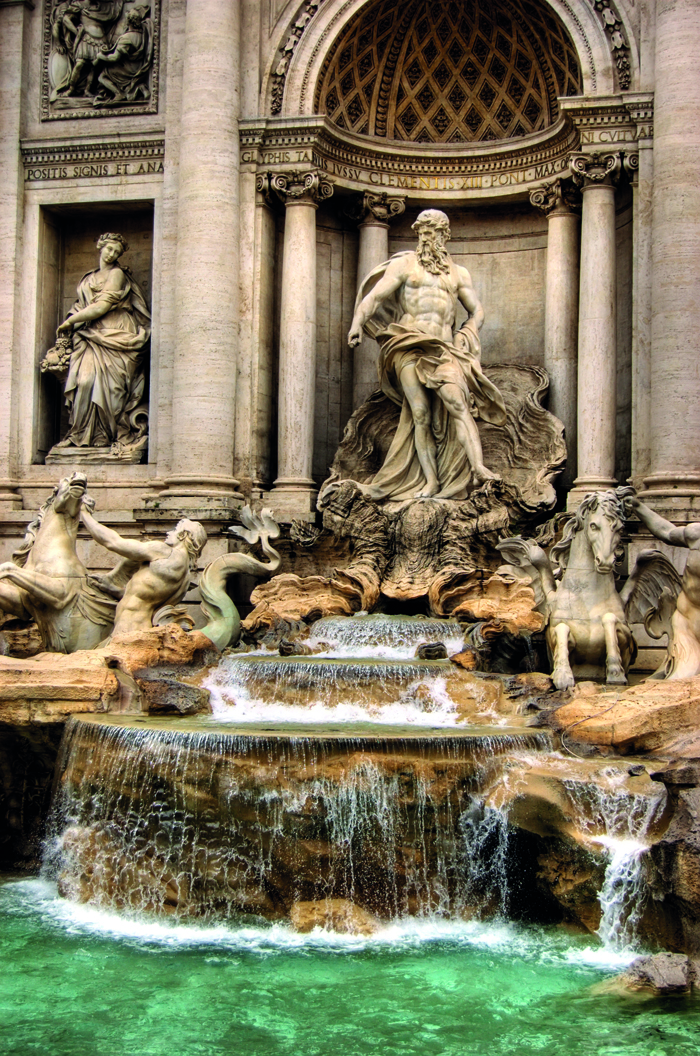 Exuberant, ridiculous, and not to be missed, the famed Trevi Fountain is a rococo riot of giddy sea gods and wild-eyed horses frisking in tumbling green water – all tacked onto the back of a Renaissance palace from which statues look on in mild astonishment. It might be crowded and maybe even a little tacky (the Baroque style is never terribly far from the absurd), but there's a genuine joyousness to this roaring, ebullient tableau of sea-themed statuary and it's almost impossible not to regard it with a grin. In the right mood, it's even beautiful. Of course you've got to join in with the silly-but-fun tradition of tossing in a coin or three. Throw over your left shoulder with your right hand. One coin ensures you'll return to Rome, two that you'll fall in love with a Roman, and three that you'll marry them. Ha!
3 IL CENTRO STORICO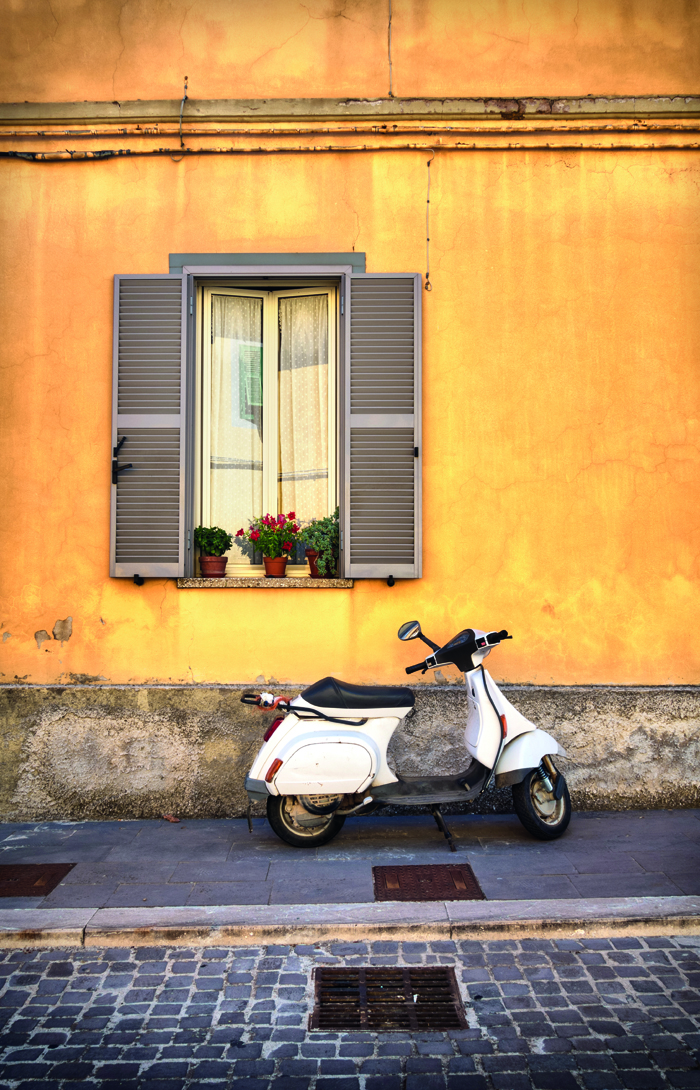 Paradoxically, Rome's 'historic centre' isn't its most historic centre. The current centro storico wasn't the ancient city centre and only became the heart of Rome in Renaissance times. Regardless, this is likely to be the area that beguiles and fascinates you more than any other part of the Eternal City. This is Rome at its most colourful and theatrical. Tiny tangled streets and alleys open onto diminutive piazzas stuffed with churches and flamboyant fountains. Pedestrians vie for space with Vespas and street vendors. Romans swan about being their sparkling selves. It's a wonderful place. Aimless ambling is a must. Wander at will, soak in the atmosphere. Be sure to return for an evening stroll, too, when the nightlife ramps up and the area grows especially lively and full of fun.
4 THE ROMAN FORUM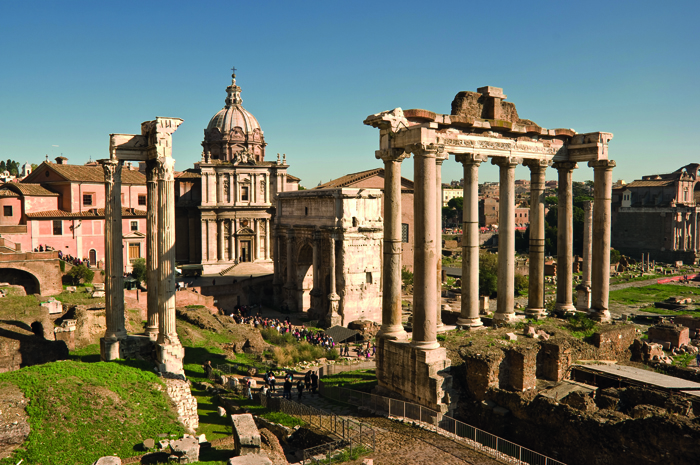 This sprawling wilderness of crumbling columns and tumbled temples is one of the most hauntingly unforgettable sets of ruins anywhere in the world. Desolate, beautiful, poignant, fascinating – the Roman Forum is all of these things. In pre-Imperial Rome, it was the site of major political and religious institutions as well as shops, market stalls, public meeting spaces and so on. It was essentially Rome's first city centre, and retains some of the gravitas that that suggests. Undeservedly, the Roman Forum isn't quite as magnetic to tourists as the nearby Colosseum. For this writer at least, it's a far more atmospheric place, where you can sense the presence of the workaday ancient city and vividly behold physical metaphors of its collapse. What's more, you don't have to be tormented by mental images of slaughtered gladiators. Entry is free. Don't miss it.
5 THE PANTHEON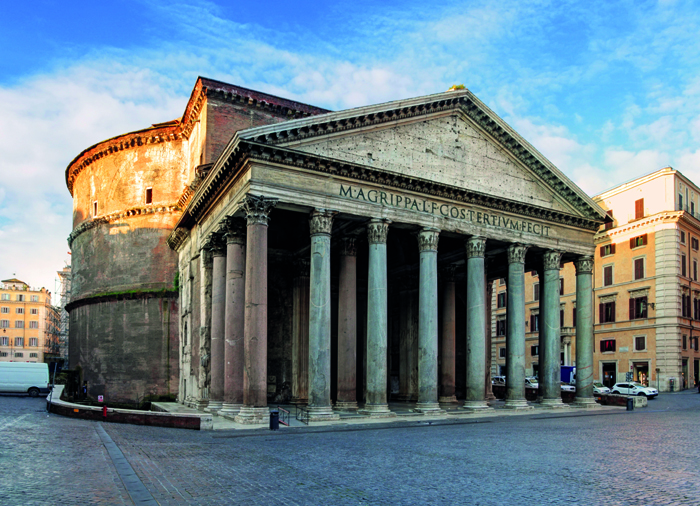 This 2,000-year old temple to all the gods is one the best-preserved relics of the ancient city and, together with the Colosseum, is one of Rome's most impressive buildings. It's a marvel of architectural engineering. The temple's diameter is precisely equivalent to its height (43 metres), and no visible vaults or arches hold up its vast dome (they're sunk into the concrete walls). Meanwhile, a 9-metre hole in the dome's centre lets in a dramatic shaft of daylight – dancing with dust motes – that slowly inches round the interior space as the day progresses. The building was once lavishly decorated with stucco, statues and bronze, but much was re-appropriated by builders in succeeding centuries. The bronze portico roof, for example, was famously stripped and melted down to provide the metal for the huge baldacchino in St Peter's Basilica.
6 PIAZZA NAVONA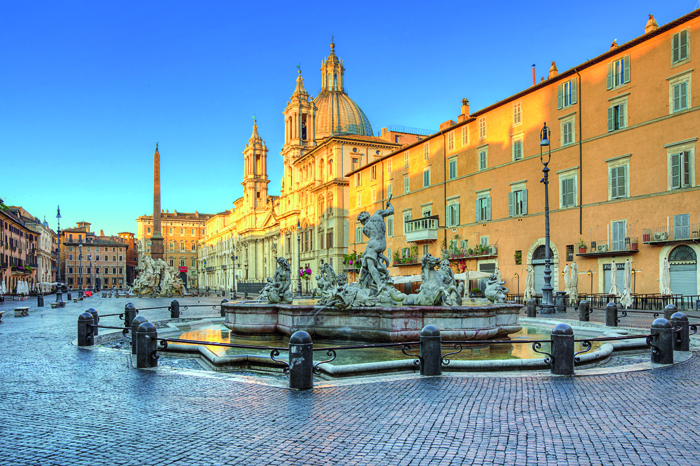 Rome's most famous square and arguably the heart of the modern-day city, this spacious pedestrianized oval must be passed through at least once. It evolved from a 1st-century athletics stadium, hence the shape, but today its most energetic goings-on generally consist of cappuccino-slurping, wine-sipping, dinner-chomping, shopping, strolling, people-watching, chatting, flirting, street artistry and busking. It's an extremely vibrant place at night, so be sure to swing by here then too. Lined with handsome buildings, including a church with a Borromini façade, the piazza is graced by some wonderfully fanciful fountains. Legendary sculptor Bernini (arch-rival of Borromini) had a hand in their design. Water gushes down over Neptune, nymphs, sea monsters, dolphins and other lively statuary. It's cooling to stand in their gentle spray on a hot summer day. There's an Egyptian obelisk in the piazza too, adding additional exotic fun.
7 SHOPPING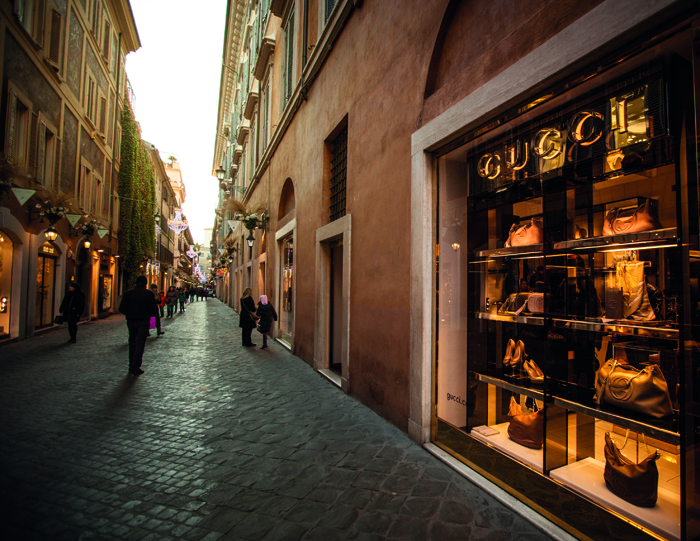 Lovers of fine clothes will enjoy a salivating gawp in the windows of Armani, Gucci, Prada et al on the sleek Via Condotti at the bottom of the Spanish Steps. But they should also explore the pretty side streets round here. Via Maria de' Fiori and Via Bocca di Leone are especially good for one-off, unfamous boutiques. On the other side of town, the Via del Governo Vecchio is festooned with elegant clothing shops. Meanwhile, for quirky and original items, trawl the hip Monti district – especially its weekend 'urban market'. The Prati neighbourhood is particularly good for sumptuous food-shopping, and the Tridente area is great for just about everything else. Rome now has its fair share of dull, cut-price outlet malls on the city periphery, but for truly stimulating shopping in picturesque streets you should stick close to the centro storico.
8 THE CAPITOLINE HILL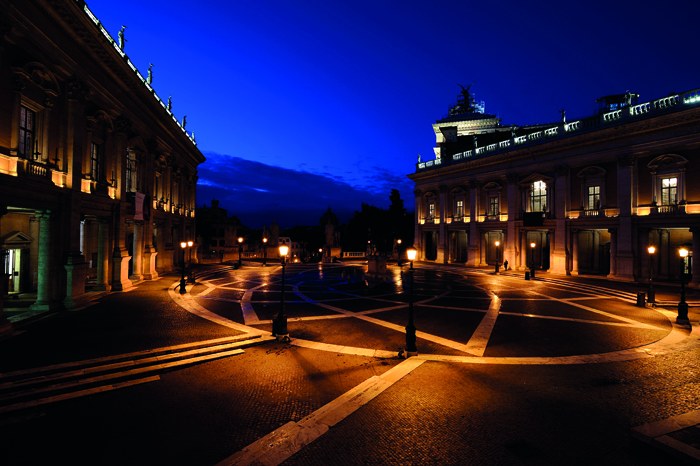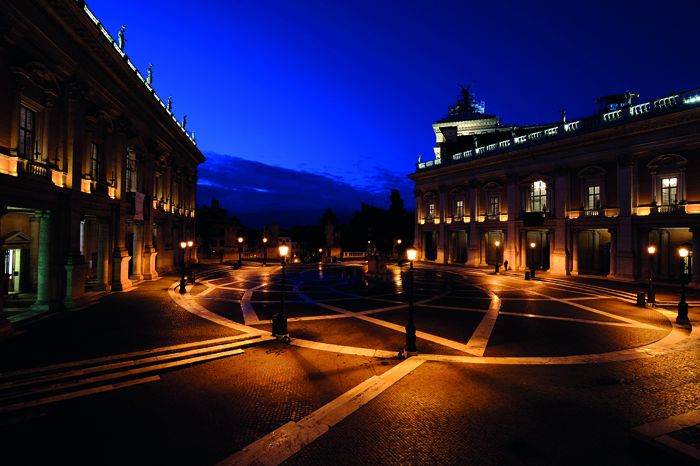 By the time Ancient Rome had grown into a mighty empire with dominion across great swathes of Europe and beyond, the city's centre had moved up to the Capitoline Hill – so named because it was now the caput mundi or 'capital of the world'. Today there are few standing classical relics to behold, as the hill is covered in fine, well-kept Medieval and Renaissance palazzi. Michelangelo himself designed the beautifully proportioned Piazza del Campidoglio. Underfoot, in striking white on dark grey, it features a gigantic, twelve-pointed star rather resembling a stylised chrysanthemum. And we have Mussolini, of all people, to thank for its inclusion. He executed Michelangelo's original design plans for the star in 1940. Grand and elegant, the Capitoline Hill is a great place to wander admiring buildings and statuary.
9 TRASTEVERE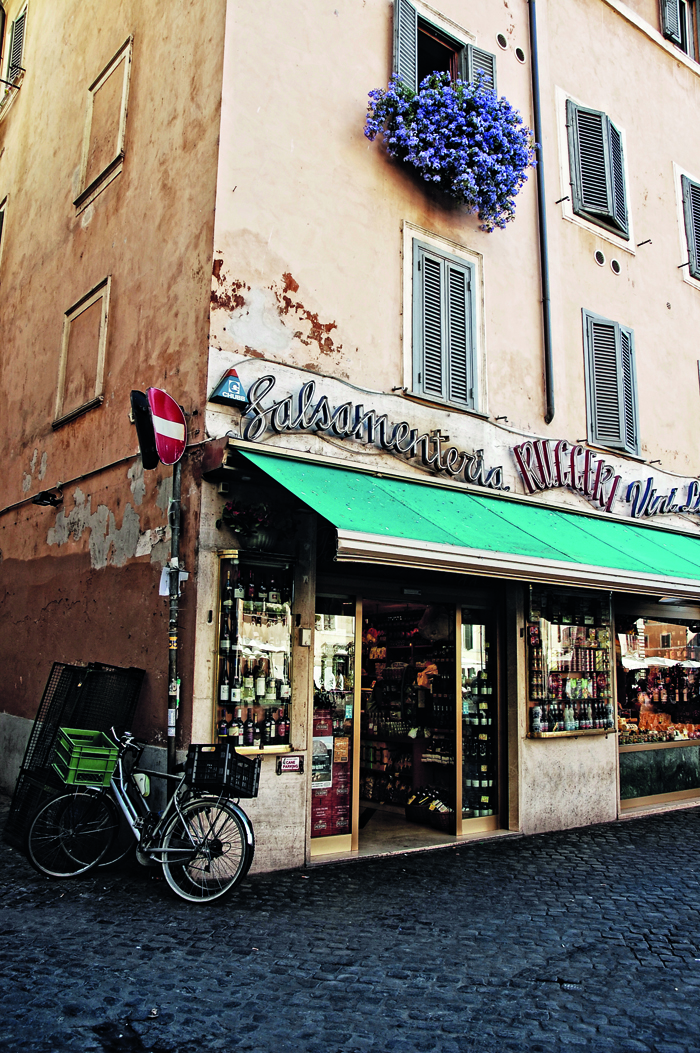 Take a break from the tourist scrum in central Rome and wander this calmer, characterful district to the southwest. Separated by the river from the rest of the city, Trastevere developed its own identity for many centuries, and still maintains a unique dialect. In Classical times it was Rome's artisan quarter; then for hundreds of years it was a melting pot for immigrant communities. A working-class stronghold until very recently, it's now very trendy and alternative, full of great bars and restaurants and wonderfully lively in the evening. Its charming narrow streets and tight little squares are great to wander. Many visitors feel that Trastevere offers them a glimpse of 'real Romans' going about the business of real life, far from the tourist magnets elsewhere in the city. Be sure to pop into the majestic church of Santa Maria in Trastevere while you're there.
10 CAPITOLINE MUSEUMS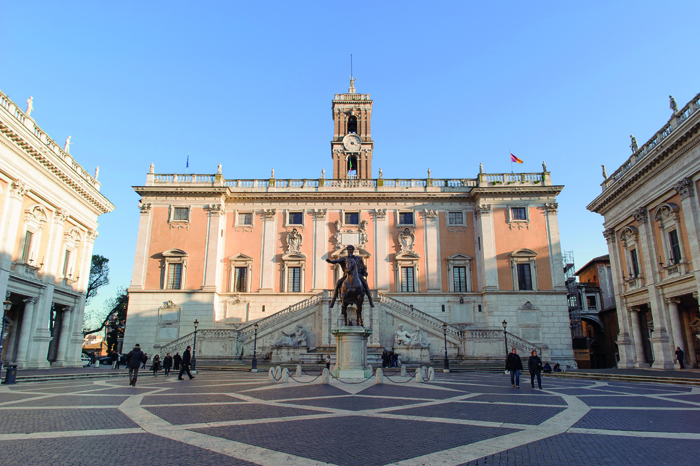 Much of Rome's best ancient sculpture is to be found in the Capitoline Museums, which occupy two palazzi on the Piazza del Campidoglio. Opened to the public in 1734, this is considered the world's first museum. Relics include the famous (and slightly tacky) bronze she-wolf – grinningly suckling Romulus and Remus from oversized udders – that serves as a symbol of the city. There are busts of Roman emperors, paintings by Caravaggio, and a great deal more. While up on the Capitoline Hill, be sure also to visit the church of Santa Maria in Aracoeli. Built on an ancient temple to Jupiter on the very highest point of the hill, it's quite a climb to reach the place, but well worth it. The austere exterior cedes to a glorious, celestial interior. Look out for some lovely frescoes and fascinating curios.
11 THE SPANISH STEPS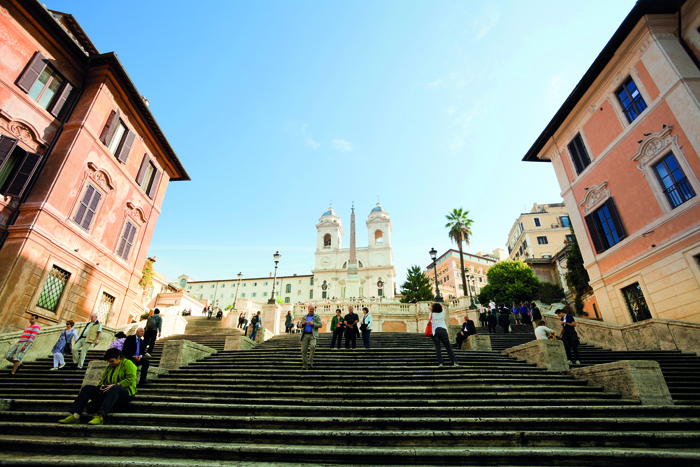 You run the risk of being underwhelmed, but you're kind of obliged to go and see the Spanish Steps when you're in Rome. This broad stone staircase flanked by balustrades and flowers is indeed majestically constructed, but you might be disappointed to find the steps entirely hidden beneath seated tourists and street vendors, depending on the time you visit. Evening is often best, when the crowds have thinned and only foreign aesthetes haunt the site. In less populous centuries, Balzac, Byron, Keats and Shelley all trod these stairs for inspiration, so keep your mind on that while sidestepping the teenagers with backpacks. The steps are only called 'Spanish', by the way, because the lead down to the Spanish Embassy. Do not fail to climb to the top and drink in the sumptuous views of the city from up there.
12 VATICAN CITY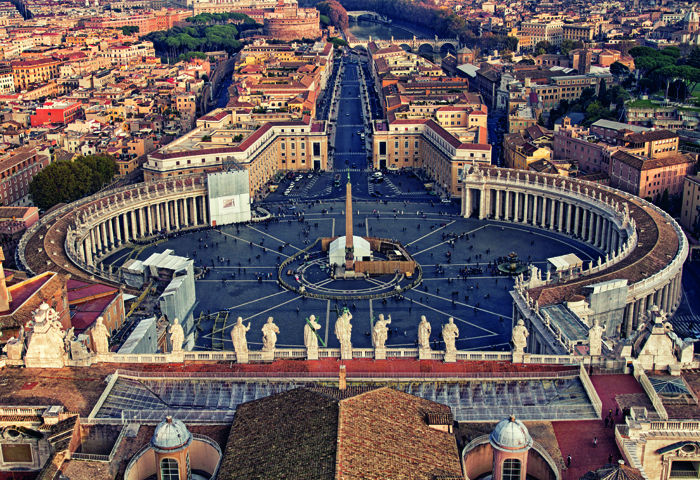 Encompassing about a hundred acres and home to around a thousand people, the Vatican is the world's smallest country. Of course, 'country' is pushing it, and put here for fun. 'City-state' is the more accurate term. Established only in 1929, Vatican City is a bijou enclave within Rome, backed by high walls and fronted by a glorious, colonnaded piazza. But it's often hard to know when exactly you've left Rome behind and entered Vatican City. Once you're in, there's novelty aplenty. The Vatican has its own postal service, daily newspaper and radio station – like a toytown from childhood. It also has the colourful Swiss Guards to look after security. You mustn't miss St Peter's Basilica and the Vatican Museums (see next page). And you might even want to catch the Pope. If he's in town, he addresses crowds on Wednesday mornings and at noon on Sundays.
13 ST PETER'S AND THE VATICAN MUSEUMS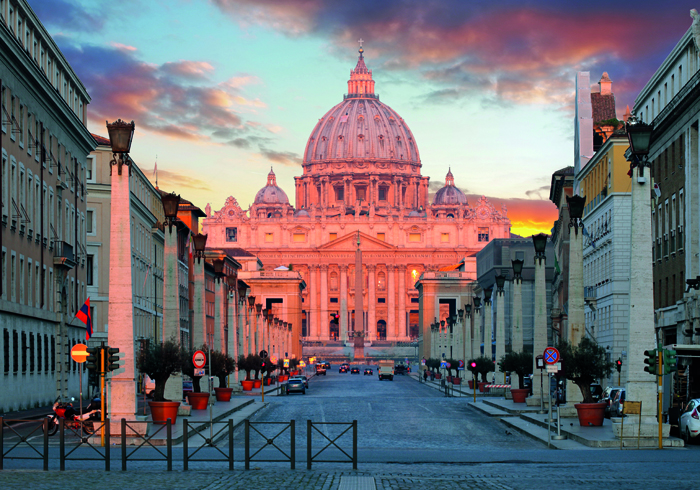 Apart from Bernini's magnificent piazza and arguably the Pope himself, the two most unmissable sights in Vatican City are St Peter's Basilica and the Vatican Museums. Built on the site of St Peter's tomb, the Basilica is so staggering in its size that your sense of scale and perspective begins to falter when you're inside. 'If those are people standing next to that column, why are they only as big as ants?', etc. The Vatican Museums, meanwhile, are similarly mind-boggling in scope, and you'll need to pace yourself if you visit. As the plural name suggests, there's a wide range of important collections here. Classical statuary, Renaissance paintings, Etruscan and Egyptian relics. Most beloved are the Raphael Rooms and, of course, the Sistine Chapel. Book ahead if you want to see the latter.
14 BASILICA OF SAN CLEMENTE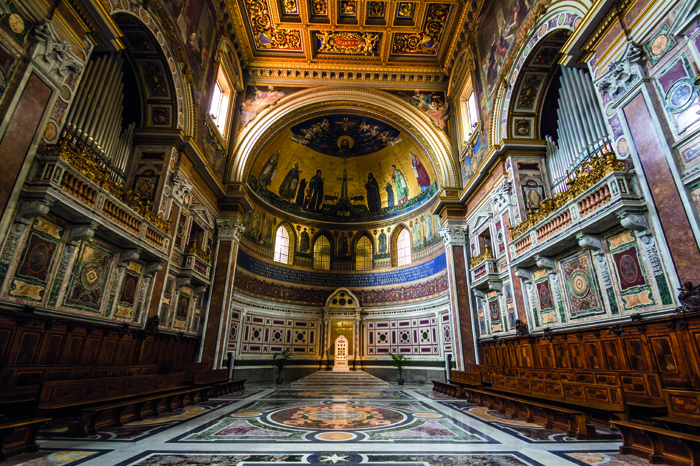 Lying just a few streets southeast of the Colosseum, this outwardly unassuming-looking old church provides a wonderful physical metaphor for continuity in the long history of the Eternal City. It is a conglomeration of three vertical layers – three buildings with an unbroken lineage. On its lowest level, reachable down dank steps, the basilica is built upon a musty old temple from the 2nd century, surrounded by the old rooms of an ancient Roman house. On its next level, it sits on a 4th-century church. On the next level, ground level, the basilica is a 12th-century construction boasting mosaics and frescoes. Thus basilica sits upon church upon temple and house, linking nearly 2,000 years of history physically together. Descending to the various levels feels like travelling back in time. Then you ascend up and out into the modern world.
15 THE PALATINE HILL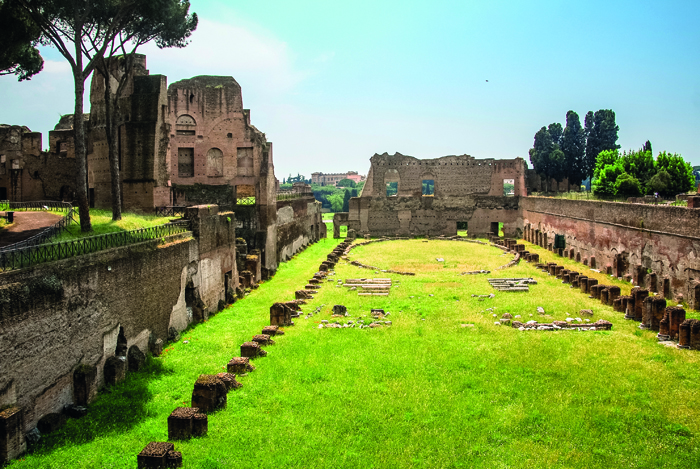 Rising high above the Roman Forum, the Palatine is the most central of Ancient Rome's seven hills and is thought to be where the city began. (Romulus and Remus were supposedly found in a cave here before being handed over to the mythical she-wolf for suckling.) Certainly there has been human habitation on this hill for 3,000 years. In the days of the Roman Republic, this was the most fashionable place to live, and as the wealthy constructed their lavish homes up here, the hill's name gave rise to our word 'palace' and its cognates in other languages. Today it's like an open-air museum, crowned with mighty ancient ruins and little else. There's a restful atmosphere to the place, and you might even fancy reclining with a picnic.
16 VILLA BORGHESE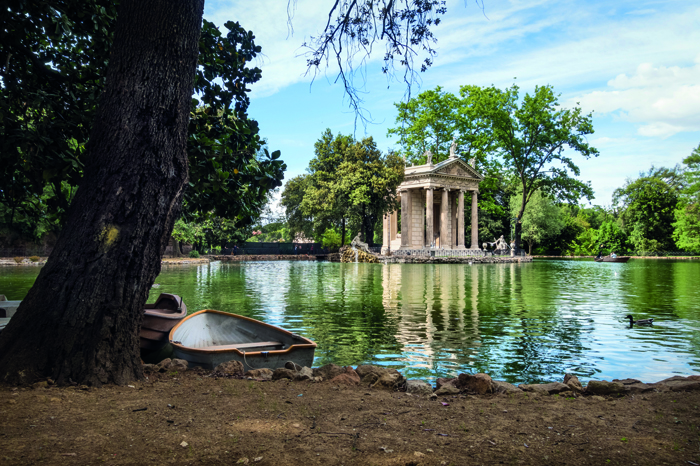 Central Rome's largest open space, this fine collection of public parks and gardens was originally the private grounds of the 17th-century Villa Borghese. Today it's the perfect place to take a breather from the city's tireless bustle. Woods, lawns, flower gardens and a lake stretch over a surprisingly large area, and there are innumerable attractive nooks to relax, sunbathe, picnic, meditate, and plan your next assault on the tourist sites. Cineastes might like to know that the Casa del Cinema project has turned a derelict pavilion in the gardens into a state-of-the-art cinema, focussing on classic films. There are various special presentations and events at which you can mingle with actors, directors and producers. The Villa Borghese gardens also yield a fine crop of museums…
17 GALLERIA BORGHESE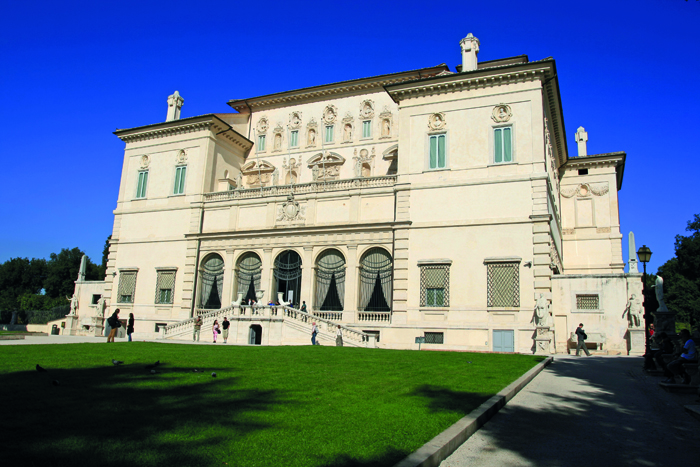 Housed in the stately old Villa Borghese, this refreshingly compact museum is a bijou treasurehouse of painting and sculpture. Raphael, Caravaggio and Bernini are just some of the big names on offer. Perhaps most unforgettable is Bernini's graceful and dramatic Apollo and Daphne sculpture. Life-sized and in gleaming white marble, it depicts the moment Daphne transforms into a laurel tree as she chastely flees the amorous clutches of the god – her fingers turning into leaves and twigs, her lower limbs stiffening into a bark-covered trunk. Disturbing but beautiful. There's ancient Roman sculpture in the villa's collection too. Do note that you must reserve tickets in advance to visit the Galleria Borghese, and that tickets give you a precise entry and exit time. It's inconvenient, but worth it to see the collection.
18 JANICULUM (GIANICOLO) HILL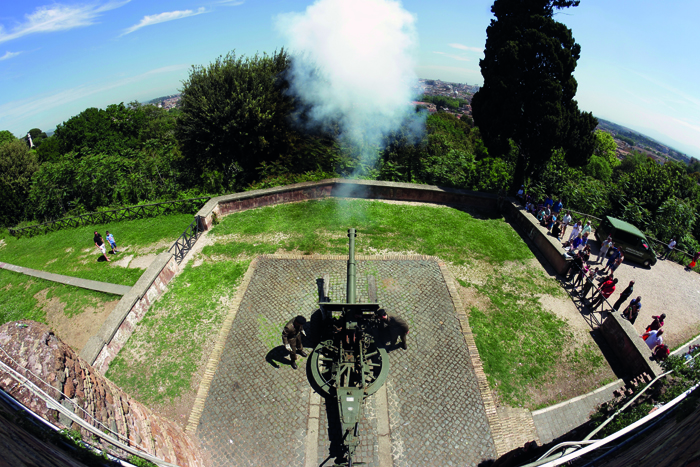 This tall hill rising between Trastevere and the Vatican technically doesn't count as one of the famed 'Seven Hills' of Ancient Rome because it lies beyond the confines of the old city. However, it makes up for that lack of venerable distinction by offering one of the very best panoramic views of the Italian capital. Domes and spires and pinnacles and rooftops stretch majestically before you, and all you can hear is the distant hum of traffic and the whisper of wind in the pines trees. In addition to marvellous views, the Gianicolo has interesting statuary marking heroes of Italy's 19th-century unification. There's an especially large equestrian statue of Garibaldi. If you're on the hill at noon, brace yourself to hear a single cannon shot. Since 1847, this has signalled the exact time to surrounding belltowers.
19 THE 'VITTORIANO'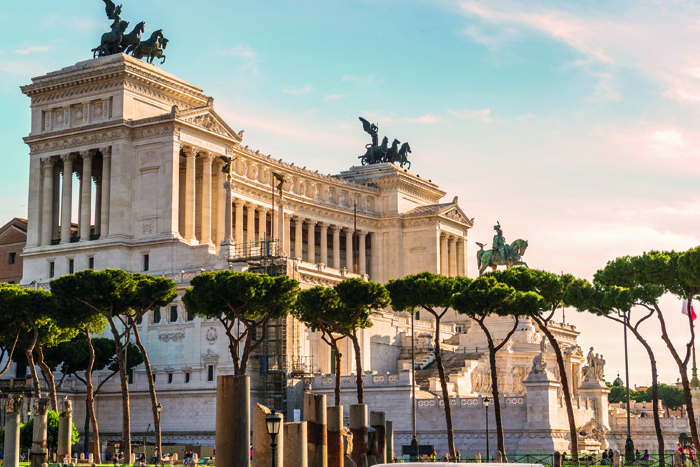 Beside an otherwise uninteresting and busy traffic junction, the Vittorio Emanuele monument rises in a blinding white edifice of self-important stone. Famously likened to a typewriter or a wedding cake, it looks nothing like either. Beautiful it might not be, but audaciously gigantic it certainly is. It was built in the late 1800s as an 'Altar of the Nation' to mark Italian unification. And it's fun to climb up and down its various steps and terraces, admiring the excellent views of Rome it affords. There's abundant statuary to admire as you clamber about. Various figures personify Italy's regions and surrounding seas, while the horse-riding figure of Vittorio Emanuele II himself is one of the largest statues in the world. Vaguely pompous from a distance, the monument reveals itself to be much more impressive up close.
20 THE APPIAN WAY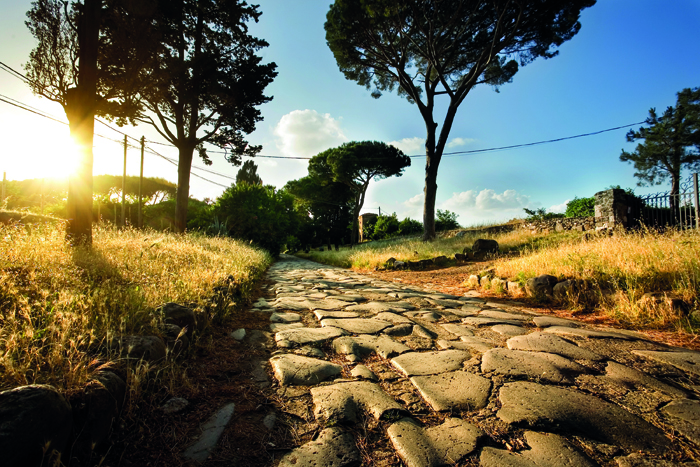 The ancient Appian Way (Via Appia Antica) provides an atmospheric, fresh-air escape from central Rome. You'll need to take a bus from the city centre to reach it, but when you do, you have the chance to stroll the giant cobblestones of one of the earliest and most strategically important roads of the early Roman Republic. Thirteen centuries old, the original Via Appia weaved out of southern Rome towards Brindisi in faraway Puglia (the high heel of Italy's boot). It was on this road that Spartacus's army was executed. Today it's prettily flanked by secretive cypress trees and dreaming parasol pines, and punctuated with ancient monuments that each hold a story of their own. Bring comfortable shoes and drinking water. And come in the daytime rather than at night, when the road can sometimes take on an unsavoury aspect.
For more on travel to Rome, check out our archive 
Tags:
City Breaks
,
Culture
,
Holiday in Rome
,
Italian City
,
Rome
,
Travel