Known as the Gateway to the Dolomites, the Luson Valley is a hiker's paradise with a number of trails leading from here into the mountains that surround it…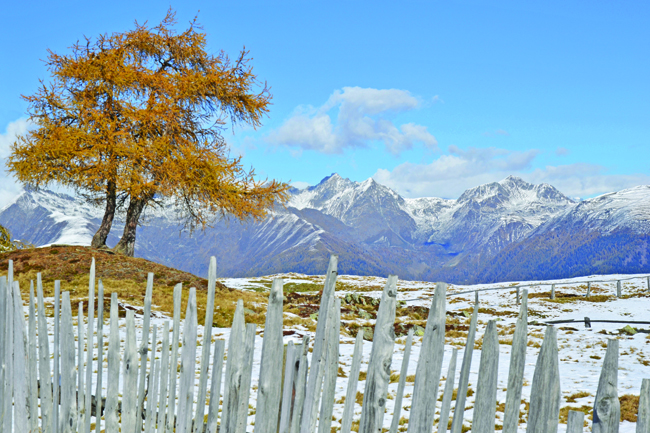 The Germans call it Lüsen, as do its inhabitants. Though we are well inside the modern Italian border here, some 40km northeast of Bolzano, roughly the same northwest of Cortina d'Ampezzo, and at least half that distance to the nearest crossing into Austria, the people of Luson (in Italian) and the valley in which their comune (Gemeinde, in German) sits are almost all German speakers; fewer than one in 50 of the locals consider themselves native Italophones.
One thousand metres above sea level, the Lüsner Alm, as the Germans call these pastures, give to the Zillertaler Alps (the Alpi Aurine, in Italian) to the north (seen here), the Ötztal Alps (Alpi Venoste) to the west, and the Dolomites to the south. The Peitlerkofel (Sass de Putia) and Aferer Geisler (just use the German, it's easier) hiking trails lead from here into the Dolomites, while there are also six Nordic Walking trails. (It's all right, you're not expected to speak Norwegian as well…) Do mark, however, that it can snow a bit round these parts in winter though.
Tags:
Culture
,
Photos
,
South Tyrol
,
The Dolomites