Seeking out peace and tranquillity, Catherine Sidwell experiences a thermal wellness tour in southern Tuscany…
1. 

Fonteverde Natural Spa Resort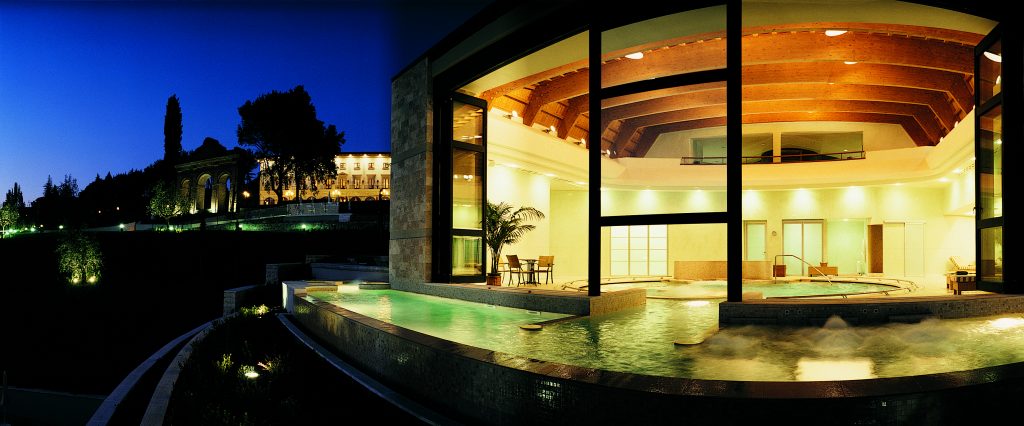 Location: Fonteverde
Localita Terme, 1
53040 San Casciano dei Bagni
Siena
Tuscany
+39 0578 57241
info@fonteverdespa.com
Fonteverde's philosophy combines physical health, relaxation and beauty. A wide range of spa, massage, yoga, beauty, thermal mud, inhalation and diet treatments are available. The Bioaquam, Therapeutic and Thermal water circuits are recommended, as is the Thalaquam and Full Body Thermal Relax Massage.
Read the hotel's guide before using the spa. It gives recommendations on care, thermal pool advice, the properties of spa water from immersion or as a drink on skin, the cardiovascular system, nervous system, respiratory tract, liver, stomach and intestine, and how to get the best spa experience.
2. 

Terme Sensoriali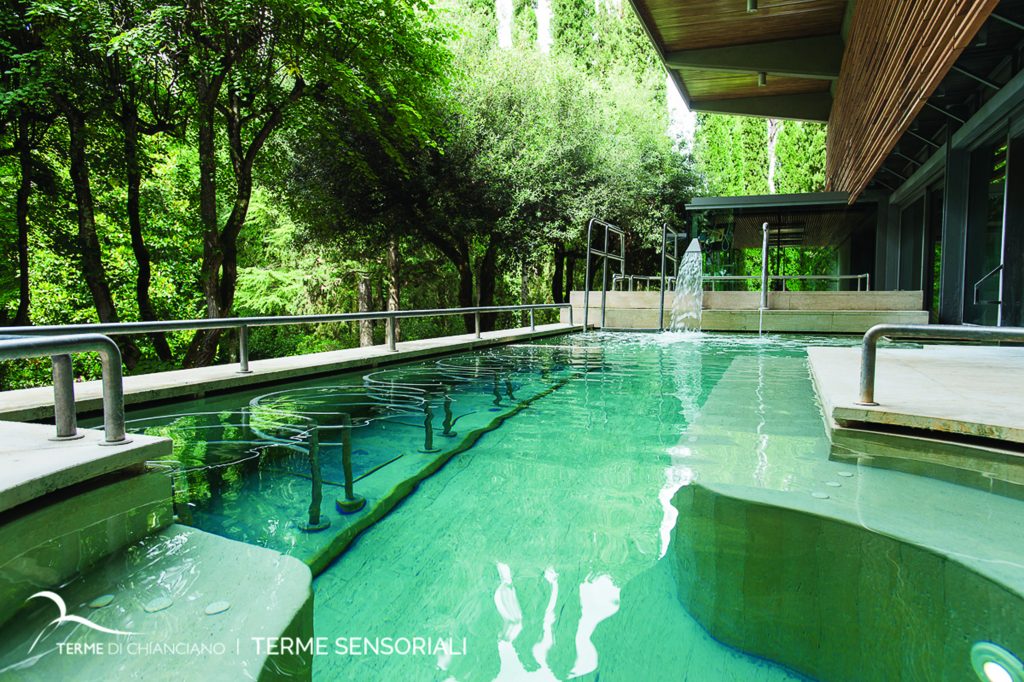 Location: Parco Acqua Santa
Piazza Martiri Perugini
Chianciano Terme
Siena
Tuscany
+39 0578 68480/68484
prenotazione@termechianciano.it
A three and a half hour visit is recommended to complete one of the suggested programmes with dwell times for each section. Relaxing: to ease anxiety, tension headaches and stress. Energising: to alleviate lack of energy, weakness of the immune system, uneasiness, insomnia and panic attacks. Purifying: to clear toxins from an unhealthy lifestyle. Rebalancing: to rebalance the body, soul and mind. Reservations required. Admission prices are at midweek and weekend rates.
3. 

Hotel Posta Marcucci
53027 Bagno Vignoni
Siena
Tuscany
+39 0577 887112
info@hotelpostamarcucci.it
Swim in the open air with views overlooking the Val d'Orcia and Rocca di Tentennano. A family hotel where you can also feel at home, choose a bedroom with a view across the valley. The welcoming sitting rooms include displays of family portraits, photographs, china and glass. Bookshelves have plenty of reading matter to refer to during winter months, although it's fun to swim in the snow! There is also an indoor pool. Massage and beauty treatments are available.
---
Whether visitors seek to discover the pleasures of thermal bathing for general relaxation, as an antidote to busy lives and stress, or to alleviate a range of ailments, dedicated enthusiasts are returning. It is easy to see why.
My guide's sporty, black Alfa Romeo Giulietta paused at the end of a narrow avenue of pine trees. After an early evening drive from Florence, we had arrived at the exclusive 5-star Fonteverde Tuscan Resort and Spa. Here, at this grand countryside residence formerly owned by the Medici family, all is peace and tranquility.
Southeast of Siena, on the edge of the pretty village of San Casciano dei Bagni, Fonteverde is a member of the prestigious Leading Hotels of the World consortium. Recognised for excelling in health and wellbeing experiences, a recent award includes the Spafinder Wellness Travel Award – Country Winner, 2014.
At reception, I receive a warm welcome. The foyer, lined with historical portraits is furnished with handsome antique settees and armchairs. I agree to meet Luca, my guide, the following morning. He has arranged a tour for me that includes spa experiences and tastings of locally produced organic foods and wines. 
The next day, I awake as the sun rises slowly in a cloudless sky. Lilac shadows shift across the valley. In the distance, Mount Amiata still has snow on its peak. Surveying the grounds, I decide to take an early morning dip in the open-air infinity pool. 
An internal corridor connects the hotel and the spa area. Guests can access the pools and treatment facilities in plush towelling bathrobes, bathing costumes and spa slippers. Stepping into the outdoor pool, steam lifts and evaporates above the surface. First in, I swim in silence, except for the calls of swallows flying overhead. There is something so comforting about bathing in the warmth of the 38°C thermal water. The temperature, stillness and density slow one's body movements and thoughts. Bliss.
Psycho-physical well-being
One of the three Italian Hospitality Collection (IHC) hotel temples to wellness, Fonteverde is dedicated to psycho-physical well-being. It had already begun to work its wonders. At the edge of the infinity pool, I gazed at the surrounding hills and wondered about the responses of bathers over the centuries.
The province of Tuscany has many hot springs. Legend has it that an Etruscan king founded the baths at San Casciano. They were popular with the Romans, who exploited curative properties of the thermal waters – Augustus is reputed to have frequented the baths. In the Middle Ages visitors travelled here from across Europe. In recent years wellness and health pursuits have become a priority. Cristiana Capotondi, the Italian actor, discovered Fonteverde in 2007 and has visited ever since.
A desire to share extensive knowledge and his passion for Tuscany's natural resources, traditions and culture led Luca Molinario to create Tuscany on the Road in 2010. "I want visitors to enjoy Tuscany as those who were born and live here do," he explains.
At 10.30am, I set off with Luca on a journey through the gentle landscape of the Val d'Orcia. Protected as a UNESCO World Heritage site, the unspoilt countryside retains views painted by Renaissance artists.
A Day's excursion
My first day's excursion is to an organic farm between Pienza and Montepulciano. Podere Il Casale produces pecorino and caprino cheese from the milk of their own sheep and goats. A Swiss couple bought the farm in 1991 and continue traditions and skills learned from the previous farmer. Their son Michael helps to run the business. They also produce honey, olive oil, breads, pasta and wines. After an educational tour of the dairy, Michael attentively guides us through a tasting of their fresh un-pasteurised cheeses, paired with a selection of honeys.
We travel on to the lively spa town of Chianciano, which borders Montepulciano, Pienza and Chiusi. In the 5th century BC, Etruscans built a temple here to the God of Good Health. In Roman times, Horace visited the area on advice from his physician. During the 20th century the town experienced considerable development. The film director Federico Fellini loved Chianciano – it even inspired his 1963 film 8½.
Luca has selected a 21st century spa experience for my afternoon. Designed by the architect Paolo Bodega, a pupil of Renzo Piano, this contemporary spa based on the principles of naturopathy is dedicated to the senses. It promotes "a wave of well-being for the body and a burst of energy to the mind". There are relaxing, energising, purifying and rebalancing programmes to choose from – the Hydromassage Bath, Sensorial Bath, Finnish Sauna, Aromatherapy Room, Room of Interior Silence, as well as the outdoor bath circuit and relaxation areas.
Lunch with Fay
The following day I meet Fay, one of Luca's guides. She moved to Tuscany from England ten years ago for family lifestyle and health choices. "One of the reasons for moving here was for the children to grow up in the countryside, eating local, seasonal, organic and unprocessed foods." Our lunchtime destination proves to be an example of the difference in freshness and taste.
After a tour of the Santa Giulia wine cellar with Gianluca, we meet Mirella, his mother, who has just prepared lunch. At a large wooden table in the farmhouse we tasted their smooth Brunello di Montalcino Denominazione di Origine Controllata e Garantita (DOCG) wines from 2008 and 2012. We also sampled Cinta Senese from their Tuscan pigs.
Mirella's fabulous pici had slight indentations made by lovingly hand rolling the long strands of pasta. As we finish, we indulge in scarpetta (to mop up the delicious ragù sauce with bread). This meets with approving looks. As the sun sets, we journey home happy and content.
Aromatherapy
On my final day, I enjoy a leisurely morning in the Fonteverde Spa. I float in 37°C saline water in the Thalaquam. This treatment relaxes the body and re-balances energy. After lying down for a rest on a recliner, cosily wrapped in my robe, I lie horizontal again for a massage using aromatherapy oils. By the time I met Luca I felt totally rejuvenated.
We drive to Bagno Vignoni, situated between Montalcino and Pienza. I have been looking forward to re-visiting this tiny hilltop village where pilgrims rested from their travels on The Via Francigena to Rome. St Catherine of Siena and Pope Pius II also visited the thermal baths here.
It was the vision and determination of Licia Marcucci, with support from her sister, brother and family, that breathed new life into a long-standing family hotel business. Riccardo and Leonardo Marcucci (great-great grandsons of Agostino, who started the business in 1886, and nephews of the enterprising Licia) now manage Hotel Posta Marcucci.
Riccardo makes me an espresso at the bar. Seated on a sofa he turns the pages of a family photo album and speaks with the enthusiasm and delight of the small child (himself) in the pictures. In 1956 his aunt Licia had an ambition to build a new hotel with an outdoor pool for visitors to enjoy the natural thermal waters all year round. Licia, Leone and Agostino worked hard to expand the hotel in stages, as funds permitted. His aunts became famous for their cooking and the welcoming, homely atmosphere attracted celebrity guests such as Fellini and the actor Valentina Cortese – who is now 92, so it worked well enough for her!
"It's strange, we are Italians, we have the culture of the Romans – the culture of thermalism, but the first guests were Germans, Austrians, Swiss and Dutch. I don't know how my aunts were able to speak with them. However, they understood everything. We have guests who have been coming from Europe for 38 years. The Italians didn't really start visiting until the 1990s. Then it was like a 'mode', a fashion."
My final thermal bathe is here. The pool at Hotel Posta Marcucci was my first introduction to this ancient land of hot springs over 20 years ago. Things have changed since then. Italy now has many more spa and wellness experiences to be explored to rejuvenate the body, mind and spirit, just as the Etruscans and Romans discovered all those long centuries ago.