Renzo Piano was born in Genoa, and the famous Italian architect has been instrumental the regeneration of the city's Old Port…
Photos courtesy of Genoa Tourism and Sarah Rodrigues
From the outside, the Piano-designed Aquarium may resemble nothing more spectacular than a large shipping container but, as one of the largest in Europe, the understatedness of the construction is part of its genius: the volumes of water it contains, and the 12,000 specimens it houses, are almost unthinkable. Five years ago, a new Cetaceans Pavilion was added which, despite comprising seven levels, only rises three metres above sea level; this design component, a masterstroke in terms of execution, was conceived of by Piano so that views of his beloved city from the water would not be compromised.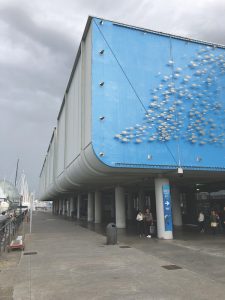 The Biosphere, just a few steps away, is a more obviously distinctive building, its many-panelled glass structure glintingly space age, even before you enter its dense foliage, which puts one in the mind of ET and his team of botanists.  
For wonderful views of both Aquarium and Biosphere, head for Il Bigo. Also designed by Piano, its eight angular arms, like an octopus saluting the sun, give it a contemporary look, yet it's based on traditional nautical cranes, a tribute to Genoa's history as a powerful seafaring port. Its panoramic lift ascends gently to a height of 40 metres, turning twice to give 360 degree views of the city, a pastel jumble of buildings spilling down to the port and making the proximity of Portofino and Cinque Terre, just a short, winding coastal drive away, even easier to believe.
For more on Genoa's attractions, The city that won't be beaten is a great starting point