Valentina Nicastro shares some of the best attractions and sights around Pavia and its surrounding countryside – plus top spots to eat and stay.
Photos by Valentina Nicastro
What to see & do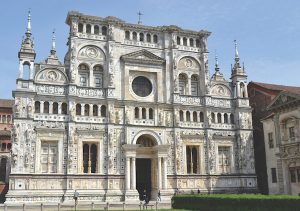 Certosa di Pavia
This beautiful monastery complex (left) is a masterpiece of the Lombard Renaissance. It's about 10 km from the city centre and can be easily reached by train or bus. Open Tuesday to Sunday from 9:00 to 11:30 and 14:30 to 17:00.
Via del Monumento, 4
27012 Certosa di Pavia
Dal Verme Castle
An important medieval stronghold in a 79-hectare park. Hourly guided tours are available on Saturdays, Sundays and holidays from 14:00 to 19:00 between April and September (from 14:00 to 18:00 in October). Little visitors should look for the Enchanted Forest at the foot of the castle. 
Via Carlo dal Verme, 4
27059 Zavattarello
Eremo di Sant'Alberto di Butri
The Hermitage of St Albert of Butrio (right) is a place of peace and silence. There are no bars or restaurants here, just a hut with a couple of vending machines. Take food with you and enjoy a picnic on the benches. Open 7:00 to 16.30 Monday to Friday, 10:00 to 16.30 Saturdays and Sundays.
27050 Ponte Nizza
Oramala Castle
Oramala Castle rises on a hill 5km from the Hermitage of Sant'Alberto. Built in the 10th century, it was one of the most important estates of the Malaspina family and a prestigious cultural centre. Open on Sundays only from June to October, with guided tours every hour between 14:00 and 17:00 (tickets cost €6).
SP155, Oramala – 27050 Val di Nizza
Azienda Agricola Montelio
An historic winery in an old monastery estate with more than 150 years of activity and six generations of winemakers. Today it's run by sisters Giovanna and Caterina, who produce excellent wines and organize exquisite tasting sessions.
Via Domenico Mazza, 1 – 27050 Codevilla
Thogan Porri
A world of genuine kindness and meticulous attention to quality. Mr Gentile and his family have been producing Salame di Varzi and other excellent cured meats since 1967 and continue to follow the traditional methods scrupulously (left). You'll find them just before the village of San Ponzo.
Località Casa Cucchi, 27050 Cecima
Where to stay
Galleria Arnaboldi
A lovely boutique hotel that has been developed inside an historic building in the town centre, right next to Strada Nuova, Pavia's main street. The Arnaboldi offers two luxury suites and a studio, with high ceilings and large windows. Rooms are decorated with precious antique furniture and paintings. There is also a fantastic terrace filled with flowers and plants overlooking a little piazza.
Via Varese, 8 – 27100 Pavia
Cascina Scova
A resort hotel with spa facilities and an outdoor swimming pool about five minutes' drive from the centre of Pavia. The rooms are fairly simple but have everything you might need, and most have a little patio overlooking the surrounding park where you can enjoy your evening aperitivo. 
Via Vallone, 18 – 27100 Pavia
Casa Zuffada
Excellent B&B in a beautifully restored estate overlooking the hills of the Oltrepò Pavese, between the delightful villages of Fortunago and Zavattarello. All its rooms and common areas are decorated with a rustic character that creates a cosy and inviting space. Breakfast is a feast of locally grown and homemade products, and the estate has also a vineyard that produces its own excellent wine.
Strada Provinciale 201, Località Casa Zuffada – 27040 Ruino

 +39 340 886 7313
Valtidone Verdi
An organic farm in a splendid location surrounded by orchards, vineyards and woods, only a 10-minute drive from Zavattarello. Here you can truly unwind and enjoy life's simple pleasures like enjoying the aroma of freshly baked bread, sipping a glass of wine while admiring a beautiful sunset on the horizon and chasing stars at night. The icing on the cake is a gorgeous swimming pool with panoramic views over the hills.
Casa Canevaro, 3 – Zavattarello (PV)
Al Chiostro B&B
This is a great little B&B perfectly located right in the heart of Varzi's historical centre, next to the Reds' Oratory, offering one double bedroom and one apartment. The owners have cleverly created a delightful and welcoming place and there is also a cute flowered garden enclosed in an ancient cloister.
Via di Dentro, 2 – 27057 Varzi

 +39 345 273 9354
Where to eat
Ristorante Officina dei Sapori
Little restaurant in the centre of Varzi. They produce their own cured meats and
all the pasta is handmade. Try the antipasto tradizionale and the pisarei e fasò, small gnocchi in a rich sauce of beans and sausage. Weekends only.
Vicolo allo Staffora, 1 – 27057 Varzi

Albergo Ristorante Selvatico
One of the oldest restaurants in Oltrepò Pavese, being founded by the Selvatico family in 1912. Mrs Piera oversees the kitchen and prepares traditional recipes using locally sourced ingredients. They also have a few guest rooms.
Via Silvio Pellico, 11
27055 Rivanazzano Terme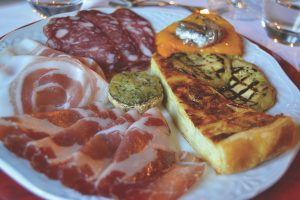 Osteria alle Carceri
Excellent osteria with an interesting menu covering local classics like cured meats and creamy risottos. The servings are generous and they offer a tasting menu with starter, two courses and a dessert for €40.
Via Fratelli Marozzi, 7 – 27100 Pavia
Antica Trattoria
No-frills trattoria 3km outside of the centre of Zavattarello. A great place to enjoy a hearty meal in a friendly atmosphere.
Frazione Moline, 34 – 27059 Zavattarello

 +39 0383 541398
Agriturismo la Fuga
A charming farmhouse immersed in the countryside, just minutes from the centre of Varzi. The agriturismo is open on weekends but do give owners Giancarlo and Roberta a call if you are there on weekdays, and they will do their best to welcome you.
Cascina Cagnano, 1 – 27057 Varzi
Alvolo Cibi di Strada
If you are looking for a quick bite, then stop at Alvolo and indulge in one of their gourmet panini.
Via Giacomo Parodi, 3 – 27100 Pavia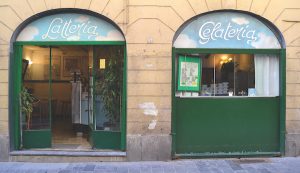 Gelateria da Cesare
An historic ice-cream parlour (left), just a stone's throw from the Church of San Michele. The place is small and at times it can be overcrowded, but it is worth the wait. They also do the best hot chocolate in town.
Corso Garibaldi, 15 – 27100 Pavia

+39 0382 25074

Don't miss
San Ponzo Fair On the first weekend of August the village of San Ponzo fills with farmers and breeders from the surrounding valleys to celebrate local farming and products. You'll get up close with farm animals and see demonstrations of farm jobs and the use of old threshing machines. A brilliant way to immerse yourself in local culture! 
A Vespa ride
A great way to explore the beautiful scenery of Oltrepò Pavese is by Vespa. Local tour operator Vacanze Pavesi rents Vespas with unlimited mileage and suggests fantastic itineraries. You can tour on your own or accompanied by one of their guides. A Vespa costs €60 a day for two people and for an extra €10 each you get also a picnic basket filled with local delicacies.  
Salami di Varzi
A high-quality cold cut with a sweet and delicate aroma, produced only in Oltrepò Pavese following the same recipe and procedures used in the past. Traditions, artisanal skills and great care are combined in this high-quality delicacy that has earned the European Protected Designation of Origin (PDO) status, indicating the close link to the territory where it comes from.
Getting there
By plane
Linate is the closest airport and there is a bus service that brings you to Pavia train station in about 45 minutes. A return ticket costs €27.
From Malpensa airport you can get to Cadorna tube station with the Malpensa Express train in about 40 minutes (€20 for a return ticket) and from there head to Milan central station to catch a train to Pavia.
From Orio al Serio airport you can reach Milan central station by bus in about 50 minutes (€7 for a single ticket) and from there it's a 30-minute train ride to Pavia.
By bus
There are regular buses connecting Milano Famagosta tube station to Pavia with a journey time of about 30 minutes. Tickets cost just €4 and an up-to-date timetable is available at the Autoguidovie website.
By train
Pavia can be reached very easily with a short train ride from either Milan central station or Milan Porta Vittoria station. Tickets cost €4 and again the journey takes about 30 minutes. See the Trenord website for more info.

For more travel ideas for the area, read Valentina's 48 hours in Pavia & Oltrepò Pavese article