Marina Spironetti visits the intriguing city state of Seborga in western Liguria. Fiercely independent, it still boasts its own currency, its own passport and, yes, its own prince…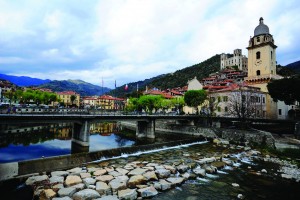 Small countries have always fascinated me. From Andorra to Liechtenstein, from Monaco to San Marino – tiny states with their own history, proud to be different. I thought I had visited all the principalities Europe had to offer, until I came across a truly unknown one, which immediately struck me as the most bizarre of them all. Seborga, a small town in northwest Italy, some 45 miles from the French border, has long considered itself a fully independent state. It has its own passports, its own currency, and – needless to say – its own prince.
It is an interesting coincidence that Principato di Seborga is only a short drive away from the most glamorous principality of the world, Monaco. Still, the atmosphere could not be more different. The first challenge is actually getting there. True, this is Liguria, a region magically suspended between sea and mountains, where even the motorway goes through an almost unbroken series of tunnels and breathtaking viaducts. Still, the tortuous road to Seborga seems to lead nowhere – and you would happily turn round and go back towards the coast, if you only had the opportunity to do so. When you start to believe you must have taken the wrong turn, you will pass a large sign that reads 'Welcome to the Principality of Seborga'. On the other side of the road sits an unpatrolled sentry box and a white-and-blue flag. From this point, at least according to Seborga's 362 inhabitants, you are no longer on Italian soil but in an independent country. A micro-nation with its own government – including an elected prince, ministers and even a few ambassadors – with its own constitution, voted almost unanimously in a referendum.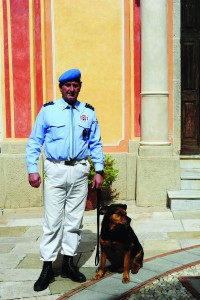 The second challenge is to find somebody to exchange a few words with. It might be because it's a workday and Seborgans are elsewhere, carrying out their daily business, but walking through the cobbled street of the centre I come across more cats than human beings. A couple of ladies talk rather animatedly behind the semi-opened door of a food store right on the church square, but their discussion seems far too important for me to interrupt them. A few minutes later, I am rewarded with the sight of one of the prince's guards, in his white-and-blue uniform, complete with a rather French-looking blue beret. Very kindly, he accepts my request to photograph him. Even his beautiful German shepherd seems used to posing.
I eventually end up browsing the endless Seborga-themed souvenirs in what appears to be the best-stocked tourist shop in town. And yes, I get a bit carried away and leave with a small bag full of rather useless mementos of my trip: a small luigini coin bearing the effigy of previous Prince Giorgio, a brand-new passport which turns me into a honorary citizen of the principality for a mere €2.50 and, believe it or not, a driving licence for a friend of mine who has accidentally washed his own.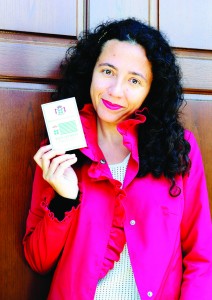 I wonder what the polizia would say to that when he next gets stopped. The shopkeeper seems to take her job very seriously; she explains to me that the passport will expire after one year, while the driving licence will have to be updated yearly. With a straight face, I assure her I will let my friend know.
This Lilliputian state traces its sovereign origins to 954 AD, when the Benedectine monks of Lerino gained control of the town after building a monastery there. Back in those times it was one of many Italian city-states, just like Florence or Venice. In the 1860s most Italian states started to merge into the newborn Kingdom of Italy, a few were annexed to France and Monaco became independent. In the rush of Italian patriotism, Seborga was basically forgotten. Due to a clerical error, it was drawn into the map of Italy and has remained there ever since. Seborgans did not have much of a choice but to accept Italian governance. Not that they cared much in the first place. After all, they were a small state with equally small resources, and being a part of wealthy northern Italy was guaranteed to bring them benefits.

REDISCOVERING THE PAST

Seborga's unique history was discovered again a few decades ago thanks to a local gardener named Giorgio Carbone. To his own surprise, he found out that his hometown was actually an independent nation with a history much longer than Italy's. He would first restore the town's traditions, including the elected office of prince. Not surprisingly, in 1963 the citizens of Seborga elected him to that position, and he thus assumed the title of Giorgio the First. Developing a coat of arms and a system of heraldry, Prince Giorgio wanted to use the history of his town to win national and international recognition. Still, he died in 2009 and his project remains unfinished.
My next challenge was lost, for I met no prince. Marcello Menegatto, the current head of state, first came to Seborga when he and his wife bought a nearby farm. Swiss by birth, he is described by his vassals as a 'businessman' and he does not seem to spend the same amount of time in the principality as his predecessor.
His wife Nina, who seems busy running the PR campaign for the principality, has partnered with a Tuscan fashion company to make a line called Principato di Seborga. Shoes, bags and accessories – which can be purchased in a tiny shop along one of Seborga's medieval streets, as well as in their worldwide branches. "We do have a shop in Miami", says the shop assistant proudly. I am about to buy yet another pair of heels – then I say to myself I don't have enough luigini in my wallet…