What could be more enjoyable than a week combining an Italian Language Course in the morning and visits to Bergamo in the afternoon?
The Homestay Language Course gives you an ideal opportunity to experience life as a 'local' as well as the chance to practice conversational Italian in a friendly environment.
Not only will you get to visit the beautiful town of Bergamo, but there are also excursions to Como and Garda Lakes, cooking classes and wine tastings in the Franciacorta wine area.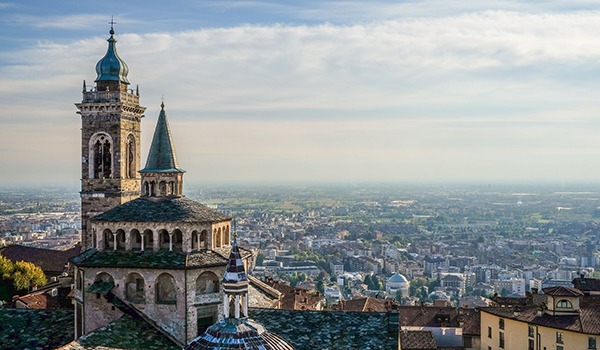 With the help of Elena Arezio, you will be able to interact socially in a relaxed and supported way. This kind of tutoring is the ideal solution for those who have the need to learn as much as possible in a short period of time and for those interested in immersing themselves within the Italian family life and culture. Once returned home, you may continue to practice the language through Skype lessons with Elena.
Bergamo
When Hermann Hesse visited Bergamo in 1913, he defined Piazza Vecchia as "Italy's most beautiful corner". The famous architect Le Courbusier defined it as "the most beautiful square in Europe"… So make sure you visit it!
Bergamo is a beautiful medieval town in Lombardy very close to Milan. It was was a defensive hilltop, protected by stout walls. Nowadays this historic part of the town is known as the Città Alta (upper town) and it's where you will find most of the historic buildings and tourist sights: Piazza Vecchia, Palazzo della Ragione, Santa Maria Maggiore, Cappella Colleoni, Rocca, just to name few of them.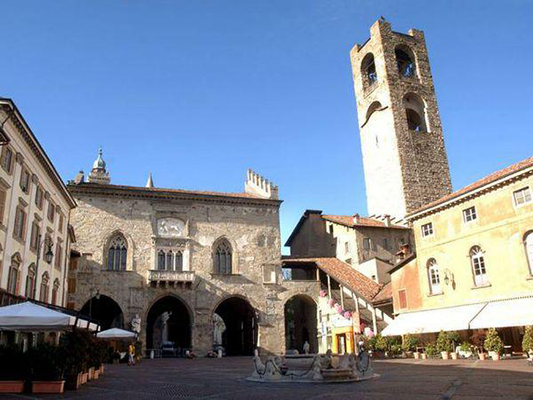 There is little traffic, and the narrow lanes are pleasant to wander. The old town has many good eating-places, bakeries and also a generous selection of shops selling speciality foodstuffs and mouthwatering pastries and delicacies.
Most of modern Bergamo spreads over the plain below the old town. The Città Bassa (lower town) was laid out around the beginning of the nineteenth century, and is composed of pleasant wide boulevards and contains many sights of interest, museums, Donizetti theatre, libraries, and architectural beauties as well. The two parts of town are linked by a funicular.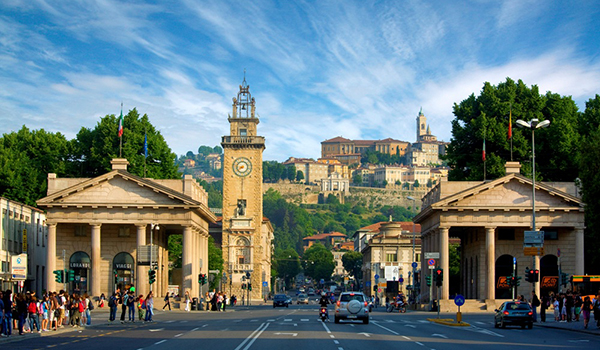 Don't miss the "Summer under the Stars" with its beach-bar style venues along the city walls; street nightlife on Thursday nights with open shops; Friday night parties in Borgo Santa Caterina and happy hours everywhere, even in the cloister next to the museum in the historic Piazza Mercato del Fieno or one of the several evening events organized by Gamec Museum. If you are a music lover, you will apreciate the Donizetti Museum and the "Music Festival" as Donizetti was born in Bergamo.
Accommodation
Elena has a beautiful home situated between Città Alta and Città Bassa, within walking distance of the sights in Città Alta. The house has four storeys, including a large and cosy attic guest bedroom, and a garden.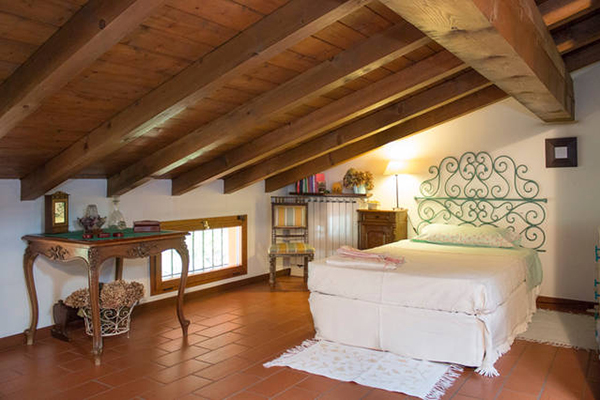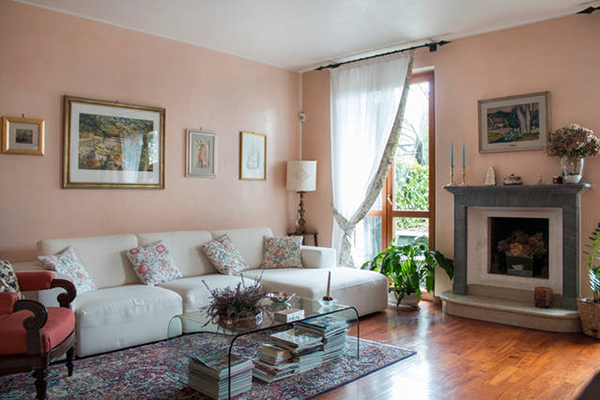 Facilities include a private bathroom, TV and Wi-Fi. Meals can be provided on a full board basis. She can host a single student or a couple.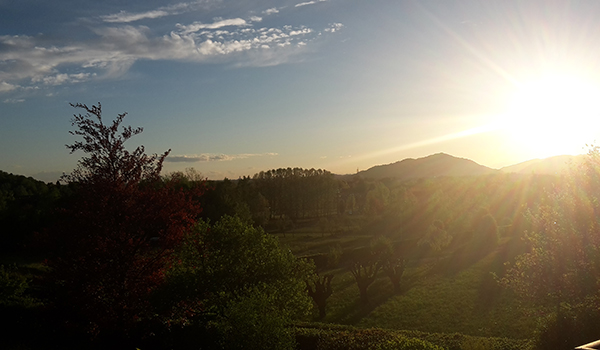 Excursions and Visits
During your stay Elena will take you on half day local visits both to Città Alta and Città Bassa (Bergamo) and on full day excursions as well. At a very short distance you can visit Milano, Pavia, Brescia, Cremona, Como, Verona, Mantova, the very nice Lake District (Como, Garda, Maggiore) and the Mountain Area (Brembana Valley, Seriana Valley, Valchiavenna, Dolomites)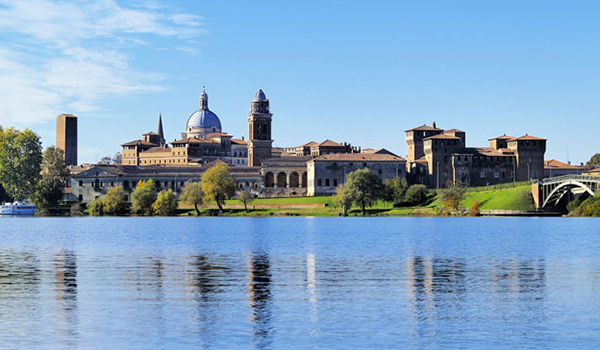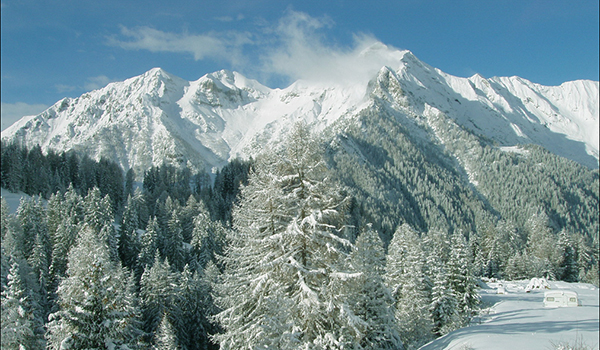 Due to its felxibility, the homestay programme can vary according to the student's preference: 3 or 4 lessons in a week can be used for an extra guided tour in town, or to visit a winery, for a cooking class, for a walk in the hills, for an afternoon at the San Pellegrino Thermal SPA or for other options at your choice.
Lake Como
Elena also offers a wonderful experience in Corenno Plinio, a small village on the shore of Lake Como, dating back to medieval times. Her cosy home is situated lake front on a private lane and offers a marvellous view over the lake and the surrounding mountains.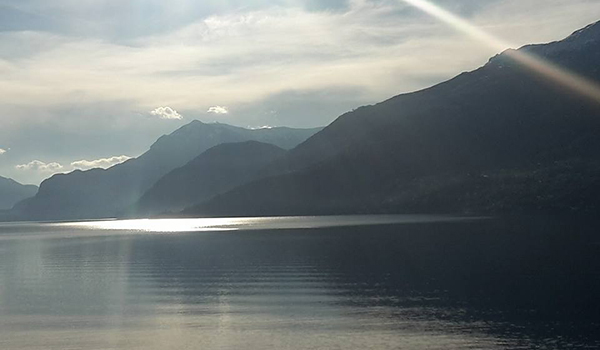 From the terrace you can enjoy the beautiful colours of dawn and sunset. You can swim and sunbath, enjoy lake site, have fun while studying Italian in a relaxing atmosphere.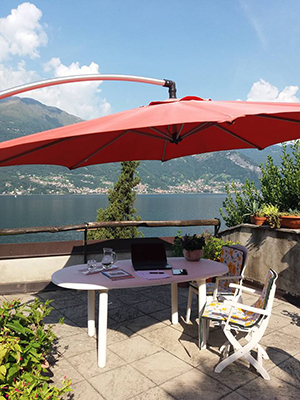 Excursions and visits
The area is home to many historic villas and important buildings, with parks and gardens of great environmental value, both individually and as a whole.
During your stay, you can visit:
Bellagio and its Villa Melzi with gorgeous gardens


Varenna, a very nice and ancient small village with its Villa Monastero and the Vezio Castle with a stunning view
Piona and its Benedectine Monastery
Tremezzo and its magnificent Villa Carlotta with manicured gardens
Menaggio, a nice village with shops and good restaurants
Lenno and its beautiful Villa Balbianello where a number of well-known films have been shot ("Star Wars: Attack of the Clones"- "Casino Royale")
Como
St. Moritz and its beautiful mountain area
To find out more and to take a unique trip to Italy visit the website or contact italianlanguagevacations@gmail.com.