The long-titled but little-visited region of Friuli-Venezia Giulia plenty to offer Italy fans who've seen many the country's most famous sights and are seeking somewhere wonderful off the main tourist trail…
By Christine Smallwood. Photos by iStock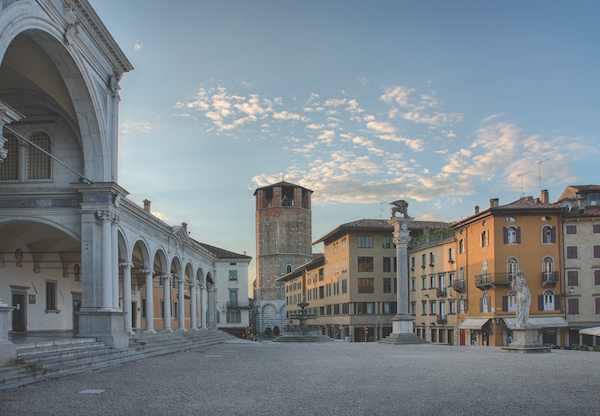 The cities of Trieste and Udine are on the radar of some people – the former is the coffee capital of the country, and home to the headquarters of the international company Illy. But away from these urban centres, the region of Friuli-Venezia Giulia also has beautiful countryside with mountains, lakes and a unique coastline. Historians find its past fascinating, especially the town of Aquileia, which was a major settlement in Roman times and is now one of the main archaeological sites in northern Italy.
But being bordered by Austria, Slovenia and the Veneto, how could its past not be a draw? As you'd guess from the region's name, some of it was once part of the Venetian empire, and today many foreigners arrive after a visit to La Serenissima.
And one of the first things to hit new arrivals is how warm, welcoming and helpful the people are, as you'll be sure to discover should you need directions, or even more challenging assistance. Proof of the deep tradition of the fogolâr furlan, the warm, welcoming hearth which extends beyond the family and home.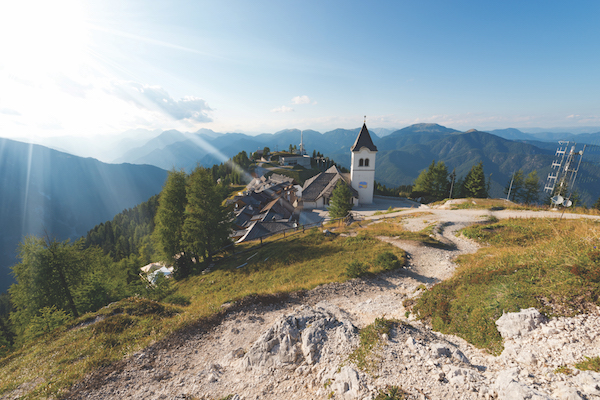 Varied culinary influences
Unsurprisingly in a region which embraces Central European, Venetian, Germanic and Slav traditions, there are numerous and varied culinary influences. Even so, the number of excellent traditional foods is surprising – for example, pierçolade (peaches in wine), fagioli rampicanti Fiorina (Fiorina runner beans) and stak (a bean and potato purée). There are many interesting cheeses, including the locally popular Montasio, which is said to have been produced in the region since 1200 and takes its name from the plateau to the north of Udine. The range of vinegars, vegetables and honeys shows the extent of the bountiful food culture in this region.
And as for the wines, well, the whites from Friuli-Venezia Giulia have long been acclaimed and sought after: Friulano, Malvasia and Ribolla Gialla from the hills that stretch from Gorizia to Cividale. The red wines of Refosco, Schioppettino, Pignolo and Tazzelenghe also deserve more than a taste. If dessert wines appeal to you, then be sure to look out for Ramandolo and Picolit. And as well as nine DOC areas and three DOCG areas for wines, craft beers continue to receive ever more attention, and look out for Santòn vermouth made in Cormons.
Alpine pastures
But there's more on offer than sitting at a table.If you'd rather do some gentle climbing, or make the most of mountain air, there's a choice of hiking trails up into the alpine pastures. Take a trip along the Tagliamento river that many people consider to have shaped the region's history, visit one of the 15 nature reserves, the tranquil Fusine Lakes near Travisio or the beautiful sandy beaches of Lignano Sabbiadoro.
Accommodation and dining…
Where to stay
Hotel Continentale
Via San Nicolò, 25 – Trieste +39 040 631717
On a pedestrianised street in the centre of town, five minutes from the waterfront. Near to lots of shops, bars and many of the main attractions. Staff are attentive and breakfast is efficiently served in an adjacent café.

Savoia Excelsior Palace
Riva del Mandracchio, 4 – Trieste +39 040 77941
Luxury accommodation with enviable views over the water. The hotel restaurant is a collaboration with Eataly and the bar has an interesting selection of wines from Collio. There's also a fitness centre if you want to work off the calories.

Grand Hotel Duchi d'Aosta
Piazza Unità d'Italia, 2 – Trieste +39 040 760 0011
High-end comfort on the stunning waterfront Piazza Unità d'Italia in the heart of the city. There's a lovely little bar here which often holds live piano music concerts on Saturday evenings.

Hotel Astoria
Piazza XX Settembre, 24 – Udine +39 0432 505091
Situated on the Piazza XX Settembre, which holds a small but appealing market, the hotel is rather dated but in a good central position. Staff are helpful and happy to take time to share information on the town, its events and independent shops. Room rate includes breakfast.
Where to eat
Caffè degli Specchi
Piazza dell'Unità d'Italia, 7 – Trieste +39 040 661973
This high-profile café is particularly well-positioned, but if you are sitting on the terrace, watch out for audacious pigeons who may consider your food to be theirs.
Sheep Farm – Azienda Agricola AntoniC di Andrea Štoka
Ceroglie, 44 – Duino Aurisina, Trieste info@asinoberto.it
Offers customised visits with the shepherds and their flocks followed by a cheese and honey tasting. Visits must be booked in advance for 8-12 people at €35 per person.
Osteria Pierimortadele
Via Bartolini, 8 – Udine +39 0432 509234
A popular place for a drink. Buzzing at aperitivo time with a good-natured crowd.
Agli Amici
Via Liguria, 252 – Udine +39 0432 565411
Set up in 1887, Agli Amici is the only restaurant with two Michelin stars in the region (it was awarded its second in 2013). There's an emphasis on produce from Friuli and a particularly interesting cheese board.
Peccol Wine Shop
Via Caterina Percoto, 2/c – Udine +39 0432 200252
Charming, traditional wine shop with an intriguing range of wines, spirits and vermouths. The place to go if you're after something specific or interested in an overview of local wines.
Battello Santa Maria Boat Trips
Marano Lagoon +39 339 633 0288
Nico Pavan runs a variety of boat excursions from Marano Lagunare on the Marano Lagoon. For groups, he can organise a trip to one of the traditional casoni for lunch, perhaps cooked by his parents.
Getting there
Ryanair flies direct from Stansted to Trieste. Or fly to Venice, from where it takes less than an hour and a half by road to Udine. Easyjet (from Stansted) and Wizz (from Luton) fly direct to Ljubljana, from where it is about an hour and a quarter by road to Udine, or just under two hours to Trieste.
For more inspiration on visiting the area, click here