WHAT TO SEE AND DO
➤ Palazzo Ducale & Galleria Nazionale delle Marche
Entrance on Piazza Duca Federico
+39 0722 32262
www.palazzoducaleurbino.it
Hours: Mon, 8:30am-2:00pm; Tue-Sun, 8:30am-7:30pm
➤ Casa Natale di Raffaello<
Via Raffaello, 57
+39 0722 320105
www.accademiaraffaello.it
Hours: Sun, 10:00am-1:00pm, Mon-Sat, 9:00am-1:00pm and 3:00pm-7:00pm
➤ Oratorio San Giovanni<
Via Barocci, 31
+39 0722 910259
>Hours: Sun, 10:00am-1:00pm, Mon-Sat, 10:00am-1:00pm and 3:00pm-6:00pm<
➤ Punto Panoramico
in Parco della Resistenza
Magical views over the city and palace. Sunset turns the town golden. Great place to picnic with the locals, in the shadow of the Albornoz Fortress.
➤ Piazzale Roma Park and Monument to Raphael
At the top of Via Raffaello, this small park offers you views over the city and surrounding countryside, a huge statue of Raphael, and pathways lined with busts of famous Urbino residents.
➤ Museo Diocesano Albani
Piazza Pascoli, 1
+39 0722 2213
www.arcidiocesiurbino.it
Honouring Pope Clement XI Albani, the collection contains treasures of the Archdiocese of Urbino, including illuminated manuscripts, a lectern from Duke Federico's library, and late Gothic art, including a wooden polychrome Madonna della Misericordia. Hours: Sat & Sun, 9:30am-1:30pm and 2:30pm-6:00pm
➤ Mausoleo dei Duchi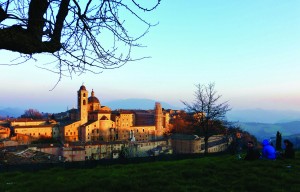 in the Chiesa di San Bernardino
+39 0722 2568
The tombs of Duke Federico and his son Guidobaldo, as well as that of Elizabetta Gonzaga, are in this Renaissance church, a mile or so east of Urbino. Hours: Daily, 8:00am-6:00pm
➤ Oratorio San Giuseppe
Via Barocci
+39 347 6711181
On the same street as the Oratorio San Giovanni, this small Baroque church is worth visiting for its famous life-size plaster presepe, or Nativity. Hours: Sun, 10:00am-1:00pm, Mon-Sat, 10:00am-1:00pm and 3:00pm-6:00pm
WHERE TO STAY AND EAT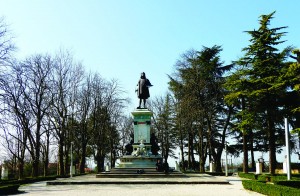 ➤ Albergo Italia
Corso Giuseppe Garibaldi, 32
+39 0722 2701
www.albergo-italia-urbino.it
Conveniently central location on the arcaded Corso Garibaldi with the Duomo and the Ducal Palace on one side and the Albornoz Fortress on the other. Modern, comfortable rooms. The excellent buffet breakfast will set you up nicely for a day's sightseeing and museum visiting. Double rooms from €80 to €120.
➤ B&B Albornoz
Via dei Maceri, 23<
+39 347 298 7897
www.bbalbornoz.com
At the top of Via Rafaello, near Fortezza Albornoz, Punto Panoramico, and Piazzale Roma Park. Very much in the B&B tradition with just three roomy doubles on three floors, each with its own small kitchenette, not to mention glorious views over the city and surrounding countryside. Warm, helpful and friendly hosts. Rooms from €70 to 80.
➤ Caffe dell'Accademia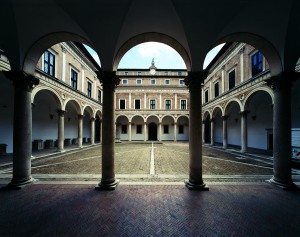 Via Piano del Monte, 2
+39 0722 4285
Next to the School of Fine Arts and Piazzale Roma Park. Popular with students and locals, with a friendly, cheerful staff. A great place to stop for for breakfast cornetti and coffee, and to return to for a light lunch. Inexpensive.<
➤ Bar da Mariella
Via Nazario Sauro, 2<
+39 07 224422
Just off Via Vittorio Veneto, right in the centre of Urbino, this small sandwich shop has a large selection of fresh panini and tramezzini, plus salads, coffee, beer, wine, and everything you could hope for. Funky, kitsch atmosphere and a personable owner. Also inexpensive.
➤ Atabulus Libreria & Enoteca
Piazza Rinascimento, 7
39 0722 2685
">A bookstore, wine bar, and restaurant all rolled into one. Hosted by friendly staff who are serious about wine and food, and who contribute to a slightly "alternative lifestyle" atmosphere. Moderate prices.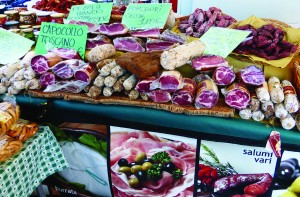 ➤ Rafaello Degusteria
Via Bramante 6/8/10
+39 0722 329546
www.raffaellodegusteria.it
A fine selection of wines, meats and cheeses. The perfect place to go to if you want to create a picnic menu for the Punto Panoramico. It also has pasta, sauces, honeys, oils and other foodstuffs from Le Marche region.
GETTING THERE
➤ By plane
The nearest airports are Ancona and Rimini. Bologna has more flights, and is about 2 hours away by car.
➤ By TRAIN
The nearest rail station is Pesaro. Buses depart for Urbino frequently from a terminal area a few steps from the station (turn right as you exit). Express buses (Rapido) take 45 minutes; the regular service 55 minutes. Bus tickets from the station bar. A return ticket costs less and saves time in Urbino.
INFORMATION
➤ One tourist information office is in the Borgo Mercatale, outside the Porta Valbona gate, next to the elevator that takes you from the main bus parking area to the upper city. Another is across from Piazza Duca Federico, at Via Puccinotti 35. Ask about the Urbino Tourist Card, which includes reduced admission to eight major sites.