Discover the best things to do in Bergamo, and where to stay and eat while you're there in our Bergamo travel guide…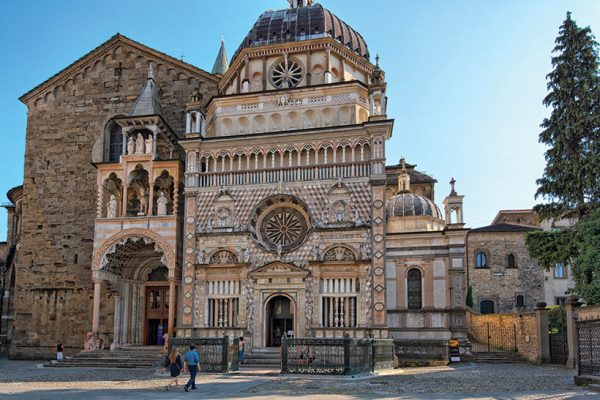 What to see and do in Bergamo
Explore the Basilica
Piazza Duomo Building of the Basilica began in 1137, after the people of Bergamo were spared from the plague. The stunning wooden marquetr y by Giovan Francesco Capoferr i and Lorenzo Lotto was restored for Bergamo Brescia Capitals of Culture 2023. Gaetano Donizetti is bur ied here.
Visit the Colleoni Chapel
Piazza Duomo Bergamo-born Bartolomeo Colleoni was a military commander of the Venetian Republic. The Colleoni Chapel was commissioned as his mausoleum and is a fine example of Lombard Renaissance architecture. His daughter Medea is also buried here.
Climb the Torre Del Campanone
Every evening at 10pm the bell of the Torre del Campanone chimes a hundred times, an echo of the old city curfew before the gates closed. Climb the 230 steps up the 52-metre tower to enjoy views of Città Alta and beyond.
Explore the life and music of Gaetano Donizetti
See the house in which he was born and the Donizetti Museum, then check the programme at the Teatro Donizetti for performances of his works.
Visit Gamec
The city's museum of modern and contemporary art is housed in a 14th century monastery opposite the Accademia Carrara.
Take a walk along the Città Alta's UNESCO World Heritage city walls
Built by the Venetians over 30 years from 1561, the Città Alta's 5k-long city walls are a reminder that this was a city chosen for its strategic position up on a hill. Enjoy views over Città Bassa, the plains of Lombardy, the skyscrapers of Milan and sunsets.
Discover Bergamo Capital of Culture
What better time to visit Bergamo than during the year when it, together with Brescia, is Italy's capital of culture? There are four key themes: city and nature; hidden treasures; the city that invents; and culture as a cure.
Explore Renaissance at the Accademia Carrara
This prestigious art gallery is named after Count Giacomo Carrara, who collected art in the 18th century. Go for Italian masters such as Raphael, Titan, Canaletto, Mantegna and Botticelli, and Bergamo artists Lorenzo Lotto and Giovanni Battista Moroni.
Explore the Rocca fortress
The 14th century Rocca fortress on the Sant'Eufemia hill, one of the seven hills of Bergamo, has its origins as an earlier point of defence in Celtic and then Roman times. The City Museum originally opened there in 1917, and nowadays charts the history of the city during the 19th century.
DON'T MISS: the festivals
Enjoy the jazz concerts of the Bergamo Jazz Festival every spring at the Teatro Donizetti and other locations throughout the city. Donizetti Night takes place in June. From afternoon through to late in the night the whole city lights up in celebration of Bergamo's favourite composer.
DID YOU KNOW?
In 2019 Bergamo became a UNESCO Creative City of Gastronomy because of its nine DOP cheeses, among them Stratichunt (Valle Taleggio), Formai de Mut (Valle Brembana), Bitto (Alta Valle Brembana) and Taleggio (Valle Taleggio). Head to Ol Formager and Chiari Formaggi.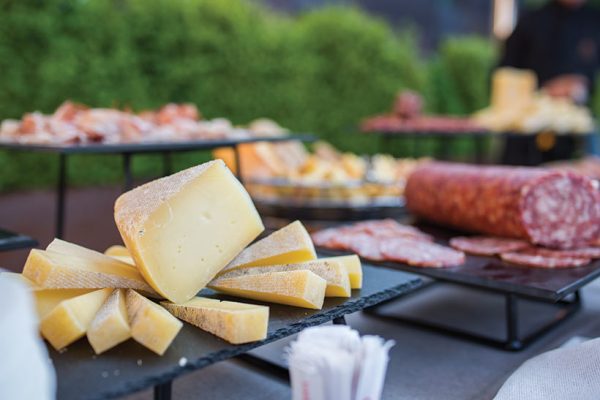 Where to stay in Bergamo
RELAIS SAN VIGILIO 
Via al Castello, 7/9. The 4-star boutique hotel Relais San Vigilio is located up on the Colle di Vigilio, Vigilio Hill, in what used to be the military lodgings of the San Vigilio Castle. It's a stunning setting complete with beautiful gardens and luxury rustic-style rooms.
HOTEL PIAZZA VECCHI
Via Bar tolomeo Colleoni, 3. The 4-star Hotel Piazza Vecchia offers character istic rooms along one of the streets leading into Piazza Vecchia in a 14th-centur y building complete with parquet floor ing and luxur y textiles.
LOCANDA CAVOUR
Via Gombito, 7a. This is the inn at Pasticceria Cavour up in Città Alta. The six rooms are spread across four floors and all named after a pasticcino, or 'little cake'. It's in a great location in the centre near Piazza Vecchia and gives you the opportunity to enjoy Città Alta from your doorstep.
BERGAMO ALTA GUEST HOUSE
Via Gombito, 4. Also along Via Gombito, not far from Piazza Vecchia, this bed and breakfast offers both a double room and an apartment that sleeps four, giving you the opportunity to live like a local up within the walls of Città Alta.
CICCIO B&B
Via Sant'Alessandro, 24. This bed and breakfast in the centre of Città Bassa offers well-pr iced rooms and all-day check in. It's also just over a kilometre to the funicular, so you can easily head up to Città Alta or walk along the flat to Città Bassa.
Places to eat in Bergamo
CAFFÈ PASTICCERIA C AVOUR
Via Gombito, 7. Head up to Città Alta for the sweet version of polenta e osèi, the traditional polenta with birds from Vicenza. This version is a sponge cake covered with almond paste and chocolate and marzipan 'birds'.
CAFFÈ DEL TASSO
Piazza Vecchia, 3. Set in Piazza Vecchia, Caffè del Tasso began as the Locanda delle Due Spade (Inn of the Two Swords), but in 1681 was named after the poet Torquato Tasso, whose statue stands nearby.
CIRCOLINO CITTÀ ALTA
Vicolo Sant'Agata, 19. The Circolino offers local specialities such as casoncelli – meat ravioli with butter, sage and pancetta – and rabbit with polenta. The weekday lunch menu offers first course, second course, wine, water and coffee for €15.
IL MAIALINO DI GIÒ
Piazza Pontida, 37. The perfect place to stop for aperitivo hour, Il Maialino di Giò – literally Giò's Little Pig – in Città Bassa specialises in selected beers and wines accompanied by cold meats.
OSTERIA AL GIGIANCA
Via Broseta, 113. This Michelin Guide restaurant draws upon local tradition using seasonal, local produce. Dishes include casoncelli, risottos, pasta, rabbit and lamb, accompanied by wines and nationally produced beers. Average price is €40; €50 for the six-course tasting menu.
BARET TO DI SAN VIGILIO
Via al Castello, 1, San Vigilio. Michelin Guide restaurant located in the square where the San Vigilio funicular arrives from Città Alta, with an outside terrace and stunning views. Go for classic dishes and homely elegance. Average price is around €50.
Getting to Bergamo
You can fly to Milan Orio al Serio, aka Milan Bergamo (BGY), from all over Europe.
Direct flights from the UK depart from London Gatwick, Heathrow and Stansted, Birmingham, Manchester, Liverpool, Newcastle, Bristol and East Midlands.
From Ireland you can fly from Dublin, Cork and Knock.
When you arrive at the airport, it's just a short bus journey to the city's train station.
Discover more Italy Travel Guides
All photos © Visit Bergamo
Tags:
Holidays
,
Travel