The region's name is a mouthful, and it's often omitted from tourist itineraries, but Christine Smallwood reveals why Friuli-Venezia Giulia should be the next stop on your Italian itinerary…
Photos by Christine Smallwood unless otherwise stated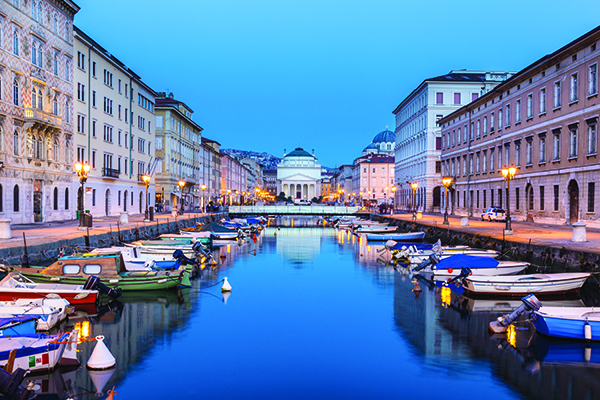 1. Trieste
Trieste is the elegant capital of the region, yet is curiously less visited by foreigners than it deserves. It's civilised, well-mannered and boasts imposing architecture with a wealth of different styles: neoclassical, art nouveau and baroque, alongside ancient Roman remains.
The waterside Piazza Unità d'Italia showcases grand buildings on its three landbound sides, including the ornately, gold decorated Prefettura, which appears jaw-droppingly luminous when lit by the setting sun. To its side, is the Molo Audace pier. Note that this is exposed to strong crosswinds, so those who walk along it are considered brave.
The town beach is no longer a secret since the film L'ultima spiaggia shown in Cannes told the story of its division into female and male sides, but elsewhere in town everyone mingles together, especially in the countless charming cafés. In a region known for its coffee, Illy, the international coffee company, has its home here.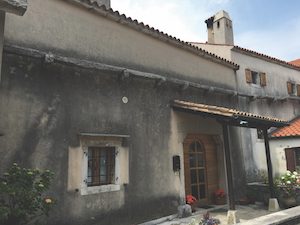 2. The Carso and its caves
The Carso, or Karst, area overlooks the Adriatic Sea. It's a harsh plateau known for its rugged landscape and intriguing flora and fauna, and from Duino-Aurisina it's possible to see Italy, Slovenia and Croatia. Facts relating to everyday life reveal a lot about this corner of Europe. For instance although there's a great variety of local surnames, many were lost under Fascism because people changed them.
There are fascinating, and deep caves, some of which have had steps installed in them in order to receive visitors, but do check before making a detour to see them. Many are closed from September through to December because of resident bat colonies.
The soil here is a noticeable red colour with a heavy amount of iron and limestone. It is believed that the Carso has the highest number of small wineries in the region. Although there are many low production, family-run wineries here, most welcome visitors warmly.
3. Gastronomic specialities
As expected in a region bordering Austria, Slovenia and Veneto, the culinary influences are varied. There's a deep love of polenta, beans and soups, along with breads, including those made with rye. Coffee, and cakes are popular – be sure to look out for presnitz, putizza and pinza as well as gubana, which was traditionally an Easter treat but is now enjoyed at other times too.
There are many local and regional surprises that may not be known worldwide but which you should make a real effort to discover, such as jota, the cabbage soup from Trieste. Of special note is frico, made with the much-loved Montasio cheese.
However, undoubtedly the best-known gastronomic product from the region is San Daniele ham. Many believe this DOP ham is better than that of Parma due to the position of and conditions in the hill town of San Daniele.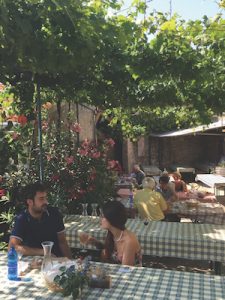 4. Lunch in an osmiza
Looking for a traditional way of eating and drinking? Then search out a doorway with a frasca, or branch, hanging over it. This signifies an osmiza. The name comes from the Slovenian word osem, meaning 'eight', which used to be the number of days for which farmers were allowed to sell their produce without paying tax on the profits – when the
branch wilted, it was a signal that the eight days were up. That period has lengthened over the years, so for example, in the commune of Prepotto, it is now 28 days.
Most of the items on an osmiza menu are served cold, be they the family's own ham, cheese or vegetable preserves. If they don't have their own vineyard, there will usually be wine from their neighbours sold alongside a selection of other local foods. It's a relaxed way to taste and discover a variety of local specialities.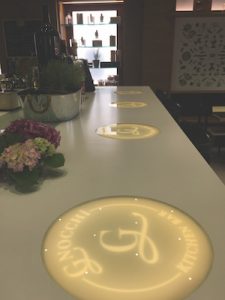 5. Michelin-starred dining
The region does fine dining too. For example, on the outskirts of Udine is the Agli Amici restaurant, which has been awarded two Michelin stars. Run by Emanuele and Michela Scarello (chef and front of house respectively), who have welcomed the great and good of Italian fine dining to their restaurant over the years, the restaurant celebrated its 130th anniversary in 2017.
Should you not have time for the full, Michelin-starred spread, there is also a more casual place to one side of the main restaurant, the Gnocchi Kitchen Bar. Stylish and with the same rigorous sourcing of ingredients, it's more relaxed and informal than the Agli Amici. Emanuele believes that "food is our way of communicating; every dish tells a story of its territorio."
Start your meal with a local vermouth, served here with a small spoon of lemon juice ("it adds a delicious freshness," explains Michela) and it will all start to fall into place.
6. A boat ride on the Marano Lagoon
For a day out with a difference, take a leisure boat from Marano Lagunare and speed across the waters of the Marano Lagoon, perhaps stopping to look at the ducks, wave at the fishermen and admire the traditional houses, casoni, to which strict rules apply: their roofs have to be covered in reeds, and only certain people can purchase them.
Some fishermen offer simple, rustic lunches, at which you can enjoy stories and a delicious local fish pasta dish around a traditional hearth. On returning to harbour you may be able to steal a glimpse of the auction of fish from the lagoon and the Adriatic. It's an animated scene and moves quickly as it's a Dutch auction.
7. The aperitivi
Aperitivo hour sees the start of after-work socialising. For example, in Udine's Osteria Pierimortadele, with its smile-inducing logo of a pig's tail forming a corkscrew, the locals call in for "un taj di chel bon" – a good glass of wine in company. There's a wide choice of wines by the glass so it's easy to try the regional grapes and blends. Perhaps a Friuliano or a Ribolla Gialla. With the renowned wine producing areas of Collio and Collio Orientali nearby, there's an intriguing local selection.
It's never just about the drinking for an aperitivo in Italy, and here there's a choice of expertly carved cooked ham on a slice of bread with horseradish, which is a popular addition here, mortadella, or a choice of cheese. The locals are friendly and will happily suggest other places to go for a different drinking experience. It's a great way to start the evening in style.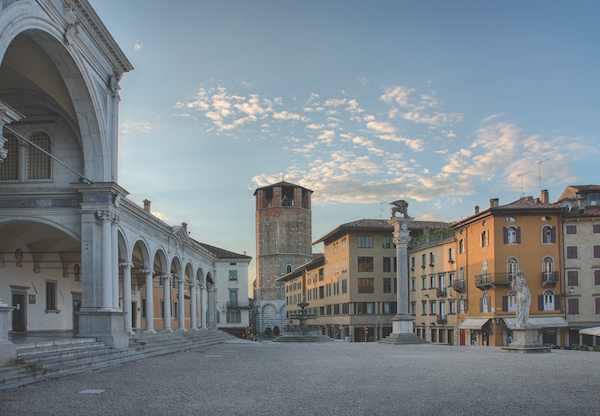 8. Udine
The prosperous city of Udine is the capital of Friuli. Its 100,000 inhabitants tend to be politically central and proudly "catholic in both senses". Their city is easy to walk or cycle around, and is home to an abundance of architectural gems.
Parts of the city's duomo date from 1230 and it houses several Renaissance paintings, among them works by Tiepolo and altars similar to those in St Peter's, Rome.
The two Moors ringing the bell in the Piazza della Libertà recall Piazza San Marco in neighbouring Venice.
Back in the Middle Ages, this was the piazza where the authorities communicated with the population, where justice was served, and where people were executed. The gate to the nearby castle was designed by Andrea Palladio.
It's not all serious: at the end of the day head to Piazza delle Erbe to join workers in the early evening relaxing with friends in the bars here.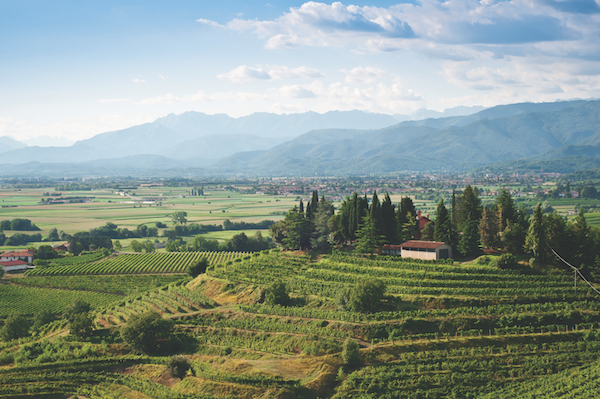 9. The wines of Collio
The white wines of Friuli-Venezia Giulia are highly regarded, and the area of Collio, in the Province of Gorizia, has conditions that are particularly favourable for vine cultivation. The vineyards here, covering around 1,500 hectares, are mainly found on gentle slopes, usually between 100 and 350 metres above sea level and can rely on a gentle, temperate climate.
Known for its subsoil, the famous ponca (in Friulian dialect), which crumbles easily, the land also benefits from a rare sedimentary deposit known as flysch which is particularly rich in minerals. One winery of note here is the Fondazione Villa Russiz, which dates from 1868 and has vines on 45 hectares. It is famous not only because of its fascinating family and winery history, but also because the Foundation invests in and manages a small home for orphans and children who need care. Enjoy their wide range of wines, knowing that you're helping a worthwhile cause.
10. Spending time with a shepherd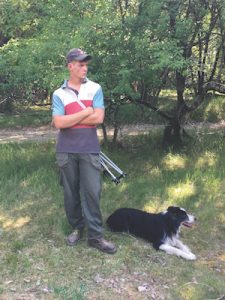 Local cheeses are popular in Friuli-Venezia Giulia. To find out more about these, opt for
the joyful experience of spending a few hours with a shepherd and his sheep.
The Antonic di Andrea Štoka farm in Duino-Aurisina will let you spend time with its flock and a friendly, but hard-working sheep dog. The farm is heavily involved in educating children and welcomes visits from many school groups. There is a focus on supporting local breeds of sheep, specifically the pecora carsolina, also known as pecora istriana, and continuing the tradition of Carso shepherds, which has been in rapid decline over the past century. There's a holistic benefit to this – for instance, the sheep reduce the risk of forest fires because their grass consumption keeps the vegetation low.
At the end of the day, back at the farmhouse, you can taste the fruits of their labours by trying some of their pecorino cheeses and the local honey.
For more inspiration, read our Friuli travel guide here