As co-founder of food importer Gallucci & Gilmour, Malcolm Gilmour has plenty to say about this lesser-known region of south Italy. Here he offers an insight into the vast culinary history of Basilicata…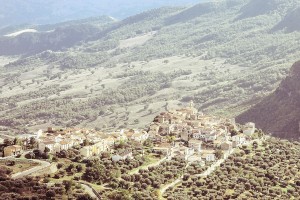 In the Italian film Basilicata Coast to Coast, which recounts the story of four errant musicians making their way by foot from one corner of Basilicata to the other, the character Nicola Palmieri has this to say: "La Basilicata esiste, è un po' come il concetto di Dio, ci credi o non ci credi". It means "Basilicata exists, a bit like God – you either believe or you don't". It's only partly a joke, because even to Italians the region of Basilicata – boxed in between Calabria, Campania and Puglia – has something unknown and isolated about it.
Carlo Levi, the poet and author from Turin, was exiled here by Mussolini, as if it was a land so cut off from the rest of Italy it might as well have been a foreign country. Levi developed such an affection for the region and its people he wrote a book about it. Even the title of that book, Christ Stopped at Eboli, is a recognition of Basilicata's otherness, the sense that it has been left to its own devices – Eboli is the last town of Campania before you reach Basilicata. Indeed, when I tell people that Claudio, the other half of Gallucci & Gilmour (no prizes for guessing he's the Italian one), is based in Basilicata and a lot of the products that we import also come from there, the first reaction is usually, "Sorry, but where is Basilicata again?".
A VERDANT AND FERTILE LAND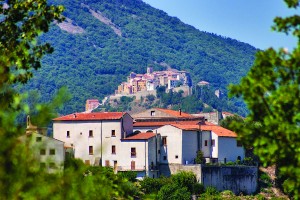 The irony to this nagging disbelief or ignorance of Basilicata's physical existence is that there is no region in Italy that is more rooted in its land. Certainly, there is none that is more tied to its traditions and where respect is so deep-rooted  for the food it produces. Coming from Naples airport, the main entry into the region when heading south is to turn east away from the  well-travelled route to the Amalfi coast. This leads you – first gradually and then more rapidly – into the rolling hills and farmland
of Basilicata.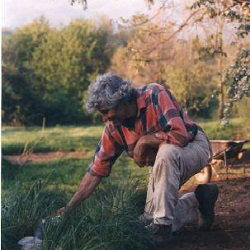 It's hard not to be impressed by the beauty of the environment; the hills really do seem to open up to the heavens and the lack of human presence is overwhelming. This is a region still known for its rural poverty, and there are signs of this in the deserted villages that seem to be sliding off sheer hills. What also hits you approaching from the west is how thrillingly verdant Basilicata is – this doesn't seem like the Italian south of parched, sparse vegetation. There are trees, lakes and green everywhere – this combination of the southern sun moderated by the clean mountainous air is part of the secret to Basilicata's outstanding, but still largely unknown, heritage of food and wine. If you were to put together an ideal environment for producing food and wine, it would look a bit like Basilicata.
There are echoes of Puglia's influence in the region's products and dishes with pasta forms such as orechiette and cavatelli or taralli (known in Basilicata as scaldatelli) easily moving over regional borders. And yet the more you delve deeper into Basilicata (and frankly the more you eat, especially in my case) the more it yields up a cuisine that is deeply distinctive. You can trace its roots back not only to its rich natural abundance but to its many settlers – the Greeks, Romans and Spanish, among others.
GOING ON TOUR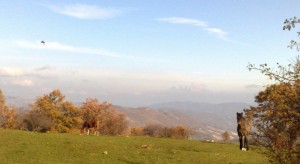 Let's start our culinary tour in Senise, a stunning hilltop town just at the edge of the beautiful Pollino National Park. Senise is home to a type of dried pepper that can be found throughout Basilicata – peperone secco di Senise, or, to give it its dialect name, peperone cruschi, which means pepper with a crunch.
It was thought that this pepper first came to Basilicata from the Antilles via Spain. What is certain is that it found an ideal climate in Basilicata for its sweet taste and thin skin. It is the thin skin that allows the peppers to be harvested each August and dried gradually in the warming September sun. Among the alleyways of villages in Basilicata throughout September you will be greeted with tapestries of red peppers drying on balconies. Once dried, the peppers are fried in super-hot olive oil for a couple of seconds and set aside. They then become good and crunchy, hence the title.
If you can resist eating them straight away, there are innumerable dishes that use peperoni cruschi and the sweet, fragrant oil they are cooked in. Some of my favourites are pasta with breadcrumbs and broken-up peppers, baccalà (salted cod) marinated in the oil and the peppers, or just simply served up with a fried egg. You can also find it in a powdered form which is used to flavour meat, soups and even bread.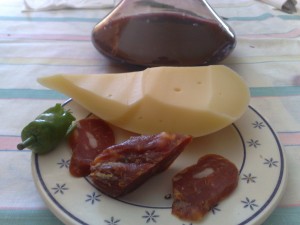 DISCOVERING CHEESE AND WINE
One of the features of Basilicata's geography is the outstanding dairy products it produces, from the delicious European-protected Pecorinos such as Canestrato di Moliterno and Pecorino di Filiano to the distinctive tear-shaped Caciocavallos such as Caciovallo Silano and ricottas and the harder cacioricotta. Once you taste them you get an immediate sense of the rich and flavourful milk. This is from cattle that have had a pretty good time of it munching on some of the most unspoilt environments in Europe. One of the best that we have ever tasted and subject to a Slow Food presidium is Caciocavallo Podolico produced near the small village of Abriola. The Podolica breed of cows actually came to Italy from Ukraine at the time of the fall of the Roman empire. The milk they produced, though very low yield, was famous for its richness, and in the hills of Basilicata they finally found the perfect environment. The cheese that their milk produces is incredible, with notes of fennel, wild herbs and a spicy warmth. The cheese itself is hung inside old cellars from the ceiling to mature. Our producer, Stefano Pessolani, is so passionate about it that he
makes that and nothing else!
Travelling up even further into the hills under the shadow of the extinct volcano you reach the Vulture region, home to the Aglianico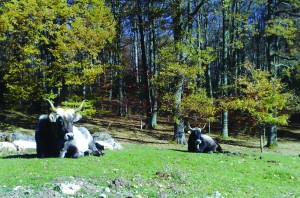 del Vulture DOC region of wine production. This area, high in altitude and mineral-rich soil, is the perfect mix of natural elements for winemaking. It is also the perfect case study in a potential only now beginning to be realised. For many years, the Aglianico grape was hidden away in this corner of Basilicata, either drunk locally or shipped north to be blended with other wines. Yet most would agree that Aglianico belongs with Nebbiolo (which makes Barolo and Barbaresco) and Sangiovese (the base of most Tuscan wines) as one of the big three Italian grapes capable of making wines with power and complexity.
Aglianico is now starting to gain momentum as the wine's international profile grows and experts recognise this is one of Italy's great wines. It's really heartening to see a range of younger wine producers return to the region to set up new wineries as its reputation grows and, yes, it's still a whole lot cheaper than Barolo.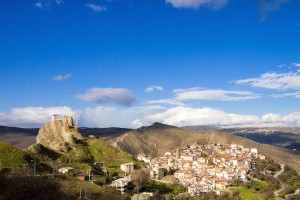 Journeying even further south you come to the extraordinarily fertile Val d'Agri area, thick with forests, lakes and another EU-protected product, Fagioli di Sarconi. This is a local variety of bean, related to Borolotti, of which there are 24 sub-varieties. The land here, which is rich in minerals, means that this is an extremely tasty, sweet bean as well as being rich in fibres and vitamins, it's also highly digestible thanks to a thin skin, making it perfect for simple soups. You can see a brief profile of the family that
own Boschi e Contrade, one of the main producers of this speciality, opposite. Finally, heading east and approaching the border with Puglia, you come to Matera, home to the extraordinary sassi – these are caves inhabited since pre-historic times and home today to local businesses and restaurants.
REACHING MATERA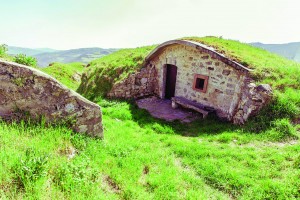 As you approach Matera from the hilly west of Basilicata, you notice the landscape change as the terrain starts to level out. This is much more recognisably the south of Italy and Matera, along with Altamura, just over the border in Puglia, grows what many would say is the best durum wheat in Italy. Durum wheat, of course, makes the flour that goes into the wonderful breads of the region and makes the many varieties of pasta. If you've never tried pasta from Basilicata, it has the most wonderful, almost rugged and slightly rubbery texture that holds sauce amazingly well. Giuseppe at Biopasta, a small pastaficio near Potenza who produce organic pasta from this wheat, maintains that it is precisely the quality of the wheat that makes his pasta special.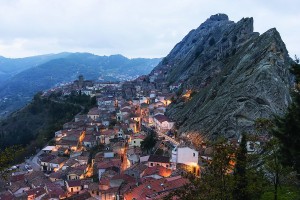 I could mention much more: the unique red aubergines from the village of Rotonda, lampascioni (a type of bulb similar in taste to an onion), the salsiccia lucanica, one of the oldest types of salami in Italy, pezzente, a highly flavoured salami used for cooking, the toasted olives of Ferrandina, the last two of which are subject to Slow Food presidium to save endangered types of food, and some of the best but least-exported olive oils in Italy.
FOR THOSE WHO KNOW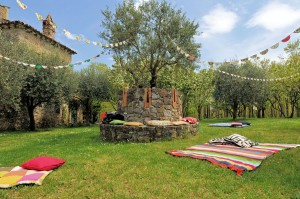 So, why don't we all know more about it? Well, the answer to that takes us back to Basilicata's isolation and where we started. Food buyers and importers tend to have their base in the north of Italy, and why not? It's just so much easier – that is where you find the major transport links to Europe, the warehousing and, quite simply, it's just so much easier to find people who want to export in the north. So, while buyers will make the occasional foray down south it is usually to Puglia or Campania for mozzarella or burrata (or even occasionally Calabria for N'duja salami). Basilicata, with its lack of transport links, its general isolation and, yes, its indifference to exporting – and its idiosyncratic producers – has always been left to itself. Authenticity is a word that is over-used but here it is true; and, here goes, I know I will be in trouble for saying this but I know no other region in Italy that eats  so well but is so little-known.
Despite its wealth of high quality produce, range of appealing local dishes and stunning natural environment, this is a modest region, not yet at ease with promoting itself beyond its own borders. I happen to think that's all the more reason to believe in it.
Tags:
Besilicata
,
food
,
Gourmet Guide
,
People
,
Tours