With generous seasoning and classic pasta dishes, Mario Matassa explores recipes from Rome…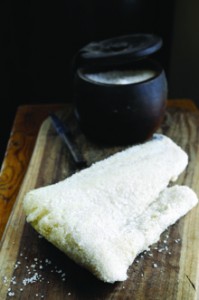 For Romans, the search for pleasure and happiness in all matters of life is a daily imperative, one that dictates a way of life. This holds equally true when it comes to matters of the table, where indulgence is considered as much a part of eating as the food itself.
The Roman table is in many respects dictated by tradition. On Thursday it is common for people to eat gnocchi alla Romana, discs of semolina baked with copious amounts of cheese and butter. Fridays are reserved for fish, most often cod, either salted or fresh and a dish of pasta with chickpeas (pasta coi ceci). Roast meats are reserved for Sunday, most often either pork or lamb. The penchant for lamb dates back to pastoral traditions, a cuisine born of the shepherds who tended their flocks throughout the region. Pecorino (sheep?s milk cheese) is still preferred over cow?s milk cheese and second course dishes often include lamb. This applies equally to the offal with dishes such as pajata, slow-cooked lamb?s intestine, often served on pasta, being as popular today as ever.
Most Romans will eat a dish of dried pasta at least once a day. Dishes synonymous with the area include Bucatini all?Amatriciana (the sauce being made with guanciale ? cured pig?s cheek ? or pancetta, tomatoes, onions, garlic and chilli pepper), pasta al Cacio e Pepe, a simple dish made with the finest Pecorino and freshly ground pepper, and Penne alla Arrabiata, ?angry penne?, a name which derives from the addition of an extra pinch or two of chilli pepper.
Pork fat, the most popular being guanciale, is used daily. If you can?t find it, pancetta is a reasonable substitute. Another ingredient that distinguishes the Roman table is salt and black pepper. People often consider the Roman cook heavy-handed. It?s a tradition that dates back to the days of ancient Rome, when salt was considered a sign of wealth. Salt is still honoured in households ?? it is never stored in a salt shaker, but rather in a special dish called a saliera, a rounded bowl, sometimes simple or more decorative, always afforded a place of honour on the table.
………………………………….
Baccal? alla Romana

Serves 4 | Preparation 5 mins | Cooking 15 mins
1 large fillet of salt cod
Plain flour
Olive oil
Salt and pepper
Place the cod fillet into a large pan or bowl and fill with cold water. Soak the cod for 48 hours, remembering to change the water at least three times a day. Soaking the cod will remove any excess salt, making it suitable for cooking. Once the cod is ready to cook, cut the fillet into four steaks and dry well with a clean tea towel to remove any excess water.
Place a few tablespoons of olive oil into a large frying pan and heat. Place a few heaped tablespoons of flour onto a large plate and season ? take care not to add too much salt as the fish will still be slightly salty. Place the fillets in the flour and press down gently. Turn over and coat the other
side with flour.
Once the oil is hot, place the fish topside down into the oil and cook for three to four minutes, depending on the thickness of the fillet. Turn the fish over and cook for a further two minutes. Serve hot with lemon wedges.
………………………………….
Pasta with chickpeas and pancetta

Serves 4 | Preparation 5 mins? | Cooking 12 mins
320g short pasta such as penne
100g diced pancetta
400g tin of chickpeas
Sprig of rosemary
50ml dry white wine
Extra-virgin olive oil
Salt and pepper
Bring a large pot of salted water to the boil and add the pasta. While the pasta is cooking, place the pancetta in a large frying pan with one tablespoon of olive oil and the sprig of rosemary. Cook the pancetta over a medium heat until it begins to colour and then add the wine. Allow the wine to evaporate and then add the chickpeas with a ladleful of cooking water from the pasta. Allow the sauce to simmer gently until the pasta is ready.
When the pasta is cooked, drain and add to the sauce, stirring well to make sure the pasta is fully coated with the sauce. Taste for seasoning and serve.
………………………………….
Spaghetti all?arrabbiata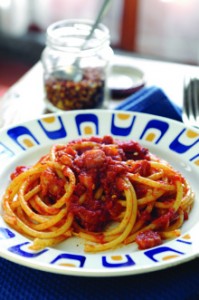 Spaghetti all?arrabbiata
Serves 4? | Preparation 5 mins? | Cooking 12 mins
320g spaghetti
50g guanciale (or pancetta), diced
1 small onion, finely chopped
400ml finely chopped tomatoes
1-2 hot red chillies or 1 tsp dried chilli flakes
Extra-virgin olive oil
Salt and pepper
Bring a large pot of salted water to the boil and add the spaghetti. Cook until al dente (about 10-11 minutes). Place a tablespoon of olive oil in a large deep-sided frying pan and fry gently for three to four minutes together with the onion. Add the guanciale or pancetta and cook gently (do not brown).
Add finely chopped red chilli ? the amount depends on taste ? and then the tomatoes. Season with salt and pepper and continue simmering while the pasta cooks.
When the pasta is al dente, drain reserving some of the cooking water and add to the sauce. Stir the pasta through the sauce well, adding a small ladleful of cooking water if necessary. Serve with grated Pecorino cheese.
………………………………….
Spiced apple cake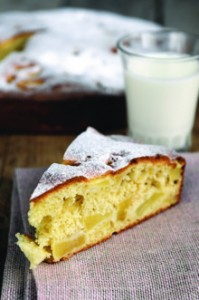 Torta di mele
Serves 6-8? | Preparation 15 mins? | Cooking 50 mins
600g apples
2 eggs
200g caster sugar
75g butter
1 heaped tsp ground cinnamon
200g plain flour
2 tsp baking powder
200ml whole milk
1 unwaxed lemon
1 tsp vanilla extract
Peel the apples and cut into small dice. Place the apples in a bowl and add the juice and zest of one lemon.
Next, place the eggs and sugar into a large mixing bowl and whisk until thick and foamy. Add the melted butter and mix well. Then
add all the other ingredients (apart from the apples) and whisk together well. Finally, fold in the apples.
Place the cake batter into a greased and lined baking tin and bake in a preheated oven at 180?C/350?F/Gas Mark 4 for 40-50 minutes. Serve the cake warm or at room temperature.
Tags:
Recipes
,
Rome