Patate al forno 
New potatoes are abundant at this time of year and as well as being great boiled, they also bake very well – use them in this Southern Italian layered potato pie….
➤ Serves 2 ➤ Preparation 15 minutes ➤ Cooking 35 minutes
450g new potatoes, scrubbed
salt and freshly ground black pepper
2 onions, peeled, finely chopped
1 garlic clove, peeled, crushed
110g flat mushrooms, sliced
1 tbsp olive oil
110g mozzarella cheese, sliced
15g breadcrumbs
1 tbsp chopped flat-leaf parsley
handful of torn fresh basil leaves
50g freshly grated Parmesan cheese
Slice the potatoes into 5mm thick slices. Cook in a large pan of boiling salted water for 10-15 minutes until tender. Drain then push through a sieve.
Preheat the oven to 200ºC/Gas Mark 6. While the potatoes cook, heat the oil in a frying pan, add the onions and fry for 5-10 minutes until golden. Add the garlic and cook for a further minute. Add the mushrooms and cook for another 2 minutes. Season with salt and pepper.
Slice the mozzarella cheese. In a shallow ovenproof dish, sprinkle over half the breadcrumbs. Add a layer of mushrooms, sprinkle over half the parsley and basil and add a layer of mozzarella cheese, Parmesan cheese and potatoes. Repeat these layers, finishing with a layer of potatoes. Sprinkle over the remaining breadcrumbs.
Bake in the oven for 20 minutes until golden and bubbling. Serve straight from the oven.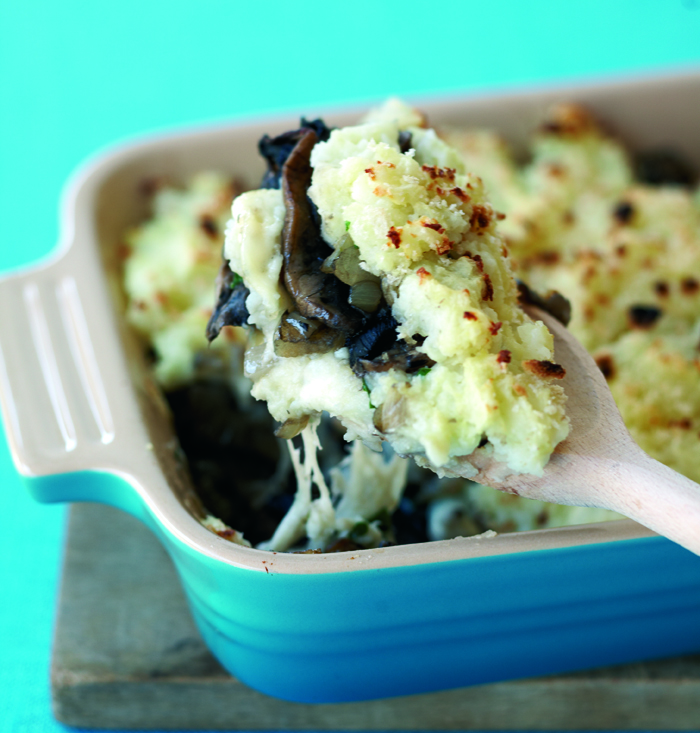 Tags:
Italian layered potato pie
,
New potatoes
,
Recipes
,
Sothern Italian