Peperonata alla nonna con nodini
Mario Matassa shares his nonna's popular summer recipe.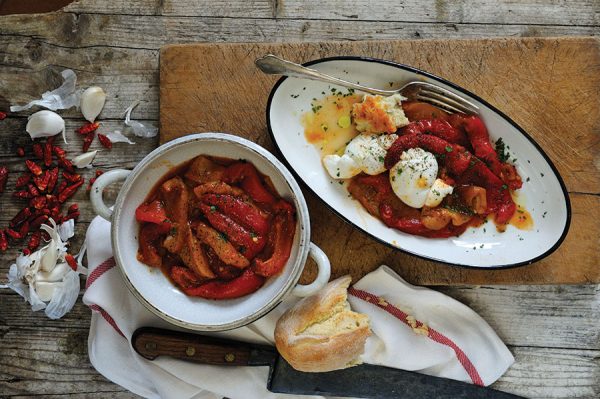 This dish was often made for an evening meal, over the dying embers of a lunchtime grill.
The sweetness of this Italian grilled peppers dish is complemented well by hot chilli peppers, while creamy nodini adds a cooling finish to the meal.
This dish is best made in advance and refrigerated. It keeps well for several days and the peppers are wonderful sandwiched between two thick slices of good ciabatta bread!
➤ SERVES 4
➤ PREPARATION 10 minutes
➤ COOKING 20 minutes
Ingredients:
6 medium-sized red and yellow peppers
3 cloves garlic, peeled and chopped
3 or 4 hot chilli peppers (according to taste), chopped
extra-virgin olive oil
100g sun-dried tomatoes in olive oil
2 tbsp tomato concentrate
1 tbsp sugar
sea salt and freshly ground black pepper
a handful of fresh flat-leaf parsley, chopped
4 knots of nodini (or mozzarella balls)
fresh ciabatta, to serve
Method:
If you've just finished cooking a barbecue, place the peppers on the grill over the embers and cook for about 15 minutes, turning occasionally. If you have not, turn the oven up to high, throw the peppers onto a baking tray and cook until the skins have blackened and the peppers are soft. Then throw the peppers into a large bowl, with any juice that might have spilled out, and cover with a lid. Allow to cool and let the steam soften the peppers.
Once cooled, the skins should peel off easily. Clean the peppers, scoop out the seeds, slice and place back in the bowl, retaining as much of the juice as possible. Add the chopped garlic and chilli to a frying pan with olive oil. Heat gently and then add the peppers and their juice. Add the sun-dried tomatoes, tomato concentrate and sugar. Season generously with salt and pepper, give everything a good stir and then allow to simmer very gently for 10 minutes.
Switch off the heat, add the chopped parsley, give it a good stir and the peppers are ready. The flavour will improve if they are allowed to cool and placed in the fridge for a couple of hours.
Serve warm or cold with nodini or mozzarella cheese and a loaf of nice fresh ciabatta.
Find more recipes in our archive.
Tags:
Recipes