Alyson Cook talks to Enrica Rocca, an Italian aristocrat who loves nothing more than sharing her passion for food and Italian recipes from Venice…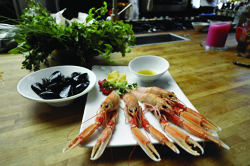 Traditional Venetian cooking tends to be very simple and is primarily based on regional produce: fish (especially sardines and stockfish) from the famous lagoon, as well as vegetables and game. Although the ingredients are relatively few compared to some Italian regions, these were gradually overlaid with others brought back by adventurous merchants and diverse cultural influences. Many gourmets rate the region's cooking very highly, but few are more passionate about this form of cuisine than Venetian Countess, Enrica Rocca.
Her cookery classes in Venice's Dorsoduro district, just across the Grand Canal from San Marco, are gaining a loyal following among international travellers who make their way to her family's 19th-century palazzo. Inside the historic building, she has a modern, private apartment and a rather enviably equipped kitchen and entertaining space, complete with bright red walls hung with eye-catching artistic prints.
It appears that Enrica's affection for simple, fresh ingredients, always cooked with a glass of wine or Prosecco nearby, is contagious."I try to show cooking is just fun," she says. "I like clients to understand that food is important in people's lives, but we should enjoy it too."
According to Italian travel expert Andrea Grisdale, CEO of luxury holiday company IC Bellagio: "An American client of ours spent some time with her only last week. She sent us an email the next day saying it was 'a night that we will never forget. Lovely, absolutely brilliant!' That says it all, I think."
A WARM WELCOME
Her elegant silk blouse and a long, expensive-looking string of pearls around her neck indicate Enrica's privileged background, but her infectious laugh and throaty voice exude a warm, yet feisty, charm. "She is someone who brightens your day and is very easy to be around; within five minutes of meeting her several years ago, I felt like I was with one of my best friends," says Andrea.
Despite formal training at a hotel school in Switzerland and having run restaurants in South Africa (where she lived for 11 years), her Venice cookery classes do not work to recipes. "Firstly I take my guests to the wonderful Rialto market, one of the oldest in the world, and we taste, feel and smell the produce, some of which is only found in the area." Guests are then encouraged to join her in preparing a meal.
BAFTA Award-winning TV and film producer, Beryl Vertue, OBE, asked IC Bellagio to organise a family trip to Venice to celebrate an important birthday last year. "One of the highlights was a private dinner for six of us at the home of the Contessa, a gregarious and interesting host. Seated around a huge table in her kitchen, we watched her cook an array of different delicious dishes for us – made with fresh ingredients from the market that morning – all washed down with lots (and lots) of Italian wine."
"Her style of cooking appeals to most of our international clients," says Andrea. "Groups of friends, couples or families – she adapts the experience accordingly. We can organise lunch with her, or a cooking lesson plus lunch, or a cooking lesson with dinner. Enrica also escorts our clients to enjoy aperitivo with her at her favourite haunts – such as bacari (pub-like snack bars) – and introduces our clients to her friends."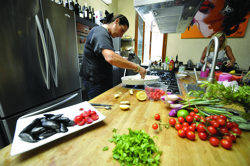 Born and brought up in Venice as a member of an aristocratic family – "as a child I never had a breakfast that wasn't served by a butler with white gloves and a white jacket", she admits – her late father, Count Rocca was a regular teacher at the Cipriani cooking school in Venice, before finally settling in London, where Enrica learnt to speak English.
Her desire to set up a cookery school in Venice was born out of her culinary passion, as well as a need to keep busy. "I always have a lot of projects at one time, I easily get bored with things."
Current projects also include her personally branded Prosecco (soon to be launched in the UK, she was doing a photo shoot for its label just before our interview); wine-pairing courses with a sommelier; a range of Italian foods sold only in Japan, as well as writing a cookery book that she hopes will appeal to an international fan base and will include tales of her life, as well as her friends.
These include architect, cookery guru and TV presenter Count Francesco da Mosto, whom she has known since she was a teenager. His recent BBC series, on Italian cities that fired Shakespeare's imagination, also spotlighted Venice.
"The Venetian aristocratic community is small, everyone knows everyone else," says Enrica. "When you go out, even without an appointment, you are bound to meet someone with whom you can share a glass of something or a conversation."
A mother of two daughters, having lived abroad for much of her life, she now considers Venice as home once again. "This is my roots, I understand Venetians and their sense of humour; we can be very direct and sometimes politically incorrect! I currently spend ten months of the year in Italy and the other two in the UK. It used to be the other way round."
THE ITALIAN INFLUENCE
She has a cookery school in London too, where the Rialto market is substituted by either the Portobello or Borough markets, but the menu is Italian, of course. Enrica also admires the cuisine of Puglia, Sicily ("simply wonderful food") and Campania.
"Sadly, many UK guests are only familiar with the key ingredients of cookery from the Emilia-Romagna region, such as Bolognese sauce, Parma ham and cheese." And our British obsession with fresh pasta bemuses her: "I hardly ever eat it in Italy. We prefer the convenience and taste of dried pasta."
She also fervently dislikes the idea of precision in cooking and specific recipes: "It should be all about the ingredients and your understanding of them. Just like an artist in front of a canvas, the chef puts together tastes and textures," she says.
Her dishes follow tradition, but she always adds her own touch of creativity, reintroducing the spices that Venice was so famous for during the time of the Republic. It makes for some truly inspiring dishes. One of her favourite Venetian dishes is squid (or cuttlefish) cooked in its own ink and served with risotto or pasta.
"I teach a lifestyle – guests come to my house, we sit around on [Springbok skin-covered!] stools in a nice atmosphere and we drink a lot. I teach them to enjoy cooking."
…………………………………………..
Mediterranean pasta
Pasta Mediterranea
Serves 4 | Preparation 5 mins | Cooking 10-15 mins
400g spaghetti
250g fresh cherry tomatoes
20 calamata olives, de-stoned
20 capers preserved in salt, rinsed thoroughly
1 small bunch fresh basil
Salt and pepper
50ml olive oil
Bring to the boil a pan of salted water, and when boiling add the pasta and cook until al dente.
While the pasta cooks place all the ingredients except for the olive oil in a food processor and mix them thoroughly. Add the olive oil gradually until it reaches a creamy consistency.
Pour over hot pasta and serve immediately.
…………………………………………..
Monkfish wrapped in parma  ham
Coda di rospo in prosciutto di Parma

Serves 2 | Preparation 5 mins | Cooking 10-15 mins
500g Monkfish tails or chunks
6 slices Parma ham
20ml olive oil
2 tsp rosemary, chopped
20g butter
Splash of dry white wine
Sea salt and freshly ground black pepper
Wrap each portion of monkfish tails orchunks with the Parma ham and place it in an ovenproof dish.
Add a small piece of butter over each portion and sprinkle with olive oil, salt, pepper, chopped rosemary and a splash of dry white wine.
Cook in the oven for 10-15 minutes at 200ºC/400ºF/Gas Mark 6.
…………………………………………..
Roast veal with fresh rosemary and white wine

Arrosto di vitello con rosmarino e vino bianco

Serves 4 | Preparation 20 mins | Cooking 2-3 hours
1.5 kg rolled veal roast (belly or shoulder)
50ml olive oil
5 garlic cloves, sliced
20g fresh rosemary leaves
200ml dry white wine
200ml water
1 tbsp or 2 cubes chicken stock
Salt and pepper to taste
Preheat oven to 200ºC/400ºF/Gas Mark 6. Heat the olive oil in a roasting pot. When very hot, add the meat and seal on all sides.
Once the meat is sealed, season with salt and pepper. Remove from the stove and add the garlic, rosemary, white wine, stock and water.
Cover tightly with a lid and place in the oven and leave for 1 hour.
After the hour, turn the roast as the portion in the liquid will cook faster. If there isn't sufficient liquid left, add some more water. Leave in the oven for another hour.
Check that it is tender (it can sometimes take longer) and if ready remove from the oven. Slice the meat to desired thickness.
Liquidise the sauce and reduce if it has turned out too thin. This can happen if you have added extra water that didn't have time to evaporate, or it could also come from the fact that the meat has drawn more water than expected. Place the meat in a serving dish and cover with the sauce, then serve with polenta, mashed potatoes or rice.