Struggling to get your children to eat their dinner? Mario Matassa shares his favourite Italian recipes to serve as family meals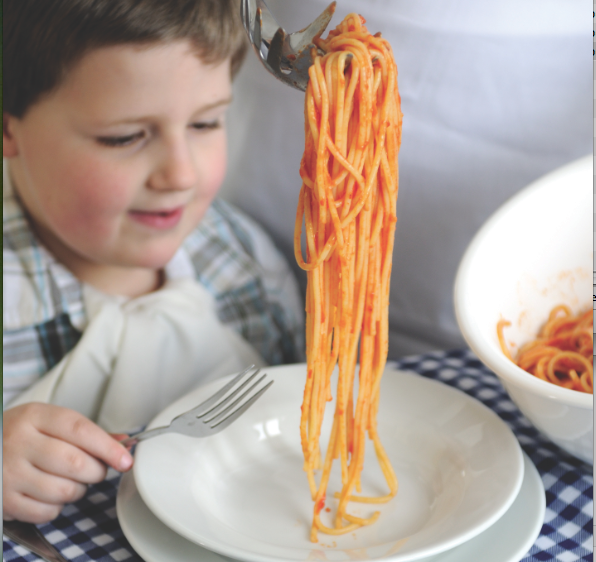 Though eating habits have changed over the years, eating with family is still a real event in Italy – and it is an event which all Italian chefs seek to emulate. When asked what their favourite dish is, an Italian will invariably recall something their mother or grandmother would make, a dish they most likely will have eaten a thousand times over the table with family. And so, when they are dining out, Italians use the family table as the benchmark to judge a restaurant by. Food culture always begins at home.
So how do Italians eat at home? Some things have changed. The days when Italians would eat a three- or four-course meal – beginning with antipasti, then a pasta dish, then a meat or fish course followed by dessert or fruit – are over. Meals and patterns of eating have become more relaxed, less rigid than they used to be. Today, Italians have become more preoccupied with healthy eating (not to mention that the family budget has become tighter in recent years). Sundays are still regarded as a festive occasion, but during the week Italians will generally skip a course or two. But this is not to say that the family meal has dwindled in importance.
As for what they eat, that will vary immensely according to where they live. Italian recipes are still very regional and most Italians eat at home many of the same dishes they eat when they dine out. There are, however, a number of Italian recipes that have universal appeal. The classic pasta dishes – lasagne, spaghetti al pomodoro, pasta con ragù, or carbonara, to name just a few – or a bowl of minestrone, are family favourites throughout the peninsula. So too, main dishes such as polpettine (meatballs), breaded veal, pork or chicken cutlets, and stews in the winter, are universally popular. As a cheery and simple alternative, pizza made at home can also be found the length and breadth of the country. Baked in large trays, this dish is highly versatile and toppings can be added to suit every region's produce and every family member's liking.
As for desserts, every Italian will have been brought up on their mother or grandmother's crostata, tiramisu or ciambella. Generally speaking, however, sweets are reserved for Sundays and special occasions, with many Italians preferring to finish a weekday meal with a piece of fruit.
There is no question that Italians eat differently today, yet despite the changes in habit, the family meal at the end of a day is still held in special regard. Eating with family in Italy is a collective memory, a tradition that holds all Italians together. It's what makes Italian recipes stand out.
Pizza al metro
➤ Serves 4  ➤ Preparation 25 minutes, plus 1 hour for resting  ➤ Cooking 15 minutes
For the pizza dough
25g fresh yeast or 15g dried yeast
450ml lukewarm water
750g plain flour
1 tsp salt
Extra flour for dusting
For the toppings
250ml thick tomato passata
350g grated mozzarella cheese
2 hot-dogs, sliced
50g cooked ham
A quarter of 1 grilled red pepper
Half a grilled courgette
3 cherry tomatoes, quartered
A small handful of rocket
If you are using fresh yeast, dissolve it first in 100ml warm water. If you are using dried yeast you can skip this step.
Place the flour in a large bowl, add the salt and stir in. Add the dissolved yeast – or the dried yeast – and the rest of the water.
Using a wooden spoon, stir in the water and, once it has been absorbed, empty the contents of the bowl onto a floured surface.
Knead the dough until it is smooth. Place in a large bowl, cover with clingfilm and allow to rise until doubled in volume.
Once the dough has risen, knead again, then roll out onto a greased, rectangular baking tray. This is the point where your basic pizza becomes a pizza al metro. Whereas a normal pizza is round, a pizza al metro is an elongated rectangle, typically with different toppings along its length. How long the rectangle will be will depend on the size of your baking tray, and your oven… Allow the dough to rise for a further 30 minutes before arranging the pizza.
To arrange the pizza, gently spoon over the tomato passata to about 1cm from the edge, then sprinkle over the mozzarella cheese.
You can of course use whichever toppings you prefer. Here, one quarter is topped with cooked ham, another with sliced hot-dogs, another has grilled vegetables and the last quarter is topped – after the pizza has been removed from the oven – with cherry tomatoes and rocket.
Once all the toppings that need to be cooked have been arranged on the pizza, bake it in a preheated oven at 180°C for approximately 15 minutes. Allow to rest for a few minutes before serving.
Lasagne
➤ serves 4-6  ➤ Preparation 45 minutes  ➤ Cooking 35 minutes
1 packet dried lasagna sheets
For the ragù
Olive oil
1 small onion, finely chopped
1 small carrot, finely chopped
400g lean beef mince
1 tin chopped tomatoes
Dried oregano
Salt and pepper
For the béchamel sauce
50g unsalted butter
2 heaped tbsp plain flour
500ml whole milk, warmed
Salt
For the topping
125g mozzarella cheese, diced
3  tbsp freshly grated Grana Padano
Begin by making the ragù. Place a few tablespoons of olive oil in a large, heavy-based saucepan. Add the onion and carrot. Allow to cook over a low heat until softened.
Next add the beef mince and allow to brown for 5 minutes. Then add the chopped tomatoes and seasonings. Allow to simmer over a low heat for 30 minutes. Taste and adjust the seasoning.
Whilst the ragù is cooking, make the béchamel sauce. Place the butter in a saucepan and melt. Add the flour and whisk together. Once the flour and butter are well combined, slowly add the milk, whisking all the time to ensure that no lumps are formed. Season with salt to taste.
To assemble the dish, place a few tablespoons of ragù in the bottom of a 30x20cm oven dish. Arrange lasagna sheets on top. Next spoon another layer of ragù over the lasagna sheets, then drizzle with the béchamel sauce and dot with mozzarella. Arrange another layer of lasagna sheets on top and continue adding the ragù and béchamel sauce until it is all used up. The last layer should be of ragù and béchamel.
Sprinkle over the freshly grated cheese and cover the dish with kitchen foil. Bake in a preheated oven at 180°C for 25 minutes, then remove the kitchen foil and cook for a further 10 minutes until browned on top.
Beef meatballs in tomato sauce
➤ serves 4 ➤ Preparation 30 minutes  ➤ Cooking 40 minutes
For the tomato sauce
Olive oil
1 small onion, finely chopped
750ml tomato passata
1 tbsp tomato paste
Salt and pepper
For the meatballs
500g lean beef mince
1 small onion, finely chopped
4-5 tbsp freshly grated Grana Padano
2 tbsp finely chopped parsley
Salt and pepper
100g frozen peas
First make the sauce. Place a few tablespoons of olive oil in a wide, heavy-based saucepan and add the onion. Cook until softened.
Add the passata and tomato paste and season to taste. Allow to simmer gently while you make the meatballs.
Place the beef mince in a large bowl and add the finely chopped onion, cheese and most of the parsley. Season well and mix – the best way to do this is with your hands.
To shape the meatballs, use an ice cream scoop or a large spoon to portion them, to make sure they are all roughly the same size.
I prefer to slightly flatten my meatballs but you can of course make them round.
When you have used up all the mince, add the meatballs to the sauce, place on a lid and allow to simmer over a very gentle heat for 25-30 minutes. (The cooking time will depend on the size of your meatballs.) Finally, add the peas and cook for a further 5-10 minutes.
Garnish with the rest of the fresh parsley and serve with new potatoes, or whatever your favourite accompaniment happens to be.
Apricot jam tart
➤ Serves 4-6  ➤ Preparation 20 minutes, plus half an hour for resting  ➤ Cooking 30-35 minutes
For the pastry
500g plain flour
250g unsalted butter, chilled and diced
150g caster sugar
½ tsp baking powder
1 small egg
½ tbsp milk
For the filling
250g apricot jam
Place the flour in a large bowl and add the chilled, diced butter. Using your fingertips, rub the butter into the flour until the mixture resembles fine breadcrumbs.
Add the sugar and baking powder and mix well. Break the egg into a small bowl and whisk. Add the egg to the mixture and pull it all together to form a dough. If the mixture seems dry, add half a tablespoon of milk, but be careful not to add too much liquid as if it is too wet the dough will be difficult to roll.
Once you have a ball of dough, divide it into two pieces, one twice the size of the other. Flatten each ball slightly, wrap in greaseproof paper and leave in the fridge for 30 minutes.
Take the larger piece of dough from the fridge and roll out on a floured work surface to a disc about 28cm in diameter. Gently place this in a well buttered, loose-bottomed tart dish of 22cm in diameter. Top with apricot jam.
With the remaining pastry, tear off golf ball sized pieces and roll into 'snakes' approximately 1cm wide. Arrange these over the tart. Bake the tart in a preheated oven at 180°C for 30-35 minutes.