A wonderfully versatile ingredient, we profile some ideas for this month?s top seasonal vegetable with Italian pumpkin recipes from the Vegetarian Society…
Pumpkin soup
Zuppa di zucca
Serves 4 | Preparation 10 mins | Cooking 45 mins
1kg pumpkin
2 onions, chopped
25g butter or margarine
1 medium potato, peeled and diced
2 garlic cloves, crushed
600ml water
600ml vegetable stock
150ml single cream
Parsley to garnish, chopped
Salt and freshly ground black pepper
Remove the skin and seeds from the pumpkin, thendice the flesh ready for cooking.
Fry the onions in the butter or margarine for 10 minutes, then add the pumpkin, potato and garlic and fry for a further 5 minutes until golden.
Add the water and vegetable stock and simmer for around 20 minutes until a good consistency is reached.
When ready, pur?e the mixture in a food processor or blender, add the cream and season to taste.
Heat through again gently without boiling, garnish with the chopped parsley and serve with thick granary bread.
………………………………….
Nest of roasted balsamic vegetables with wild rice

Nido di verdure balsamico con riso selvatico
Serves 4 | Preparation 45 mins | Cooking 1 hour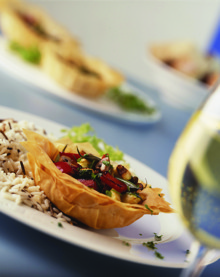 1 packet of filo pastry
3 tbsp sunflower oil
250g wild rice
1 bouquet garni
1 pumpkin, finely sliced
1 large courgette, diced
50g button mushrooms
1 red pepper, diced
100g French beans
1 small radicchio
2 tbsp balsamic vinegar
5 tbsp olive oil
2 sprigs of rosemary
1 bunch parsley, chopped
Salt and freshly ground black pepper
Preheat the oven to 180?C/350?F/Gas?Mark 4. Grease a 10cm flan ring and place on a baking sheet. Then, brush five sheets of pastry with oil and place over the flan ring in a star shape. Place in the oven for about 10 minutes. Leave to cool, then lift the nests off the rings and place upturned on a dinner plate. Repeat until you have 4 baskets. Raise the temperature of the oven to 200?C/400?F/Gas Mark 6.
Wash the rice thoroughly. Add to a large pan of water with the bouquet garni and bring to the boil. Simmer on a low heat for 40-45 minutes, until the grains are tender.
Meanwhile, place all the vegetables in a large bowl and mix. Blend together the balsamic vinegar, olive oil, seasoning and one sprig of rosemary. Pour over the vegetables and set aside for 30 minutes for the vegetables to marinate.
Grease a large roasting tray and spread the vegetables evenly over the tray. Cover with foil and place in the oven for 15 minutes. Remove the foil and roast for a further 15 minutes.
To serve, fill each filo nest with the roasted vegetables and marinating juices. Add the wild rice around the edge of the basket and garnish with the parsley and rosemary.
………………………………….
Roast pumpkin and Swiss chard risotto

Risotto di zucca arrosto e bietole
Serves 4 | Preparation 30 mins | Cooking 20 mins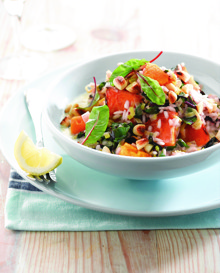 600g pumpkin
4 tbsp olive oil
1 tbsp maple syrup
A pinch cinnamon powder
50g blanched almonds
225g leek, finely chopped
250g Arborio rice
100ml dry white wine
Approx 900ml light vegetable stock
150g Swiss chard leaves, roughly shredded
1? tbsp single cream
To serve
A squeeze lemon juice
Heat the oven to 190?C/375?F/Gas Mark 5.
Cut the pumpkin into quarters, peel and de-seed. Then cut into thick slices (approx 12-15cm) and place in a roasting pan. Mix together 2 tbsp oil, maple syrup and cinnamon and drizzle over the pumpkin. Roast for 25-30 minutes until tender, take out of the oven and cut into large dice.
In a small frying pan heat 1 tsp oil and lightly toast the almonds until golden. Set aside.
Heat the remaining oil in a large frying pan and saut? the leek until soft. Add the rice and stir until the grains are well coated and slightly golden. Pour in the wine and stir until it is has been completely absorbed.
Add one ladle of hot stock and simmer until absorbed. Repeat. After 10 minutes, add the chard and let wilt. Continue to add stock at intervals and cook until absorbed into the rice (you may not need all the stock). Season well with salt and pepper to taste.
Once rice is tender but still al dente, add the cream and cook for a further minute before adding the pumpkin. Remove from heat, cover and rest for 2 minutes. When ready to serve, dress with the almonds and lemon juice.
………………………………….
Pumpkin ravioli

Ravioli di zucca
Serves 4 | Preparation 1 hour 30 mins | Cooking 15 mins
400g ?00? flour
4 free range eggs
1 tsp salt
2 tsp extra virgin olive oil
For the filling
2kg pumpkin, cut into quarters
15ml olive oil
1 red onion, chopped
225g mostarda di frutta
? tsp nutmeg
? tsp cinnamon
? tsp ginger
125g Parmesan, grated
To serve
30g butter
30g fresh parley chopped
150g Parmesan, grated
Combine the pasta ingredients, lightly knead and leave in a clingfilm covered bowl to refrigerate for 1 hour.
Heat the oven to 200?C/400?F/Gas Mark 6 and bake pumpkin until soft (approx 30 minutes). Then remove the seeds, scoop out the pulp, chop and place into a bowl.
Next, heat the olive oil and saut? the onions. Reduce the heat and add the mostarda di frutta, salt and ground spices. Mix together well.
Combine the Parmesan, pumpkin and onion and spice mixture into a bowl and set aside.
Using a pasta machine or fat rolling pin, roll out the pasta dough 15cm by 50cm and 2mm thickness. Layer the pasta sheets between tea towels to prevent them from drying.
Place a heaped teaspoon of the mixture into 2 rows at approx 10cm distance apart from each other.
Lightly spray the pasta with water and add a top layer, thus creating a sandwich effect. Using a ravioli cutter, cut into 5cm squares and place quickly into boiling water.
To serve, drain the pasta and return into the pan along with the butter and parsley. Lightly mix and serve with plenty of grated Parmesan.