The Marketing Manager of De'Longhi UK offers up some delicious festive coffee recipes, perfect to make up at home over Christmas…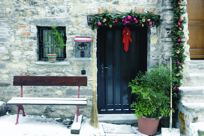 Q. Can you recommend any festive recipes for coffee? I have lots of family and friends coming this December, and would love to impress them with a delicious treat after dinner.
Jay Bartlett, email
A. Here are a few drinks for you to try which are delicious and can be made using an authentic Italian espresso from our premium bean to cup machines.
CINNAMON COFFEE
90ml espresso
150ml of semi-skimmed milk
1 tsp cinnamon
2 tsp brown sugar
Froth 150ml of semi-skimmed milk to give you hot milk with some foam on the top. Pour the milk into a large cappuccino-style cup or mug. Add the brown sugar and cinnamon, mix thoroughly. Stir in the espresso and use a spoon to add extra foam. Dust with cinnamon, or stir with a cinnamon stick.
………………………………….
EGGNOG COFFEE
20ml egg liqueur
100ml espresso
Whipped cream, if desired
Pour the liqueur into a champagne glass. Very slowly, fill in the coffee to provide a sunrise effect. You can serve this coffee with whipped cream on top for an even more luxurious feel.