We rustle up some Italian chestnut recipes from the Vegetarian Society for some hearty and wholesome meal ideas perfect for autumn…
Chestnut and pumpkin seed cups with butternut squash
Coppe di castagna e semi con zucca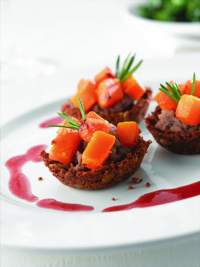 Serves 4 | Preparation 1 hour | Cooking 1 hour
175g wholemeal sliced bread, made into crumbs
1½ tsp mixed dried herbs
30g pumpkin seeds
75g unsalted butter
2 bay leaves
700g butternut squash, peeled and cut into 2cm cubes
1 very small onion, peeled and finely chopped
160g cooked and peeled chestnuts, chopped
Preheat oven to 200ºC/400ºF/Gas Mark 6. Grease 4 Yorkshire pudding tins. Line baking tin with foil. To make crust, put breadcrumbs, mixed dried herbs and pumpkin seeds into a large bowl. Melt 50g butter and pour onto the mixture. Mix well, divide between the 4 pudding tins. Using the back of a spoon and your fingers, press evenly to form shallow cups. Pinch the edges between your fingers and thumb to make them firm. Put in the oven and bake for 15 minutes until crisp. Cool in the tins for about 5 minutes before removing.
To make the filling, melt the remaining 25g butter in a small saucepan. Put the prepared butternut squash in a bowl and toss it with half the melted butter and 2 tbsp water. Put the butternut squash into the foil-lined baking tin and bake in the oven for 45 minutes, stirring occasionally, until soft. It should remain moist – if it seems to be drying out, add more water. Meanwhile, for the chestnut pâté, sauté the onion in the remaining butter until soft. Add the chestnuts, bay leaf and 4 tbsp of the red wine, together with 4 tbsp water. Bring to the boil then reduce the heat and simmer for 10 minutes. Remove the bay leaf and mash the chestnuts into a pâté.
Serve the chestnut pâté with the butternut squash on top, and a cranberry jus if desired.
………………………………….
Leek and chestnut purses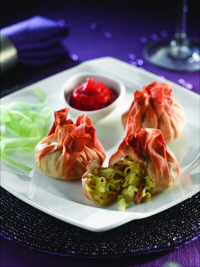 Borsine di porro e castagna
Serves 4 | Preparation 10 mins | Cooking 40 mins
For the purse
2-2½ tbsp olive oil
100g leeks, trimmed and finely chopped
50g arborio risotto rice
30ml dry white wine
325-375ml light vegetable stock
60g chestnuts, roughly chopped
2 tbsp soya cream
300g filo pastry, cut into 24 x 12cm squares
For the relish
1 large roasted red pepper, deseeded, skinned and chopped 2 tsp fresh ginger, finely grated
Pinch of caster sugar
Preheat oven to 200ºC/400ºF/Gas Mark 6. Heat 1 tbsp oil in a pan and lightly fry leeks until soft and golden. Stir in the risotto rice and coat well. Add wine and bring to boil. Then add 175ml stock, enough to cover the rice.
Cover pan and simmer until the liquid is absorbed. Add 175ml stock and chestnuts, bring to the boil, cover and simmer for 10-12 minutes or until rice is cooked. Stir in cream, season well, and set aside.
Lightly brush one filo square with oil, then place another on top to form an eight-pointed star and brush the tips. Place 2 tsp of risotto mixture in centre, pull up edg es of star to form a purse. Repeat until 12 are made.
Bake on a tray for 15 minutes until golden. Make the relish by mixing the pepper, ginger and sugar and blending well. For a finer sauce, add water and sieve. Serve relish with each portion of purses.
………………………………….
Chestnut pie
Torta di castagna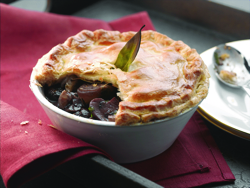 Serves 4-6 | Preparation 15 mins |Cooking 45 mins
110g dried chestnuts, soaked for 6-8 hours
2 bay leaves
1 sprig fresh rosemary or 1 tsp dried rosemary
210ml red wine
300ml vegetable stock or water
25g butter
8 small pickling onions or shallots, peeled
110g chestnut mushrooms, wiped
50g button mushrooms, wiped
10ml Dijon mustard
30-45ml tamari or soy sauce
Freshly ground black pepper
Fresh parsley, finely chopped
225g puff pastry, thawed if frozen
Preheat the oven to 200ºC/400ºF/Gas Mark 6. Place the soaked chestnuts, herbs and 150ml wine in a saucepan with vegetable stock to cover and cook until just tender, approximately 50-60 minutes.
Drain the chestnuts, reserving the liquid. Then melt the butter in a frying pan and sauté the onions until lightly browned. Add the mushrooms and cook for a further 4-5 minutes.
Add the chestnuts, the remaining red wine and sufficient cooking liquid to cover. Bring to the boil and simmer for 20-30 minutes to reduce the liquid a little. Stir in the mustard, tamari and black pepper to taste. Cook for a further 5 minutes.
Check seasoning and consistency and adjust as necessary. Spoon the mixture into a pie dish and roll out the pastry on a floured surface and place on top of filling. Bake for about 20 minutes until golden and serve.
………………………………….
Autumn casserole with chestnuts
Tegame autunnale con castagne
Serves 6 | Preparation 10 mins | Cooking 1½ hours
1 tbsp sunflower oil
350g leeks, trimmed and diced
3 sticks of celery, chopped
350g parsnips, trimmed and diced
350g carrots, peeled and diced
50g chestnuts
1.2 litres stock
1 bay leaf
3 tbsp chopped fresh parsley, plus extra for garnish
3 tsp chopped fresh thyme
1 tbsp soy sauce
Salt and pepper
Heat the oil and gently fry the leeks and celery until fairly soft. Add the root vegetables and chestnuts and cook for a few minutes, stirring well.
Pour over the stock and mix in the herbs. Add the soy sauce. Bring the casserole to the boil, simmer for 1½ hours or until all the vegetables andm chestnuts are soft.
Remove approximately a cup full of vegetables and liquid. Purée this until smooth, then stir back into the casserole. Season to taste, then serve garnished with the extra chopped parsley.
Tags:
Recipes