This Christmas cod recipe features tender cod baked in a succulent Prosciutto di Parma layer, served with sliced potatoes and a vibrant green pea puree.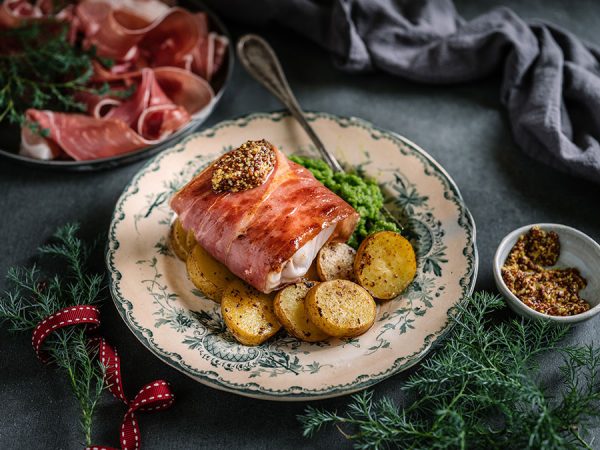 ➤ SERVES 2
➤ PREPARATION 15 minutes
➤ COOKING 20 minutes
Ingredients:
300 g cod loin
salt and pepper
4 slices Prosciutto di Parma
300 g frozen green peas
100ml cream
2 tbsp butter
400 g almond potatoes
2 tsp course-ground mustard
Method:
Cut the cod into two serving-size pieces. Season the cod with pepper and wrap each piece in Prosciutto di Parma.
Boil the peas in lightly salted water. Drain the water and add the cream and 1 tablespoon of butter. Blend the mix into a course pea puree with a hand blender. Season to taste with salt and pepper.
Sear the pieces of cod in 1 tablespoon of butter until they are golden on each side. Then bake the cod in the oven at 180°C for about 10 minutes until the pieces separate easily when you press down on them.
Cut the potatoes into slices that are 0.5 cm thick. Bake the slices in the frying pan you used to sear the cod until they are tender and golden. This takes about 10 minutes.
Serve the cod with the pea puree, the baked potato slices, and the mustard.
For more like this Christmas cod recipe, visit www.prosciuttodiparma.com
Visit the Italia! recipe archive.