Acciughe panate croccanti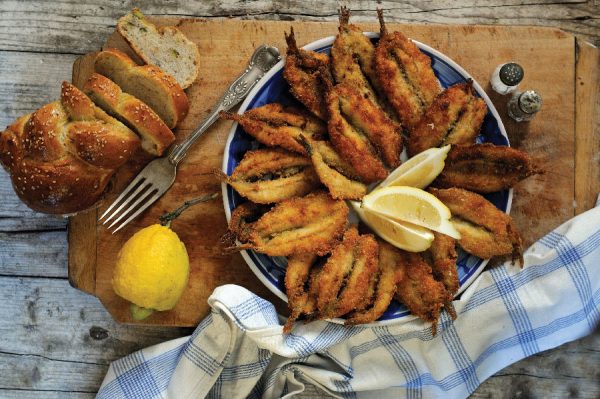 In Italy, fresh anchovies and small sardines are greatly prized. Both fish belong to the category of 'blue fish' and have a strong flavour and a high proportion of unsaturated fatty acids.
The good news for the cook is that they are so small that you don't need to remove the spinal bone. Once cooked, you won't even know it's there. And, in addition, not only are fish in this category good for you, but they're also very economical and won't break the bank.
Recipe by Mario Matassa.
➤ SERVES 4
➤ PREPARATION 20 minutes
➤ COOKING 15 minutes
Ingredients
400g fresh anchovies or small sardines
200g fine breadcrumbs
100g grana or parmesan cheese
50g plain flour for dusting
2 medium-sized free-range eggs
salt and pepper
sunflower oil for frying
1 lemon to serve
Method
Begin by cleaning the fish. Rinse the anchovies in cold water. Because they're small, you can easily do most of the work by hand. Hold the anchovy in one hand between thumb and forefinger, and with the other hand gently pull off the head. Then slip the belly. You can do this with the tip of your finger or use a small sharp knife if you prefer. Remove the remaining guts and rinse gently. Leave the tail as it holds the fish together. Flatten the fish out and it's ready for breading.
To bread the anchovies, prepare three bowls. Beat the eggs in one bowl and mix in the parmesan cheese. Place the flour in another and season generously with salt and pepper. Add the breadcrumbs to the third bowl. Begin at one end and work through to the other, gently patting both sides of the anchovy into the flour, then dipping into the egg and cheese mixture and then finally patting down on both sides into the breadcrumbs.
Take a large heavy-based frying pan and add about 2cm sunflower oil. Heat until the oil is hot and cook the breaded anchovies for about 2 minutes on each side. They do not take long to cook. The trick is to have the oil hot enough to ensure the breadcrumbs are crisp. Place on kitchen roll to soak access grease and serve immediately with lemon wedges.
TIP Anchovies are akin to chicken drumsticks. They are best eaten by hand by simply grabbing the tail between your fingers and biting! Be warned, they're also very moreish.
Find more recipes in our archive.
Tags:
Recipes