Semifreddo al amaretto
➤ Serves 4 ➤ Preparation 15 minutes plus 4 hours freezing ➤ Cooking 5 minutes
This delicious iced dessert, which is almost an ice cream but not quite (semifreddo literally translates as 'almost cold'), is very easy to make and truly wonderful, combining both amaretti biscuits and the liqueur to make a very grown-up dolce. The cream and the mascarpone are what give it silkiness, and the crumbled amaretti and the crushed meringues add texture. The alcohol in the liqueur is what stops the whole thing from crystallizing and completely freezing. It is a good idea to take it out of the freezer 20 minutes or so before you want to serve. I have suggested a pool of bitter chocolate as the finishing touch, but you could also pour a drizzle of Amaretto over each slice at the last moment, or drink a small shot glass of Amaretto with it…
250ml milk
200g crumbled amaretti
150g caster sugar
5 tbsp mascarpone
600ml whipping cream
3 tbsp icing sugar, sifted
3 tsp vanilla essence
2-3 tbsp amaretto liqueur
2 handfuls of crushed meringues
melted dark chocolate to serve
Measure out 150ml of the milk. Stir the amaretti into the milk.
Put the remaining milk in a second saucepan with the sugar. Heat until the sugar has melted but without boiling. Pour the hot sweet milk into the amaretti mixture and mix together. Cool completely.
Stir in 5 tbsp softened mascarpone. Whip the cream until stiff, and then fold the sifted icing sugar through it. Stir the vanilla essence into the cream, and then fold the cream into the cooled amaretti mixture. Add 2-3 tbsp liqueur and the meringues.
Turn into a mould lined with baking parchment and freeze for about 4 hours, bearing in mind that the alcohol will prevent the dessert from freezing completely. Remove from the freezer, slice into wedges and serve on a pool of melted dark chocolate.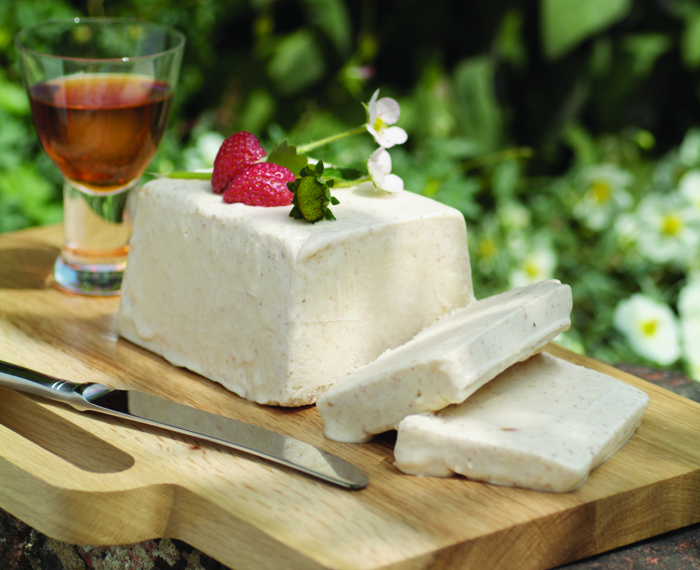 Tags:
Amaretto semifreddo
,
ice cream
,
Recipes
,
semifreddo
,
Summer Recipes