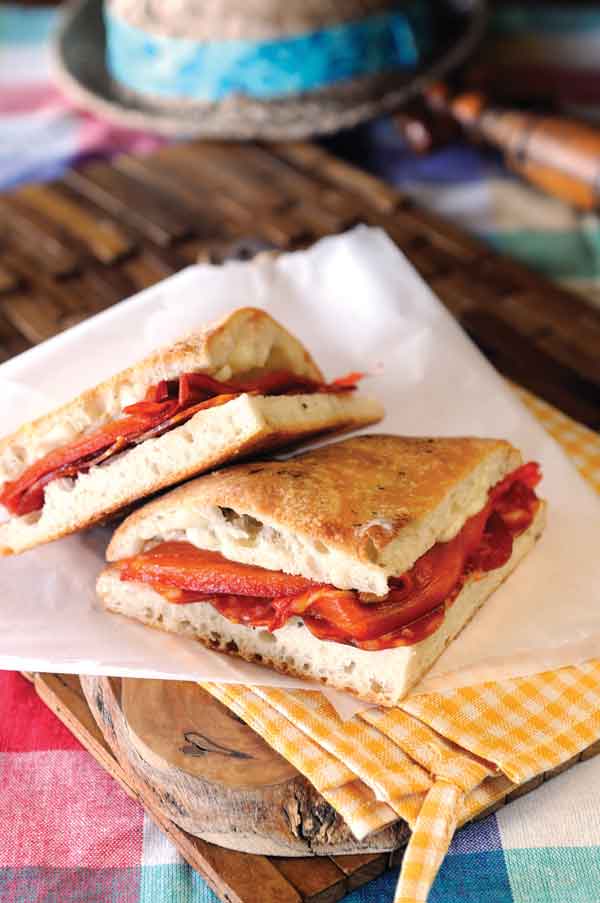 Spicy salami and sweet pepper stuffed focaccia
Focaccia con salamino piccante e peperone
➤ Serves 8
➤ Preparation 3 hours, for the dough
➤ Cooking 20 minutes
For the focaccia
2 kilos strong white bread flour
½ glass olive oil
60g salt
1 litre cold water
2 sachets dried baking yeast
extra flour for dusting
For the filling
250g thinly sliced spicy salami
250g grated mozzarella cheese
1 large sweet red pepper,
cooked and skinned
To make the focaccia it's easiest to use a bread mixer or a food processor fitted with a dough hook. Add the flour, half the olive oil and the salt to the bowl. Add the water and mix on a medium speed for about 10 minutes. Once you have a smooth dough add the yeast and mix for a further five minutes.
Place the dough in a large plastic bowl, cover with a damp cloth and allow to rise for a couple of hours in a warm place.
Once it has doubled in size, remove the dough and knead for a couple of minutes. Divide the dough into equal pieces, roll out and place in baking sheets or pizza pans. Cover the dough again and allow to rise until doubled in size.
Mario Matassa