This clean, classy region sees celestial Alps rising behind vine-striped hills cradling elegant little towns. Its gastronomy is legendary and its quality of life sky-high. With good prices and prospects, Piedmont makes a great choice for a home in Italy, says Fleur Kinson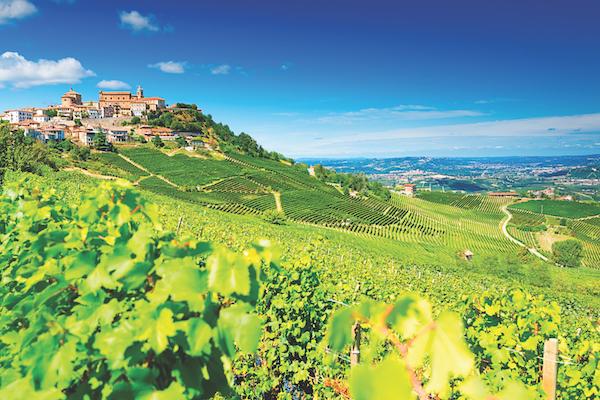 Nestled up against France and Switzerland in Italy's northwest corner, Piedmont is a sophisticated place that combines slick modernity with tranquil rural beauty. The roads are immaculate, the amenities smooth-running and the general infrastructure rock-solid, but the landscapes are vast, the air unsullied and the spaces uncrowded. Piedmont is extremely well-connected (and it has some of Italy's shortest travel times to the UK), but it also offers a relaxing sense of escape – as if you were somewhere remote and inaccessible.
Many of the things typically loved by foreign buyers in Italy feature heavily in Piedmont – lovely hilly countryside striped with vineyards, venerable farmhouses wrought in golden stone, a warm and sunny climate, and stupendous local food and wine.
It's worth lingering on that last asset for a moment. Piedmont yields superlative foodstuffs (white truffles, premier red wines Barolo and Barbaresco, etc.) and contains stunning restaurants (southern Piedmont famously has more Michelin-starred eateries than anywhere else in the world). The Slow Food and Slow Cities movements began in Piedmont, which should tell you how prized the art of living well is here.
ON THE MARKET
With its majestic peaks, pretty hills, tidy vineyards, beautiful buildings, cultural sophistication and stunning food, you'd have expected Piedmont to be right up there with the likes of Tuscany and Umbria in terms of foreign buyer interest. But Piedmont only really started coming to foreign buyers' attention just under 20 years ago, so its fame as a second-home destination has had less than half as much time to grow as Tuscany's – and its property prices are therefore considerably lower than in those more southerly regions.
To give a vague idea of what you might expect to pay in Piedmont, a village home or a dilapidated country house needing restoration might cost between €60,000 and €90,000. (Restoration costs tend to be about €1,000 per square metre of floor-space.) Restored properties, meanwhile, start at about €130,000. Farmhouses needing a little repair work get going at around €200,000, while €400,000 might get you a beautifully restored farmhouse with views. There are also castles, wine estates, B&Bs and other large properties available in Piedmont, of course. Meanwhile, if you're looking for a lake – or ski-focussed home, one-bedroom apartments in converted period villas on Lake Maggiore might ask €150,000, and two-beds €200,000. Ski properties in Piedmont's Alps come in a very wide range of prices, with some studio apartments asking less than €100,000 and some large three-bed flats going for €400,000 or more.
TIME TO BUY
Piedmont – especially its rural south – was becoming a big hit with foreign buyers in the early years of the current century. The international financial crisis of 2007/2008 onwards dried up the number of buyers all across Italy, however. So prices in Piedmont have remained fairly static at best for about a decade, which means you can now get even better value-for-money here than you could ten years ago. Some asking prices are down by as much as 20 per cent, and vendors are generally more open to negotiation. By all reports, foreign buyers have grown tired of keeping their property-buying plans on hold, and are beginning to trickle back into Piedmont (and elsewhere in Italy). If this means that prices might begin gently rising soon, right now could be a particularly good time to buy a home here.
Richard Edwards of the Piedmont specialist agency Langhe.Property confirms that there's a new energy coming back into Piedmont's market these days. He says, "When the financial crisis hit us in 2008-09, I have to say it was a bit of a relief. We'd been working flat out sixteen hours a day six days a week matching houses with buyers. 2010 was dead but since then we've kept things going and it's been OK. But then summer 2017 arrived… Long hot days, no rain but enquiry after enquiry and buyer after buyer. We've not been this busy since 2007!" Richard thinks Piedmont is seeing more interest because of the combined effects of Barolo's blossoming international fame, an increase in tourism, the fact that prices are down and that buying is even cheaper thanks to a slight decrease in purchase tax.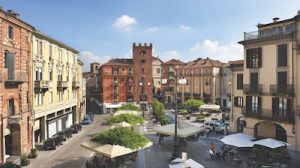 HOW THE LAND LIES
Obviously, Piedmont holds a great deal of geographic variety and the region's property prices vary from place to place. So it's useful to have a basic understanding of the region's layout and where you might look to find the type of landscape that suits you best. In a nutshell, Piedmont's northern and western edges are dominated by high Alpine slopes (offering wonderful summer hiking and some of the world's best winter skiing) which level out to emerald-green rice paddies in the region's central and eastern parts before the land starts rising again across the south to form a lyrically beautiful place of fertile hills with expansive views.
For foreign buyers in Piedmont, there have tended to be three main property markets: Lake Maggiore in the northeast, ski homes in the Alps, and rural houses in the fertile south. The last of these is the newest market, being just under twenty years old, and is perhaps the most interesting. Southern Piedmont can make some claim to being 'the new Tuscany' among foreign buyers – offering similarly beautiful hillscapes, vineyards, farmhouses, sunshine, rural charm, appealing towns, superb food, etc – but with much lower property prices.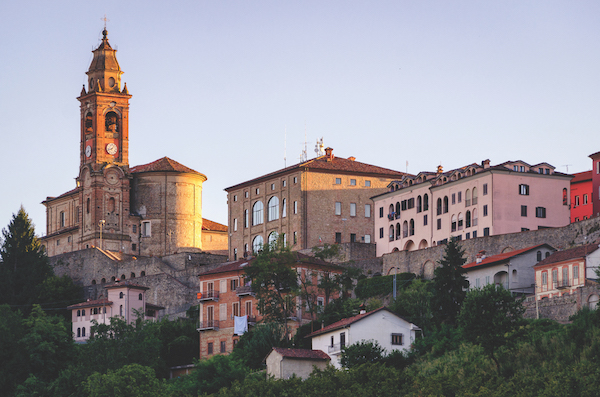 SOUTHERN BELLE
Southern Piedmont may be a very small area, but it nonetheless contains some distinct sub-areas to be aware of, chiefly Le Langhe, Roero and Monferrato. The first of these stretches southward from Alba, and represents Piedmont's gastro-oenological apogee – with Barolo, white truffles and superb restaurants holding sway. Roero is a smaller, similarly attractive area that stretches east from the town of Bra to just north of Alba. Monferrato, meanwhile, includes the area around Asti and stretches southeast from there. In general, Le Langhe is the best-known and most highly priced of these three key southern areas, while Monferrato remains an up-and-coming place with plenty of bargains to be found.
Elisabetta Tovo of the Piedmont-specialist agency Italian Dream House says, "What lifts prices are the vineyards. Southern Piedmont's most expensive area is Le Langhe, and the least expensive are the non-wine areas around Alessandria and Novara and the part of Cuneo close to the mountains. Good value-for-money at the moment is Monferrato – it's a wine region, it's beautiful and its prices are low because tourism hasn't massively arrived yet (but it's on its way!)." Maria Cristina Oggero of Verde Abitare, an agency focussing on Piedmont and Liguria, concurs. She says, "The most expensive areas are the Alba region and surrounding villages. There are interesting bargains in the amazing Monferrato area north of Asti, which is very popular with Milanese families looking for second homes but fairly unknown to foreigners."
Bargain-hunters in Monferrato might do well to consider that if the wines made here start to take off internationally, home-owners could be looking at big increases to the value of property here. Richard Edwards of Langhe.Property says he witnessed some major local property price rises when Le Langhe wines such as Barolo started booming in international popularity, and he suspects something similar might eventually happen in wine-growing Monferrato. But whether you're looking for investment or simply a lovely holiday home to enjoy, Maria Cristina Oggero of Verde Abitare advises anyone thinking of buying in rural Piedmont to "explore the whole region, not just the better-known villages. That way, you're more likely to find the right property at the right price, and sometimes you'll feel like the first foreigner to have discovered a place."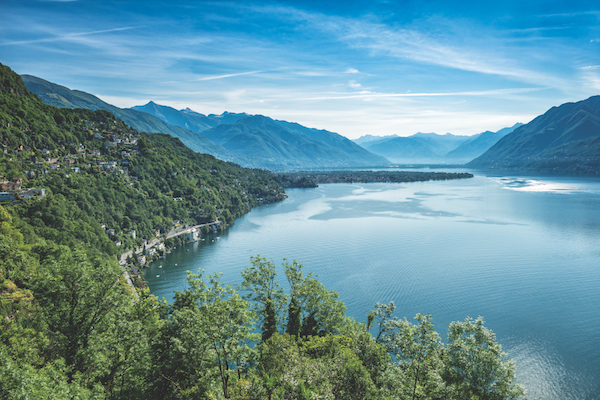 SPLASH AND SKI
With so much on offer in southern Piedmont, with its rural beauty, attractive towns and world-class gastronomy, it's easy to forget that northern Piedmont is a stunner too. As mentioned earlier, there are two main markets up here: lakeside and slopeside. The popular western half of stately old Lake Maggiore is in Piedmont, as is gem-like little Lake Orta. Lake Maggiore is especially good for period villas, many of which have been converted into reasonably-priced apartments. On both Maggiore and Orta, as across Italy, prices sink the further a home is situated from the water. But stepping back from the blue often means increasing your elevation, with the result of even better views.
And then there are the celestial Alps – thought by many mountain-lovers to be the most beautiful range in the world. Rising so quickly as they do, and giving such dramatic backdrop to the pasturelands below, the Alps are arresting in all seasons of the year. Summer is great for hiking, and winter brings its own slippery magic. Northern and western parts of Piedmont have some of the world's best ski runs, and there's a fabulous abundance of them in Piedmont's gigantic 'Milky Way' circuit. You'll find a relaxed, fun-loving culture on the slopes, and a friendly, stylish atmosphere in the resort-towns. Property prices vary considerably depending on the resort, and there are plenty of excellent but lesser-known resorts with great-value homes. You might get a studio or one-bedroom apartment for under €100,000, or a three-bed for under €150,000. In a popular resort such as Sestriere, however, a two-bed chalet might ask €300,000. Note that property prices drop considerably if you buy just ten minutes outside a resort's centre.
Like lake properties, ski homes offer strong holiday rental prospects. You might expect to rent out a ski home for about fourteen winter weeks, with very good rental returns. Then there are summer hikers to consider – a lighter market, but not a non-existent one. Holiday rental prospects in rural southern Piedmont, meanwhile, are also very good, and ever-increasing as more and more tourists find themselves drawn here. Visitors tend to be a discerning and sophisticated sort who appreciate the area's world-excellence in food and wine, its sense of sapere vivere and its open space.