Beautiful Puglia continues to charm ever more visitors and home-buyers. It's easy to be wowed by the endless coastline, superb cuisine and delightful climate – not to mention the low property prices – says Fleur Kinson
Photos by iStock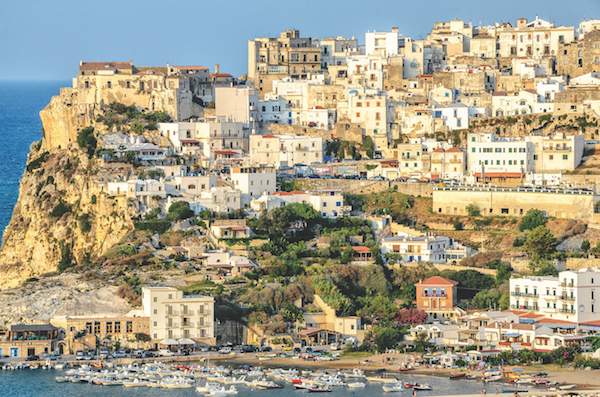 Puglia is a very distinctive bit of Italy. It stands out on the map, for a start, creating the high heel of the Italian boot. But it stands out in other ways too, having its own special look and feel, unusual building styles and unique geographical attributes. To start with the latter, Puglia has the longest coastline of any mainland Italian region. The sea is never far away, and the bright Mediterranean light bounces off Puglia's many whitewashed cubic buildings to give the region the feeling of a Greek island.
That slight Greekness can be felt in other aspects of Puglia too. Ancient Greeks colonised this region thousands of years ago, and there are still Greek words in Puglian dialects and delicious Greek details in the region's cuisine. Some say there's even a Greek influence in the personal manner of Puglians – a hugely hospitable people who can sometimes seem a little more quiet and reserved than the stereotypically flamboyant southern Italian. This said, of course all the very best of southern Italian life is down here too – the colourful festivals, vibrant evening passeggiate, excellent local wines and superb food.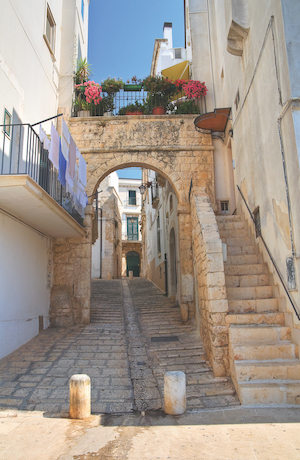 Puglia is prosperous, safe and well-run, with good facilities and infrastructure. Thinly populated and with no big cities, the region enjoys a very strong sense of community and a low crime-rate. People know their neighbours, and look out for each other. Even the ground underfoot generally behaves itself. The southernmost two-thirds of Puglia has fewer earthquakes than anywhere else on the whole Italian peninsula. Long, hot summers and a very low annual rainfall only add to the region's appeal.
An obviously distinctive feature of Puglia is its architecture. You'll see unique indigenous building styles, such as trulli (round, cone-roofed cottages with a fairytale appearance), lamie (foursquare houses resembling giant sugarcubes) and masserie (stout, elegant mansion-farmhouses built here and on Sicily). There's a lot of white or honey-coloured stone in Puglian buildings, and a great deal of stonemason's skill in evidence. The bold, geometric shapes of the buildings add extra visual appeal to the region's striking landscapes. There are often strong colours and structures in Puglian scenes – luminous turquoise water crashing onto white rock, oversized olive trees spiralling up from paprika-coloured soil. The region can look ever so slightly fantastical. Little surprise that many people are quickly enchanted by the place.

Budget airlines
As a place to buy a second home, Puglia has long been popular with northern Italians. Buyers from abroad, however, found the region a bit too difficult to access until budget airlines began offering direct flights to Puglia in 2004. From then on, northern Europeans began rapidly falling in love with Italy's high heel, and many set about buying some of the region's enticingly inexpensive properties.
Prices in popular areas climbed due to so much buyer interest, but that rise was arrested by the international financial woes of 2008, which saw a sudden steep decline in the number of foreign buyers all across Italy. Buyer numbers only started to grow again in Puglia from around 2014, and this initially tentative growth seems now to be gaining pace. Most estate agents in the region have reported rising numbers of sales over the past couple of years. Nikki Taylor of the estate agency HelloApulia says that 2017 saw an extra 13 per cent growth.
Widening market
Many estate agents note that there has been a considerable widening of the nationalities typically buying in Puglia these days. Northern Europeans have been complemented by Americans, Antipodeans and buyers from the Far East. Johan Zetterberg of the agency CasaPuglia points out that "Both of Puglia's international airports are expanding to accommodate more flights. There is an increasing international awareness of Puglia as a wonderful tourist destination because it is authentic, eco-friendly, free from pollution, has no mass tourism, has strict building laws to preserve the landscape, has clear turquoise seas and low prices. It's a corner of Europe in which it is easy to safely invest in a holiday rental or retirement home."
Today, property prices in Puglia still represent excellent value for money, and this combined with the all-round appeal of the region makes Puglia a good choice for a home in the sun. There are homes here to suit most budgets. Small rural homes needing restoration start at about €30,000. Simple, modern-built two-bedroom villas get going at about €70,000, while three-bedroom properties will cost upwards from about €100,000. Two-bedroom seaside apartments start at about €100,000, as do old rural houses with land. For €250,000 you might get a seaside villa, a three-bedroom home with a pool near a fashionable town, or a nice old country house. Puglia's stately farmhouse-mansions (masserie) start at about €400,000, and can climb from there into the millions.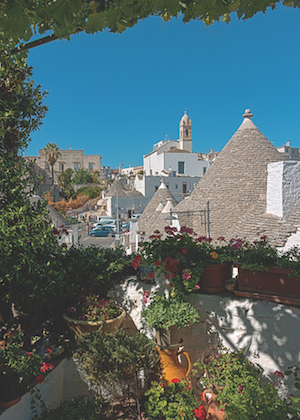 High heel, low heel
As you would expect, different parts of Puglia hold different levels of general appeal and different kinds of property prices, so it's useful to have an idea of the region's geography before you begin your property search. First, you might think of this rather long and thin region as divided into two halves, a northwestern and a southeastern half, with regional capital Bari roughly marking a dividing point. Northwestern Puglia has so far been the less popular half of the region with foreign buyers. The sea meets the region from only one side up here, instead of the two coasts found in the southeastern half. Then there's the fact that the area around Foggia in particular is relatively flat, and uninteresting to some. An exception in the northwestern half of Puglia is the Gargano Promontory, which forms a kind of 'ankle spur' on the Italian leg. This protected National Parkland area is a beautiful stretch of highlands and dramatic coast punctuated by dreamy lagoons.
Southeastern Puglia, which forms the 'Salento Peninsula', or the actual heel that sticks out into the sea, has so far been the half of the region that has drawn almost all the buyers. It can itself be divided into two halves: 'Upper Salento' (roughly from Bari down to the Brindisi area) and 'Lower Salento' (everything southeast of the Brindisi area). Upper Salento is where the foreign buyer market first took off in Puglia, and it's a deeply lovely area of undulating countryside, giant olive trees, cute trullo cottages, beautiful old towns and pale sandy beaches. Lower Salento, meanwhile is slightly drier and rockier, with white cliffs vying with coarse sand to meet the dazzling water.
Estate agents specialising in Puglia still tend to recommend buying in areas of the Salento Peninsula rather than looking any further northwest, and in particular many still strongly recommend Upper Salento. Nikki Taylor of HelloApulia says, "Areas that are good value for money include those around Ceglie Messapica, Castellana Grotte and Conversano. These areas have lots of nice rustic properties available at low prices and with great potential, when renovated, to make excellent holiday rentals."
Johan Zetterberg of CasaPuglia believes the best area for investment is in the triangle roughly formed with Monopoli, San Vito dei Normanni and Martina Franca as its three corners. He adds that "Oria is also a jewel, and you can find great properties here within equal distance of the two coasts." Meanwhile, Giuseppe Fanelli of Modern Apulian Style highlights the area around Taranto, from here north to Martina Franca, and also east from Taranto to Manduria, in which large area he says there are many excellent value for money properties.

Restore to order
With its striking traditional buildings and its highly-skilled builders and crafts people, Puglia has always been a very popular place for foreign buyers who want to restore an old property or to design and build one from scratch. There are of course pros and cons with either approach. Maureen McLeod of Elite Puglia says that in the beautiful area around Ostuni in which she specialises, "The best investment is still to buy a plot of land and build your house, but the downside of this is the time it takes to build and the waiting for planning permissions. It's quicker to buy and renovate a traditional villa, and there are many which are good value at around €60,000-€80,000. You are allowed to extend such a property by up to 20 per cent, and you can build a swimming pool."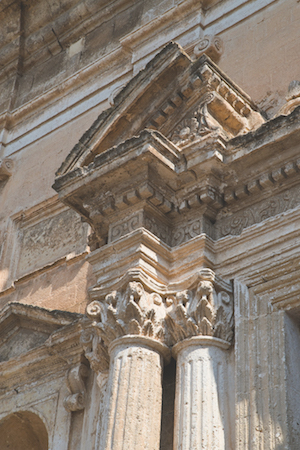 Giuseppe Fanelli of Modern Apulian Style believes that restoring an old property is always a good idea, especially a building with historical value. He says, "The prices of masserie and historic houses to restore in Puglia are still very good. Additionally, Regione Puglia provides investment aid for those who intend to restore such buildings and bring them back to life as accommodation or tourist facilities. You can also find land to build on in excellent areas, and my advice is always to design in accordance with Mediterranean tradition: a compact building with a few calibrated openings and light colours, plus the presence of fountains, pools and vegetation to give a building with high energy performance."
As you'd expect in a region whose visitor popularity just keeps growing, there are strong holiday rental prospects on properties in Puglia. Summers are long and the rentals season lasts from around May to October. Key areas for holiday rentals include the coast, the countryside (with the Itria Valley area of Upper Salento holding particular appeal), and any of the many little towns loved by tourists – Ostuni, Alberobello, Locorotondo, Oria, Lecce, Otranto and Taranto, to name but a few. All the usual advantages apply: rental clients like properties with easy access to the sea or a pool, they love landscape views, and they like having an outdoor space such as a balcony, patio, terrace or garden. None of these attributes is hard to find in Puglia, where the sea is never far away, the landscape is lovely, and there's lots of space for spilling outdoors.
If you're thinking of buying a home in Puglia, don't forget to check out our Regional Guide to find the perfect area for you.