Vine-striped hills and snow-kissed Alps, world-class gastronomy and elegant little towns – it's no wonder Piedmont is a hit with visitors and homebuyers.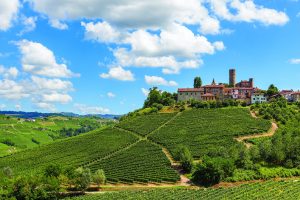 Property prices are very good, says Fleur Kinson, and you should give the place some attention…
Tucked up in the northwest corner of Italy (and with one of Italy's shortest travel-times to the UK), Piedmont is blessed with almost all the things that typically make foreign buyers fall into a swoon. It has lyrical, hilly countryside striped with the neat corduroy of vines; pretty farmhouses built in old golden stone; handsome and wonderfully civilised little towns; elegant, palm-fringed lakesides; and celestial Alpine peaks with superb skiing.
Foreign buyers rather like good food and wine too, and Piedmont excels in both to such a degree that many arbiters say that it offers Italy's absolute best. Certainly southern Piedmont is the heartland of white truffles, of Italy's best hazelnuts and polenta-maize, and of the premier red wines Barolo and Barbaresco.
The quality of Piedmont's produce is sky-high, as is expertise in its preparation. Southern Piedmont has more Michelin-starred restaurants than any comparably-sized area in the world. Fittingly, the famous Slow Food organisation – which together with its offshoot Slow Cities promotes high-quality living around the world – has its headquarters here.
With all this going for it, you'd expect Piedmont to be as coveted – and expensive – a destination for foreign property buyers as Tuscany and Umbria. And yet the region came much more recently to foreign buyers' awareness and its fame – and its house prices – have had nowhere near as much time to bloom. Then there's the region's geographical position. Situated in Italy's far north, bordering France and Switzerland, many home-hunters might have assumed that Piedmont's climate isn't quite as lovely as that of regions further south. However, less rain falls in Asti each year than in Florence or Rome. You can't produce some of Italy's very best red wines, as Piedmont does, without lashings of sunshine! Rest assured that Piedmont's climate is very appealing.
Quality of life
Many foreign seekers of a home in Italy have rightly heard that the nation's south is much cheaper than its north, and perhaps they have assumed that a rich and well-equipped region like Piedmont – with its slick infrastructure and sky-high quality of life – would be just too expensive for them. But Piedmont's property prices can be considerably lower than those of central Italian regions with similar appeal, such as Tuscany, Umbria and Le Marche. Near Piedmont's wine-growing areas, you might get a village home for as little as €60,000, or a habitable rural house from €150,000.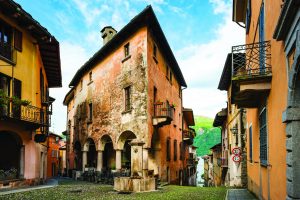 Farmhouses needing some repair-work get going at around €200,000. €300,000 might get you an independent farmhouse with great views and a vineyard. The best-sited and best-restored can go for more than double this, of course. Meanwhile, up on Lake Maggiore, one-bedroom apartments in converted period villas might ask €150,000, and two-beds €200,000. Ski properties in Piedmont's Alps come in a very wide range of prices, with some studio apartments asking less than €100,000 and some large three-bed flats going for €400,000 or more.
Buyers thinking of offering holiday rentals on their Italian property when they're not there themselves would find Piedmont a very safe bet. Tourism has been going from strength to strength across the region for quite a few years now.
Piedmont has firmly fixed itself onto the discerning visitor's map, and the kind of people drawn here tend to be sophisticated, gastro-minded types who love the idea of staying in a rural home with views of vineyards and exploring the region's elegant little towns and restaurants. Or they might just as easily be drawn to the pretty shores of stately Lake Maggiore, or fancy partaking of some of Europe's best Alpine skiing up in northern and western Piedmont and its tiny sister-region, Valle d'Aosta.