The stylish region of Lombardy combines romantic Alpine lakesides and elegant little cities. It's long been loved by foreign property buyers, and with good reason, says Fleur Kinson
Lombardy photos by Getty Images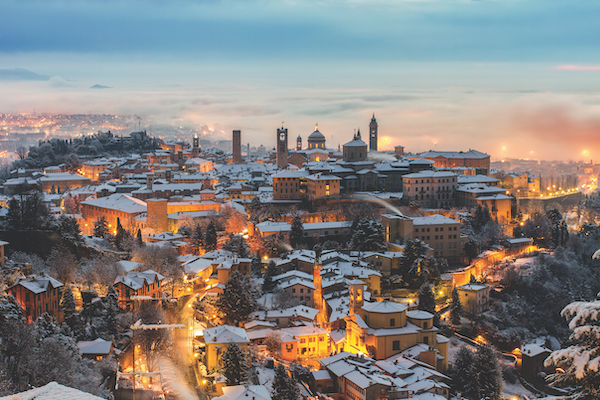 With an annual GDP that's double the size of Italy's next most productive region, Lombardy has been rightly dubbed the 'economic powerhouse' of the nation. This affluent, extremely well-run bit of Italy sits tucked up against the border with Switzerland, and it's hard not to feel a bit of a cultural connection between the two. That said, Lombardy is also emphatically Italian, with all the stylish clothes, beautiful buildings, stunning food and healthy work-life balance that that suggests.
As well as its industriousness, Lombardy is famed for its geographical beauty. With its romantic head in the Alps and its hard-working feet in the Po Valley plain, Lombardy yields celestial mountains, exquisite lakesides, emerald-green pasturelands and wide-skyed cropfields. There is no shortage of fresh-air escapes for those diligently working in the region's many handsome, small-sized cities.
As a buyer in Lombardy, you're most likely to be drawn to these little cities or to the region's spectacular Alpine lakes. The latter yield some of Europe's most beautiful landscapes, perhaps especially around Lake Como, where green slopes dotted with sighingly pretty villas plunge into dreamy blue water. Half of stately Lake Maggiore's shoreline is in Lombardy, as is half of Lake Garda and some parts of Lake Lugano. Lake Iseo is here too, as are bijou lakes Varese, Comabbio, Annone and others. 
One thing you won't struggle with in Lombardy is getting around. This region prizes efficiency, and its travel infrastructure reflects that. Road and rail connections are very good all across Lombardy. With several international airports and very short journey times to northern European countries such as the United Kingdom, it's very easy for foreign homeowners to get here and get around.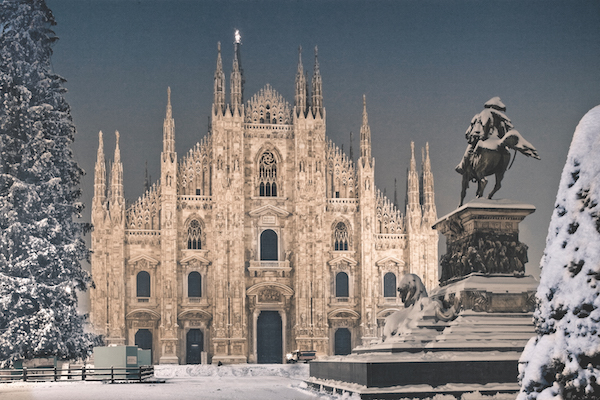 Buying in
International buyers have been drawn to Lombardy for decades, not just because the region offers such geographical beauty and a great lifestyle, but also because its property market tends to be very stable and safe. There is considerable scope for pleasure and profit on homes in Lombardy. Buyers of holiday property and those who'd like to offer holiday rentals choose well in the region's lakelands and in the rural areas around some of the small cities, while hard-nosed investors can gain from snapping up urban apartments. 
Being a wealthy and coveted region, Lombardy isn't one of Italy's cheapest places for property. But the value for money is often extremely good when you consider all you're getting. As a rough guide to prices in Lombardy's lake areas, you might expect to pay as little as €70,000 for a house with a view situated ten minutes' drive from the northern shores of Lake Como. Two-bedroom apartments nearer the shoreline tend to start at about €200,000. Prices are lower on the Lombard shores of Lakes Maggiore and Garda, which are not either lake's most popular parts, so there's scope for bargain-hunting here. On all Lombardy's lakes, prices drop the further back from the water you go. This usually means climbing into the hills surrounding each lake, which in turn often means getting great views of the countryside.
And what of prices in Lombardy's cities? Milan is Italy's richest metropolis, and prices here reflect this, with two-bedroom apartments going for about €350,000 and one-bed or studio apartments asking around €200,000. Leave stylish Milan and prices tumble. Plenty of workers commute from pleasant satellite towns where three-bedroom apartments can be had for about €150,000. In rural areas a couple of dozen kilometres south of the city, you might find country houses needing work on the market for only €100,000 or so. Lombardy also has some very attractive small cities that are far less expensive than Milan. Charming Bergamo, Brescia, Pavia, Mantua and Cremona offer urban two-bedroom apartments and two-bedroom houses in their surrounding countryside ranging roughly from €100,000 to €250,000.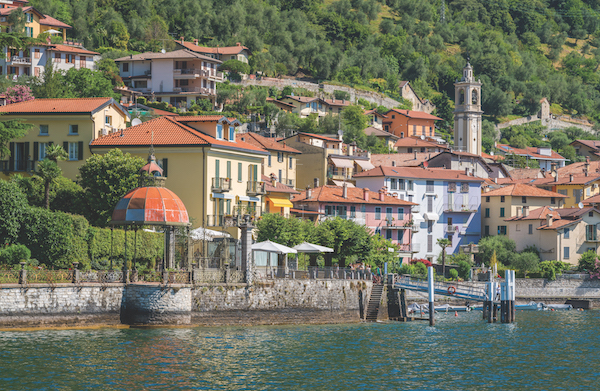 Sparkling blue
The most sought-after part of Lombardy for foreign homebuyers is Lake Como, so it's worth giving the place especial attention here. And what a place it is. Many people judge Lake Como to be the most beautiful lake in Italy, and even in all Europe. It enjoys a spectacular setting that makes for endlessly arresting views. Shaped like an inverted letter Y, the lake's every shore gazes onto an opposite shore, where colourful villas and gardens dot the steep, green undulating hillsides. Evaporation haze throws a dreamy softness into every scene, and the lake's supremely benevolent microclimate means that both alpine and semi-tropical flora thrive here. It's all hopelessly romantic. The little towns are all very pretty, and so are their buildings.
Despite its popularity, Lake Como remains mercifully unspoilt by overdevelopment. Like many of Italy's most beautiful places, there are careful restrictions on new building to safeguard the value and appeal of the place. New-build apartment complexes around the lake are low-rise and tasteful. Many of these offer good value for money property, and can come with various perks such as communal swimming pools. You won't be surprised to hear that holiday rental prospects on Lake Como are strong. If you were to offer holiday lets on a nice property here, you could probably fill every week of your rentals calendar from about early May to late September, plus a few weeks during the colder months.
In general, the western shores of Lake Como see the lake's priciest property, while the northern extremes and the east coast are more modestly priced. The south is obviously closer to Milan and more quickly accessed by car or train from there. But train-lovers might like to note that some key towns along Lake Como's eastern shore are accessible by rail from Milan, while only the southern tip of the western shore can be reached by train. The further north you travel up Lake Como, the steeper and more rugged the terrain. The lake's very far north is overlooked by snow-topped Alps for much of the year, and there is access to some good ski resorts up here.

Shore to shore
It's useful to more closely analyse the markets of Lake Como, and for this it's best to call in an expert. Linda Travella of the Italy-wide estate agency Casa Travella has extensive experience of the Lake Como area and offers lots of good insight and advice. She begins with the highly-prized southwest of the lake: "Como town is lovely but of course not cheap. A two-bedroom apartment here might cost between €350,000 and €400,000. The Cernobbio area, close to Como, is expensive but could be good if you're thinking of renting your home out. Laglio, where George Clooney has his villa, has become overpriced due to the 'Clooney effect'."
Moving further north up the western shore, Linda says that, "The central part of the lake has great weather and moderate prices, plus good rental prospects. Popular areas are Tremezzo, Menaggio and Sala. New-build two-bedroom apartments here with pool access go for around €250,000 to €350,000. North of Menaggio prices drop, and the further north you go the more they drop. Up here, village houses can be a good choice, but they often don't have a lake view. The area is still lovely, however, and great for skiing, but it is further from the airports." As for Lake Como's eastern shore, Linda notes that properties are lower-priced here than in the west, except in the very popular and busy resort of Bellagio. Other key eastern shore towns worth exploring are Varenna and Bellano. 
Lake-lovers should remember that, wonderful as it is, Lake Como is not the only sparkling freshwater in Lombardy. There are several small lakes that might interest you, and there are also the Lombard shores of mighty Lakes Maggiore and Garda. Maggiore is a stately old place with a restful air, while Garda is much loved for its sailing and watersports. Both lakes have elegant towns and handsome villas, and of course enjoy very strong holiday rental prospects. The Lombard shores of both are their least expensive parts, on a par with the least expensive parts of Lake Como.
Alpine lakes aside, one of Lombardy's great charms is its handsome little cities. Money-making Milan is arguably beautiful only in a small part of its centre, and it's unlikely you'll want to buy a home in this city unless it's to profit from renting it out to businesspeople. Lombardy's other cities, however, are more consistently charming places as well as much cheaper to buy in. Four very attractive ones you may wish to consider are Bergamo, Brescia, Mantua and Cremona. 
Bergamo is a striking, atmospheric and rather hip place with a walled old town set on high and great views of Alpine peaks. It's situated roughly equidistant from Milan and Lake Como, and not far from little Lake Iseo. One-bedroom apartments here start at less than €100,000, and two-beds at less than €200,000. A two-bed house can cost as little as €130,000, while various comfortable villas in the countryside round the town run from about €300,000 to €800,000. Brescia is similarly well-sited, lying between Lake Iseo and Lake Garda, and has roughly similar prices. 
Mantua, sited on the less popular flat plain of southern Lombardy but not far from Lake Garda, is slightly less expensive. Like Brescia, it's refreshingly uncrowded with tourists and has a relaxed, enjoyable atmosphere – as well as great cafés and restaurants, and superb museums and waterways. Cremona, also down on Lombardy's flat Po Valley plain, is cheaper still. It's full of grand, elegant buildings and lovely piazzas. Violin-god Stradivari lived, died and worked all his magic in Cremona, and the city is still rightly obsessed with the glory of well-made fiddles. In the rural outskirts of Cremona, you can pick up a country house with two or three bedrooms for about €100,000.
Useful contacts
Casa Travella
ItaliaCasa
For Fleur's Lombardy regional guide click here
Lombardy property picks
[slideshow_deploy id='23965′]