Gilded beaches, gaily coloured buildings and serene, leafy hills have long made Liguria beloved by international homebuyers. With property prices at a temporary nadir, now is the optimum time to buy, says Fleur Kinson
Photos by iStock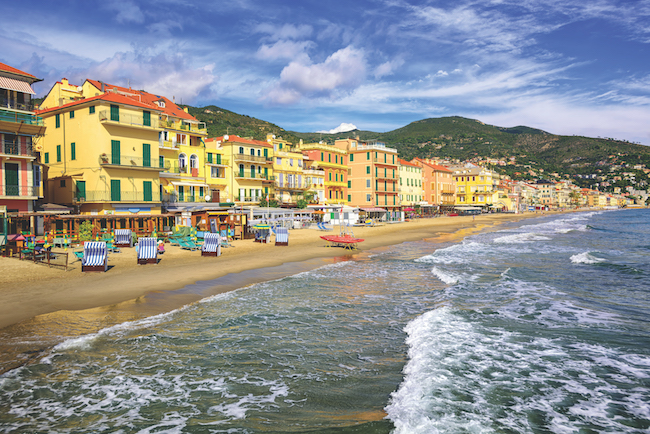 Hugging the Mediterranean in the northwest corner of Italy, Liguria forms a rainbow-shape on the map. You might know its heavenly seaside as 'the Italian Riviera', a name reflecting its connection with 'the French Riviera' – Liguria directly continues the line of celebrated beaches and resort-towns begun on the Côte d'Azur of southern France. Both exalted coastlines share a similar cosmopolitan sophistication, a dreamy sensuality and vivid beauty, but the Italian side is by general consensus a bit friendlier and more welcoming, with rather less of an air of glitzy exclusivity.
Behind the beaches, as you step back into Liguria's hinterland, the land rises quickly into prettily wooded hills and steep slopes – a clean, serene world away from the region's populous coast. Up here, olive, pine and chestnut trees soak in the sun, wild boar and deer hide shyly in the shade, and fireflies fill summer nights with their warm, winking lights. Settlements are small and ancient, medieval villages often appearing as a swirl of terracotta rooftops around a delicate campanile.
It is this juxtaposition of two very different worlds – the bright, excitable coast and the peaceful, leafy highlands – that makes Liguria so irresistible. Physical geography is one of the region's chief assets. And it's responsible for its delightful climate, too. Liguria hugs a warm sea for 150 miles (from the edge of France to the edge of Tuscany) while the steep Maritime Alps rise all along its northern back. The effect of this is a microclimate that sees cold air from the actual proper Alps (100 miles to the north) prevented (by the obstructive Maritime Alps) from whooshing down onto Liguria's coast. So winters are remarkably mild and benign. At the same time, gently cooling air from the Maritime Alps means that summers tend not to be too savagely hot. All extremes are moderated, making Liguria wonderfully pleasant for much of the year.
Enticing outsiders
Its sublime climate made Liguria a magnet for well-to-do convalescents and health-seekers in the late 19th and early 20th centuries. They came here from all over Europe, followed by innumerable artists and intellectuals who delighted in the ease, elegance and elemental colour of the place. Thus Liguria swiftly established itself as a fashionable region for travellers, thinkers and anyone seeking escape from the harsh, cold or unbeautiful world. It has never really lost this reputation. Popular for more than a hundred years, Liguria might be said to have one of Italy's oldest lineages when it comes to regions with a strong international homebuyer market. Property-hunters from far afield have been coming here
for a very long time.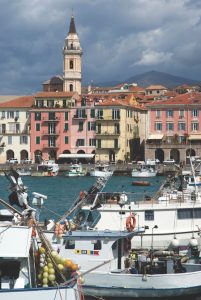 As a long-popular region, property prices in Liguria have not been among Italy's lowest – especially on the coveted coast. In recent decades, many buyers cleverly got round this by snapping up homes in the sleepy hinterland hills where bargains abound. Good roads, and short distances down to the sea, meant that a home in the hills delivered the best of both worlds at a very affordable price. However, the past seven or eight years have seen a major slowdown in Liguria's market in all areas – as the long-term effects of 2008/9's international financial crisis filtered through and the number of foreign homebuyers plummeted. The result of all this is that today's property prices across all parts of the region are substantially lower than they have been for a long time. So right now would seem to be something of an optimum time to buy in Liguria. Because prices are not expected to fall any further but at the same time there is a trickle of buyers beginning to return to the region which would suggest that prices might begin to start inching up again at some point in the coming years.
Jenny Rona, who has been running the Ligurian estate agency Casa Antica for many years, says that the region's market is "still depressed and prices are low. Over the last few years, many property owners have decided to sell, so the market is flooded. There is a constant supply of buyers but there is a vast choice of property for sale in all locations. It will take some years yet for there to be a marked difference, but Liguria currently offers wonderful investment potential as I have no doubt that the market here will get back to its previous buoyant level."
Similar observations are made by Anne Nathan of The Italian Property Company, who also specialises in Liguria. "The market in Liguria and in Italy as a whole has been depressed for the last seven years," she says. "Prices have gone down by perhaps a third. This year from January has shown the first signs of a recovery, with many successful sales concluded, especially to the Scandinavian market and to German and Swiss buyers. I think that strategically it's a very good moment to buy with prices at an historical low."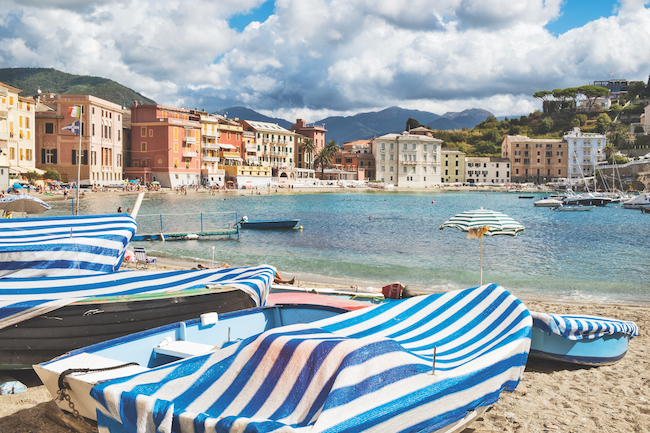 Prices and places
So what actual figures might you expect to pay for a home in Liguria at the moment? As you'd expect, prices are significantly influenced by how close to or far from the sea a property is situated, with beachside homes being the highest valued. That said, some coastal locales tend to be pricier than others, and we'll be looking at that in a moment. But as a very rough guide, for a large seaside villa with a pool you might expect to pay around €400,000, while a one-bedroom beach apartment might ask €150,000. Inland, you might get a splendid villa with land for €175,000, a beautifully renovated two-bedroomed village house for €65,000 or a less lavishly restored one for only €40,000. Small village apartments needing work can be had for around €20,000.
Analysing the coastal and inland markets in a little more detail, it's fair to begin by thinking of Liguria's seaside as comprising two halves: the areas west and east of regional capital Genoa. The western half (locally called the 'Riviera di Ponente' – the 'coast of the setting sun') generally has wider, sandier beaches than the east, and the weather is a touch warmer. It was to this western half that the earliest health-seeking visitors and convalescents came, and the area is full of venerable old resorts such as San Remo, Bordighera and Alassio – the last two of these three marking the western half's priciest places for property. The eastern half of Liguria's coast (locally called the 'Riviera di Levante' – the 'coast of the rising sun') has for several decades been very fashionable with the yachting set. Its beaches tend to be small and intimate, often semi-pebbly. Behind them, the land rises much more suddenly and dramatically than it does in the west, creating particularly arresting backdrops to the sea. Cliff-bound fishing villages and inaccessibly steep terrain help give the eastern part of Liguria its exclusive air. Rapallo, Portofino and the Cinque Terre are among the visitor hotspots here, the last two being the east's most expensive places.
As for Liguria's lovely inland areas, as you might expect, property prices sink in inverse proportion to altitude. But, like the coast, there are currently bargains everywhere. The land rises from the sea more gently in the west than in the east, and this makes the inland west more appealing to some, as well as the seaside more easily accessible. Recommended inland areas in the west include the Nervia Valley behind Bordighera and the Argentina, Armea and Carpasina valleys behind Imperia. In the eastern half of Liguria, the area inland of Chiavari is notable for reasonably-priced homes.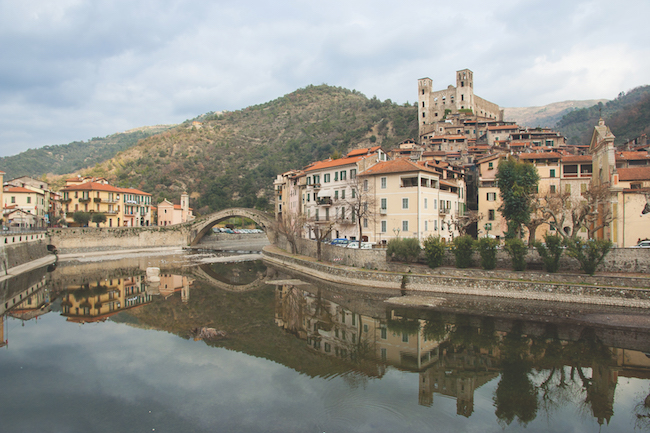 Renovation and rentals
While property prices are lower in Liguria right now than they have been for a long time, the costs of renovating an old tumbledown home seem not to be. Jenny Rona of Casa Antica says "It's no longer very economical to buy properties to renovate. Costs have increased – building materials, permits, taxes and so on – and while people do still take on full renovation projects, they'll have to wait several years before they recoup their money, assuming the market returns to normal." Buying land and self-building from scratch, however, might still be a good alternative to buying a new-build or ready-restored home. Anne Nathan of The Italian Property Company believes that "There's a lot to be said for building your own house in Liguria. There are plots of land with fantastic views. Build price is, by rule of thumb, around about €2,000 per square metre. But everything you spend is on something that you actually want."
And what about holiday rental prospects? Are they still extremely strong in Liguria? In a nutshell, yes. As long as you research your location and competition before you buy, and market your property well once you've bought it, you can anticipate plenty of attention from rental clientele in Liguria. And not just down on the seaside. Sure, lots of people come to bask on the region's beaches and delight in its elegant coastal resort towns, but many also come to explore the fabulous walking trails up in the hills and mountains, to admire inspiring vistas, swim in crystal clear rivers and breathe clean woodland air. German and Scandinavian visitors are particularly drawn to healthful, nature-loving walking trips into Liguria's high hinterland, so be sure to target these nationalities as well as others if you seek holiday rental clients on an inland home.
With very short travel times to the UK and other northern European nations, not to mention a traditionally very strong property market which is currently seeing an unusual abundance of bargains, Liguria makes an excellent choice for a home in Italy.
If you're seeking a home in Liguria, don't miss our Regional Guide.