Italy's 'secret' northeast corner is an exotic wonderland where three great cultures converge. Golden beaches, inspiring mountains and truly delightful towns complete the enchantment. Property prices are a bargain, says Fleur Kinson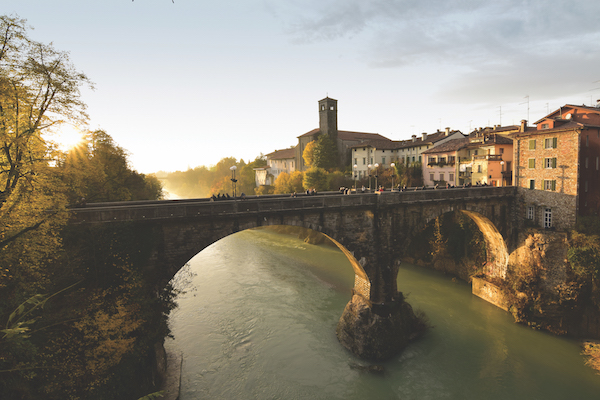 Even as a well-travelled Italophile, you'd be forgiven for having only a hazy awareness of Friuli-Venezia Giulia. Or for never having heard of it at all. If any Italian region still represents a 'little-known' and 'undiscovered' gem of a place, it's this one. Cultured, clean, affluent and fascinating, it's also extremely pretty – with dreamily beautiful landscapes and delicious architecture. Property prices are enticing, and future prospects are promising. If you don't already know about Friuli-Venezia Giulia and its superb quality of life, you'll be glad to find out.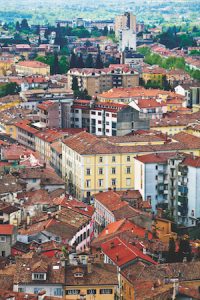 The region's bafflingly complicated name should signal that there's something unusual about this place. It's hard to remember where the hyphen goes and it might seem mysterious that the Italian word for Venice sits in the middle, when Venice itself is in a different region. But this exotic, triple-barrelled melange of a name actually suits Friuli-Venezia Giulia extremely well. It's an unusual, eclectic name for an unusual, eclectic place. Friuli-Venezia Giulia sits at the meeting point of the three great strands of European civilisation, history and language: the Latinate, the Germanic and the Slavic. Nestled in the northeastern extreme of Italy, it borders Austria to the north and Slovenia to the east, with Croatia just a few miles further on. Influences of its foreign neighbours are vividly apparent in the architecture, cuisine and even temperament of Friuli-Venezia Giulia, making the region feel like Europe in microcosm. It's certainly a stimulating and sophisticated place.
Crucially, it's also a rather wealthy one. Prosperous and with very low unemployment, Friuli-Venezia Giulia is one of five Italian regions with a semi-autonomous status, which means that, among other things, its tax revenues are not distributed across the rest of the country but are spent only in Friuli-Venezia Giulia itself. The result is immaculate towns and cities, a very smooth-running travel infrastructure and an orderly, contented way of life. Unlike some of Italy's other 'undiscovered' regions, Friuli-Venezia Giulia is not and never has been a remote, inaccessible or impoverished place. You'll be struck by how tidy and well-maintained it is, and how easy it is to get from one lovely settlement to another.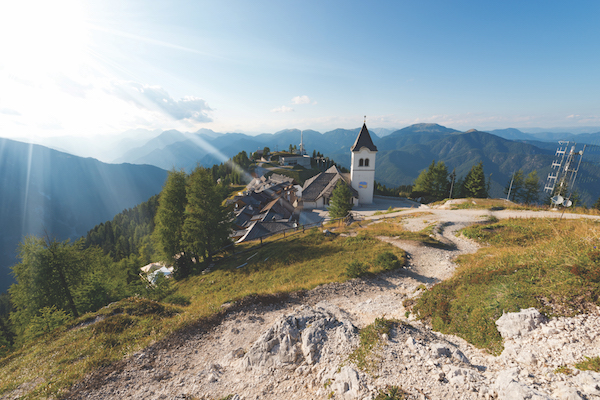 ON THE MARKET
As a prosperous region that has never felt much need to advertise itself, Friuli-Venezia Giulia has remained relatively unknown to otherwise wonderfully explorative British buyers in Italy. Non-native buyers of homes here have tended to be Germans, Austrians, and Italians from other regions. There are very few international-buyer-focused estate agents specialising in the region, and it's likely you'll have to approach agents listing properties across a much greater swathe of Italy to find a home here. That said, a burgeoning interest in Friuli-Venezia Giulia does seem to be currently underway. Simone Rossi of the Italy-wide property portal Gate-Away.com notes that the number of ads on the website for homes in the region climbed fairly significantly throughout 2017. This might be a sign of things to come. And certainly, once a large enough number of vanguard buyers get here and start telling their friends how delightful the region is, interest should swell.
Property in Friuli-Venezia Giulia represents excellent value for money, especially when compared with prices in the neighbouring Veneto region (home of Venice, Verona, etc.). For a two-bedroom apartment in one of Friuli-Venezia Giulia's most attractive towns, or even in the elegant capital Trieste itself, you might pay just €100,000 to €150,000. Detached houses, meanwhile, can be had for around €200,000. In the seaside resorts, one-bedroom seaside apartments start at about €150,000. Homes in the countryside come in all shapes, sizes and prices, and would-be restorers of old properties might be interested in what Simone Rossi of Gate-Away.com notes about restoration projects. He says, "It's a good time to restore an old property in Friuli-Venezia Giulia, because there's a regional subsidy available for all citizens of the European Union to buy and restore a house here." So British buyer-restorers might like get their skates on (before they cease to be EU citizens).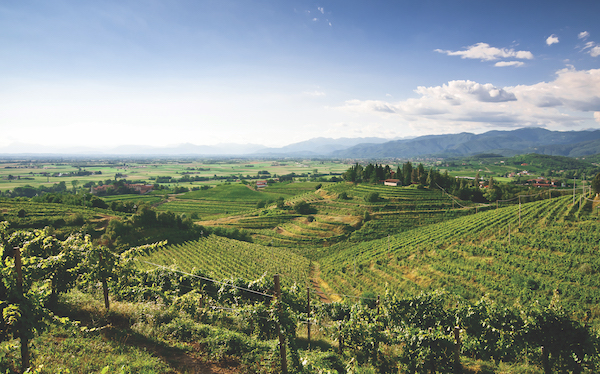 HOW THE LAND LIES
Like many Italian regions, Friuli-Venezia Giulia manages to squeeze in an astonishingly wide array of landscapes across a relatively small space. The warm, shallow Adriatic spreads its enticing blue along the region's beachy southern edge, often fracturing into lagoons and sandy islands. There are abundant appealing seaside resorts down here, well-visited in the summer by tourists from Germany and Austria. Grado is the most popular spot – an ancient island-town in a dreamy lagoon, boasting some of the best beaches on the northern Adriatic. Lignano, on the other side of the same lagoon, is a very pleasant resort with slightly lower property prices than Grado. Or you might want to explore the 'Triestine Riviera' of cheery seaside towns strung between Grado and regional capital Trieste.
Inland, much of southern Friuli-Venezia Giulia is flat and fertile, its wide spaces full of cropfields. Inland from Trieste, however, the landscape quickly buckles into the limestone plateau of the Corso, riddled with caves and grottoes. Elsewhere, the southern plain extends far inland before beginning to undulate into gentle hills and then, from around the middle of the region, to climb steeply into dramatic highlands. Northern Friuli-Venezia Giulia is dominated by the handsome Carnia Mountains, akin to the Dolomites. This is an inspiring stretch of majestic peaks, forested valleys, high green pasturelands and springtime flower meadows. Of several ski resorts up here, Piancavallo, Forni di Sopra and Tarvisio stand out.
Culturally, this mountainous area is delightfully mixed – with Italian, Austrian and Slovene dishes on the menu, Tyrolean chalets in dark carved wood, and several European languages buzzing around at all times. As is often the case with mountain areas, the Carnia sees some of Friuli-Venezia Giulia's lowest property prices. A two-bedroom chalet home near a ski resort might be had for less than €150,000.
One of the many pleasures of Friuli-Venezia Giulia is that just an hour and a half after sunning yourself on one of the region's beaches you can be up in the Carnia, taking in great lungfuls of clean mountain air as you hike well-maintained walking trails. Distances between this region's geographic attractions are short and the roads efficient. It makes it very hard to get bored.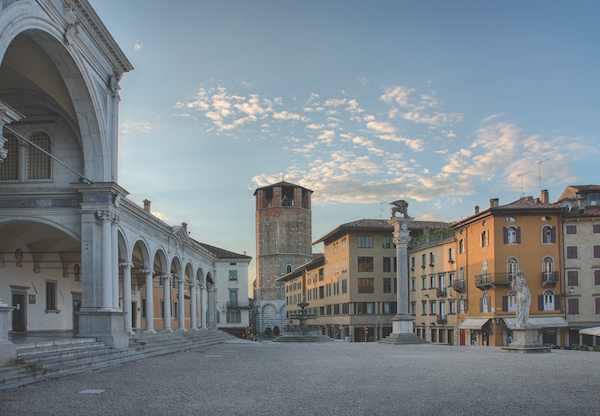 MY KIND OF TOWN
Physical geography is just one of Friuli-Venezia Giulia's charms. Another is the reliable loveliness of the region's settlements. Towns and cities are not only appealingly small in size, they are invariably tidy, attractive and contented places. The region's prosperity tends to foster a relaxed and orderly way of life which makes the towns and cities very pleasant places to be. There's a great deal of happy sitting at outdoor cafés, a great deal of strolling the streets in the evening chatting to one's friends and neighbours. Words like 'convivial' and 'civilised' spring irresistibly to mind time and again when you visit Friuli-Venezia Giulia.
According to Gate-Away.com, the fascinating town of Gorizia on the Slovenian border is currently seeing the most interest from foreign buyers, and it's easy to see why. This is an extremely pretty place with colourful architecture, abundant parks and gardens, and a great quality of life. Another town that should be high on your list of places to consider is Udine 'OO-dee-nay'), about 40km north of Trieste. Judged by Italians to be one of Italy's nicest places to live, Udine's pale, pretty Venetian-style buildings gaze out onto spacious, leafy streets and piazzas. Two-bedroom apartments in the centre of town start at around €150,000, further out at about €100,000, with detached houses from around €200,000.
Another jewel of a town to investigate is Cividale del Friuli, a dozen miles east of Udine – an almost absurdly lovely little heaven run through by a pale emerald river. But there are too many nice towns to recommend in Friuli-Venezia Giulia. Even the rather workaday town of Pordenone has an attractive centre that's a pleasure to walk around. The trick, obviously, is to travel round Friuli-Venezia Giulia and discover the places that appeal to you most.
A CAPITAL TO CAP IT ALL
Friuli-Venezia Giulia's capital, Trieste, is a unique and bewitching spot that certainly deserves your attention if you haven't been there already. Tucked into a seaside bay backed by the high Carso, Trieste is a stately old city bursting with history and significance. Its sits poised on the very edge of Europe's east and west – still just inside Italy but only five miles from Slovenia and ten miles from Croatia. Historically the southern port of the Austro-Hungarian Empire, it retains many grand traces from those times. Thus, perhaps more than any other city in Europe, Trieste tangles together the Latinate, Germanic and Slavic cultural components of our continent. It's also just a thoroughly pleasant place to be – full of cafés and statues and fountains, of decorative buildings and handsome piazzas. It's a cultured and elegant place, and a relaxed and genial one.
Trieste's unusual and open-minded character has drawn an impressive wealth of artists and intellectuals over the years. James Joyce famously 'exiled' himself here to pen some of his greatest works. The city also draws plenty of discerning visitors and holidaymakers, meaning that a property here would have good holiday rental prospects. It's not an expensive city, either. You might get a two-bedroom apartment for as little as €100,000, and even a four-bedroomed house might be had for less than €350,000. A well-situated apartment could be rented out for around €800 per week in the summer months.
Dreamy beaches, majestic highlands, truly delightful towns, an enchanting capital, low property prices and a sky-high quality of life. Not bad for a part of Italy that many people have never heard of!