Abruzzo is spacious and unspoilt, and has some of Italy's best-value property – it's little surprise that the market is hotting up right now
By Fleur Kinson. Photos by Getty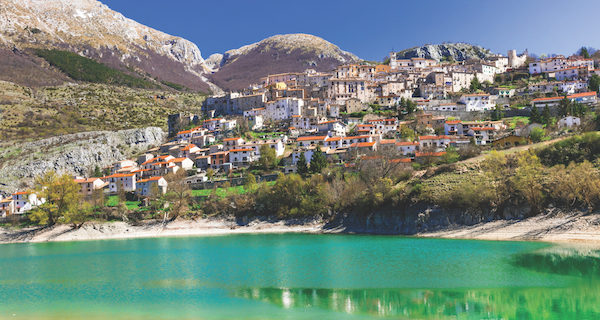 Halfway down the eastern side of the Italian leg, Abruzzo confidently unfurls between the high Apennines and the blue Adriatic. This is a region of wild, majestic landscapes where modest-sized settlements sit surrounded by vast expanses of the natural world. Indeed, this is known as Italy's 'greenest region' and a full third of Abruzzo's land area is protected national parkland.
The region's far west provides an arresting, celestial backdrop of mountain peaks, while the east meets the warm sea with more than 80 miles of clean, golden beaches. And the distance between these two extremes is not so great. As Christine Purdie of Abruzzo Property Italy points out, "Abruzzo is the only place in Europe where you can look at the sea while you are skiing. It is just one hour from the beach to the slopes, which means that on a warm day in April you can be skiing in the morning, have a tasty lunch in town and be sunbathing in the afternoon."
Between the peaks and the beaches, lush green hills and valleys cradle charming villages and small towns. Abruzzo is thinly-populated, which helps keep it wonderfully quiet and unspoilt, but it's not a remote or inaccessible sort of place; the region has good, well-maintained roads and transport connections, and is easily reached via direct flights between the UK and regional capital Pescara. And for all Abruzzo's sense of space, you won't feel cut off here. Socially, as you might imagine, communities are warm and supportive; people help their neighbours, and outsiders are warmly embraced into the fold. The pace of life is slow and gentle, and there's always time to stop and chat. Abruzzo's crime rate also
is rock-bottom, which only adds to the overall sense of ease and peace that suffuses this place.

Uncultivated beauty
Abruzzo might not have quite the historical significance, exquisite architecture or cultured air of Italian regions such as Tuscany or Umbria, and it might lack the slick modernity or romantic fantasticality of some of Italy's northern regions, but it definitely has a raw, uncultivated beauty all its own. If you love wild and wholly unspoilt natural spaces, if you love kind and friendly people with a strong sense of community and an instinct for hospitality, then this is a part of Italy that's likely to appeal to you very strongly. A lesser-known region in a well-visited country, Abruzzo offers a real sense of exploration and discovery.
Among its other charms, Abruzzo offers lots of extremely good-value property. This is perhaps the single most affordable of all the central Italian regions, thanks in part to its very late arrival on the foreign-buyer scene, just before the international financial crisis of 2008 rather paralysed the whole buying-abroad shebang for several years. Today in Abruzzo, you might get a two-bedroom townhouse in a charming locale half an hour from the sea for just €35,000. Plenty of habitable homes are yours for the taking from €50,000. And from this price up to €100,000 there is a very wide choice of country properties. Buyers with a budget of between €150,000 and €200,000 would be able to buy themselves a large villa ready for immediate use. Prestigious seaside locations are always going to be at the higher end of the price scale, but the value for money on the coast is still very good.
It seems that overseas buyers have recently woken up to all that Abruzzo has to offer them, and the last two years have seen a much greater number of buyers here than at any point since the international financial crisis began about a decade ago. Tracey Nicholas of the estate agency Abruzzo Reality says "Our best two years, over the past ten years, have been this year and last year. We don't think the market will decline. We hope it will carry on increasing. Americans seem more interested now as well. There have been articles in various magazines such as Forbes about living in Abruzzo, particularly Città Sant'Angelo. We hope that the British market will improve again too, once Brexit has been resolved."
Monia Di Guilmi of Abruzzo Rural Property concurs. She says, "In 2018 we received more foreign visitors – and sold more properties – than ever before. In February, I was informed by the property web portal Rightmove that interest in Abruzzo properties had increased by 192% compared to the previous year. Prices are still very low, but I think they will slowly increase because there is so much demand. In the past it was easier to find old country houses with land; nowadays it is getting harder because many have already been sold. The few that remain on the market have therefore a higher value. And another thing I've noticed in 2018 is that Abruzzo is getting more popular with American buyers."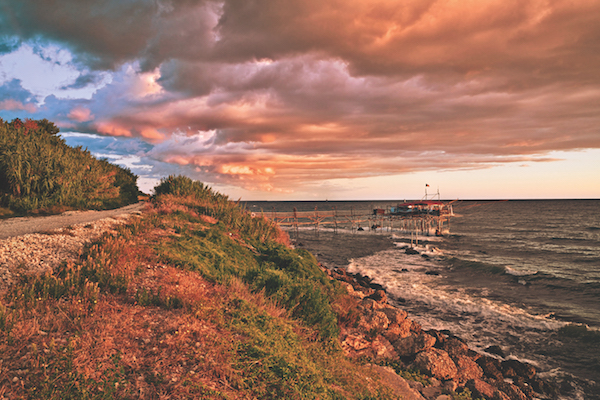 On the up
Clearly, Abruzzo is on the up right now, but where is a good area to focus your search for a home here? Let's consider the long seaside, the hills behind it, and the high mountains in the west.
Abruzzo's lovely coast, which ranges from family-friendly beach resorts to gloriously undeveloped expanses of sand, has the region's highest property prices, but still offers great value for a coastal location in central Italy. Note that the regional capital, Pescara, in the middle of Abruzzo's coast, is the region's priciest spot. As elsewhere in Italy, property prices drop the further you move inland and increase your elevation. Thus a canny option would be to go for a property situated about half an hour from the sea, in hilly countryside. This would give you the advantages
of low buying price, short travel times, good amenities and, usually, great views of mountains in one direction and of the sparkling blue Adriatic in the other.
Property prices become very low indeed once you reach areas 50 minutes or more from the sea, but these high-elevation areas generally offer fewer amenities and infrastructure. Plus, as in most mountainous areas, the weather can be changeable and unpredictable. Still, wild open spaces far from towns and traffic might be exactly what you're looking for. If you
don't mind a much longer travel time from the airport to reach your rustic retreat, Abruzzo's mountainous parts can certainly provide all the space, quiet, super-fresh air and inspiring vistas you might want. Note that the otherwise lovely stretch between L'Aquila and Sulmona is a seismic risk zone due to a network of geological fault-lines. Prices are very low across this narrow area, and if you choose to buy here, be absolutely certain that your property employs all the clever earthquake-proofing tricks and devices that are required by law.
Other areas, and especially those nearer the sea, present very little seismic risk. (But note that Italian law still requires quake-proofing to be in place in all the nation's new and restored properties. Quite rightly, the national approach is: why take a risk when you don't have to?) The Teramo province in Abruzzo's northern coastal hinterland and the Chieti province in the southern coastal hinterland are both highly recommended areas with good value for money homes, good roads, attractive hilly scenery, and plenty of golden beaches within easy reach.

Precise locations
Now that you know in general how the land lies, do estate agents specialising in Abruzzo have any specific tips and suggestions for precise locations you might consider? Christine Purdie of Abruzzo Property Italy says, "Most of our clients are searching for a property within easy access of the coast and close to an historic village or town with shops, bars and restaurants. The towns that are most popular include the likes of Vasto and San Vito Chietino in Chieti; Penne, Città Sant'Angelo and Loreto Aprutino in Pescara; and Atri and Colonnella in Teramo."
Monia Di Guilmi of Abruzzo Rural Property highlights several key towns and their surrounding areas. She says, "The area of Palmoli in Chieti province is very popular. There is a large expat community there, but property prices are still affordable. The town has all facilities ,such as shops, restaurants, bars, a post office, bank, a 24-hour doctor, etc. In addition, it's just twenty-five minutes' drive from the coast. The average price for a two-bedroom townhouse in Palmoli is €35,000. For a country house, prices vary depending on the house's condition and the amount of land, but there's a wide range of countryside properties for less than €100,000. The area around Bomba and Colledimezzo tends to be slightly more expensive because of the proximity of the lake. Roccaspinalveti is a cheaper option, but the town is situated fifty minutes' drive from the coast."

Restorations
The consensus view is that it's a bit more expensive to restore an old building in Abruzzo right now than it is to buy one which has already been restored. That said, buyers who fall in love with an old tumbledown home with charming period features certainly shouldn't discount the idea of restoring it. The satisfaction of restoring, plus having your ideal home as an end result, can make the overall cost worth it for many buyers. In Abruzzo, as elsewhere in Italy, the quality of building work and craftsmanship is usually very high.
And what of holiday rental prospects? Might you be able to cover some of your costs by offering short lets on your home in Abruzzo? In a word, yes. Abruzzo may be one of Italy's lesser-known regions, but visitor interest in the place is definitely growing. An increasing number of foreign owners are offering holiday lets on their Abruzzo home, and an increasing number of visitors to the region are enjoying such properties. As you might expect, the best summer holiday rental prospects are generally to be had on the coast, with the Pescara area and the beautiful tourist town of Vasto particularly strong. But houses in the hills rent very well too, especially if they have a tranquil location, a pool and a lovely view. Higher mountain areas will generally have fewer clients, although a wintertime ski market does exist.
For a more detailed account of Abruzzo's different areas, see our Regional Property Guide.